Immersive theatre in Denver: 'Tightrope shows are no fun if there is a net'
2019 Retrospectacle gathers local artists to celebrate growth of emerging art form
"Welcome to the revolution!" University of Colorado Denver Professor of Fun David Thomas said in welcoming more than 130 participants to the first Denver Immersive Retrospectacle on August 15 in the Seawell Ballroom.
Yes, Thomas teaches all about fun. He was also the host and instigator of this unique, one-night networking summit that served as a celebration of local immersive productions over the past year. The program included local field leaders talking about the intersection of immersion with theatre, dance, games, puzzles, art installations, food and other entertainment disciplines.
Essentially, Thomas said, "Everything these days is immersive."
But what is immersive, really? Charlie Miller, curator of the Denver Center's adventurous Off-Center programming line, defines immersive as putting audiences at the center of a story where they have an active role, where multiple senses are engaged and where there are no edges to the experience.
The keynote address for the Retrospectacle was delivered by Jaakko Stenros, a Finnish game researcher and scholar who specializes in playfulness through a variety of game types.
Thomas and fellow University of Colorado Denver professor Jenny Filipetti created the Retrospectacle with Off-Center as a means for gathering Denver's diverse grassroots community of immersive artists. Attendees received a copy of "The Denver Immersive Summit Yearbook," a handy who's-who of regional immersive creators and producers to encourage collaborations going forward.
"Jenny and I decided immersive was cool and we would do this thing as a vessel to gather eclectic artists and encourage them to make art, to participate, to attend, to promote and to invest in each other," Thomas said. "I want you to believe in this art form and to believe in Denver and to believe that Denver can be a center of this kind of entertainment and art."
Here is a summary of Retrospectacle presentations:
Theatre and Dance
Immersive theatre is a growing and evolving art form that generally involves any live performance not taking place in a traditional theatre space. It is often interdisciplinary, interactive and involves a mobile audience. It can range from large-scale shows such as Sleep No More, taking place over several floors of a massive New York warehouse, to murder-mystery dinners to two people being sent on a blind date. Miller highlighted several groundbreaking local immersive projects that he has experienced as an audience member over the past year:
"It's been amazing to see how this art form and this community have grown," said Miller, who shouted out a dozen other worthy companies and projects from 2018-19. "In the past year, the quality of the work, the ambition and the success they have had both artistically and in attracting audiences has been really spectacular."
Art and Installations
MO SPKX, otherwise known as Molina Speaks, is an artist, poet, musician, living-word architect and human bridge who talked about recent intriguing art immersions in Denver and teased the highly anticipated 2021 Denver arrival of Meow Wolf. That's the enormously popular collective of 250 multidisciplinary New Mexico artists known for creating massive immersive art installations that transport audiences to fantastic realms. MO SPKX, who is a member of Meow Wolf's Denver Community Advisory Committee, praised Natura Obscura at the Museum of Outdoor Arts – a surrealist walk through a forest of art exploring our ever-changing relationship with nature; and This Machine Has a Soul (see video above), a civic-minded installation/performance/spectacle kick-started by Warm Cookies of the Revolution founder Evan Weissman along with what Westword called "an army of creatives and Denver City Council District 9 movers and shakers." The goal? To explain how neighborhood-generated budgeting works and why communities should decide how their tax money is used. MO SPKX also waxed poetic about accessibility and inclusion and inspiring people about what the future of local art could be.
Puzzles and haunts
Sarah Cai, co-founder of Puzzah, an interactive escape room with locations in LoDo and Broomfield, offered an overview of one of the most rapidly growing entertainment genres. Puzzle rooms host live-action, team-based games where players work together to discover clues, solve puzzles and reach a specific goal – like, say, stealing a diamond from a museum. Nationally the industry has grown from essentially nothing in 2015 to 2,300 venues across the country today, Cai said. And Colorado has the highest number of puzzle rooms per capita in the U.S., she said, with 75. "There is tremendous interest here in escape rooms, and they are pushing the boundaries of what an escape room can be," said Cai, who singled out Puzzah, ranked as one of the five best escape rooms in the country by USA Today; ConTRAPtions in Fort Collins; Rabbit Hole in Broomfield; and Off-Center's extended hit The Last Defender, playing through September 8 in the basement of Patagonia. "I compare escape rooms to a beer or wine tasting," Cai said. "There is a lot more variety now, and you can go to any one of them and really enjoy it."
Retail, restaurants and marketing
While Brian Corrigan of Denver Startup Week talked about immersive experiences that incorporate food, he suggested that scene really dates back decades to the glory days of Celebrity Fun Center, Casa Bonita and The Organ Grinder pizzeria. More current examples of food-related fun that explore all five senses include a recent dinner with bugs curated by master chef Frank Bonanno at the Denver Museum of Nature and Science; and an "Experience Tube Pizza Party" at Denver Milk Market. That's a silly exercise where two people essentially stick their heads into either end of a short fabric tube, thus finding themselves literally face-to-face and making vivid and intimate connections from 6 feet away – followed by pizza.
Grab Bag
Andrew Novick, the legendary local pop-culture enthusiast known for all things weird, celebrated a variety of immersive experiences that have caught his eye over the past year, including Paper Fashion Show, where all materials must be made of paper. "There is something about the self-imposed constraint that made this fashion show better than any I've been to," said Novick. "The constraint actually made it better." Novick shouted out a recent "Stranger Things" dinner at The Inventing Room, which hosts monthly four-course pop-up dinners for 16 guests. The menu included "Fireballs" with Creme Fraiche, Salmon Roe and Mind Flayer Caviar. The dessert was called "The Upside Down." He also spoke fondly of "Horror Drag," hosted by Yvie Oddly, who won the 11th season of RuPaul's Drag Race. Novick said he respects events that take their chosen concepts to the extreme limit. "Horror takes drag into my realm of interest because there is blood and body parts falling off," he said to laughter. He also cited Adventure Forest at the Children's Museum, a bold, 500-foot aerial adventure course designed designed by the Museum's in-house exhibit design team with collaboration from artist Wes Sam-Bruce that challenges children's perceptions (and vertigo) by sending them crawling out over the nearby I-25 highway.
Lonnie Hanzon's immersive Camp Christmas is coming to Stanley
Tom Banger
Novick introduced Tom Banger, a seminal counterculture icon once known as Tom Headbanger who edited early punk fanzines such as The Rocky Mountain Fuse and presented concerts in junkyards, abandoned warehouses and other weird spaces in the 1980s. "We're very lucky now to have so many places for bands to play around Denver," Novick said of Banger. "But back then it was immersive by circumstance. This was the rave party before the rave party." Banger introduced many iconic bands to Denver for the first time, including Sonic Youth, Swans and Hüsker Dü. "I like things that are visceral and hard-hitting," Banger said. "I like angry kids from weird countries. But I think a lot of traditional rock shows today are really voyeuristic and passive because they are curated by the people who put them on. We had no money. There were no spaces. There was no audience. There were no bands, and there was no press. But I wanted to see this stuff, and I thought if I didn't put it on, I wouldn't get to see it. So I did. I think if you want to change people, you have to change them physically, not intellectually. If you want people to be interested and engaged then you have to be interesting and engaging. You have to take chances. Tightrope shows are no fun if there is a net."
Inclusivity and Accessibility
Dan Griner, Design Manager at OtterBox, made an impassioned plea for the creative community to find new ways of including the disability community, not only in their audiences but in their creation and planning. "So you unlocked the door? That's not enough," Griner said. "The mantra is: 'Nothing About Us Without Us.' If you are creating a space for people who are not involved in the creation of that space, you are going to miss something." He quoted the famous Verna Myers line: "Diversity is being invited to the party. Inclusion is being asked to dance." Griner also reminded immersive creators to be mindful of the preponderance of children with sensory issues in a field that is largely predicated on the overstimulation of its audiences. And to consider very practical accessibility barriers to attendance at their events such as public transportation and cost. "You don't get extra points for being a decent human being," Griner said. "Decency should be the baseline."
An Introduction to Nordic LARP
Jaakko Stenros, an author and lecturer in Game Studies at the University of Tampere in Finland and one of the world's foremost experts on games and social play, delivered the keynote address. Stenros talked about how Nordic LARP (Live Action Role Playing) is a widely shared performance tradition in Norway, Sweden, Denmark and Finland, where ordinary citizens LARP in much the same way we camp. Only LARPing is much more fun. Those countries all have strong social traditions that include cooperative reflection, questioning and discussion. And this carries right through into their LARPing, where groups go off on immersive storytelling adventures that often last for days.
"Play is older than culture and language and humans," Stenros said. "Play is something that is primal and deeply ingrained in all of us." But role-playing is not a basic part of everyday life for Americans the way it is for Scandinavians. Stenros traces its emerging popularity in America to the niche role-playing board game Dungeons and Dragons in the late 1970s. "And then people started to stand up from their game tables and wanted to inhabit their characters in a more embodied fashion," he said.
What all LARPs have in common, he said, are characters, costumes, a game-master, a few rules – and no scripts. The organizer gives you your setting, character, history and motivations, but whatever happens next is up to you. "It's as if your character is your alibi to take chances you would not normally take," he said.
LARP stories are often rooted in folklore and classic literature, but they take on a wide and wild variety of forms. He talked about Odysseus, a three-day space-opera LARP inspired by "Battlestar: Galactica" and "Star Trek" that grew into timely meditation on our contemporary world. And some, he said, are just hilariously odd. Take The Perfect Human, which simulated the world of office stock photos. The kind we've all seen in magazines depicting vivid colors and impossibly good cheer among co-workers.
This LARP created a world that was perfect – "or kind of perfect," Stenros said. "These designers were exploring what kind of rules would you have to create in order to faithfully create the world inside a stock office photo? As the game played out, 11 players stepped out of their flawed, ordinary lives and into this fantasy world inhabited by dynamic teamwork, joyous camaraderie and the security of all things forever trending upward." It was a fantasy world, he said, "where everyone was always excited about everything!"
John Moore was named one of the 12 most influential theater critics in the U.S. by American Theatre Magazine in 2011. He has since taken a groundbreaking position as the Denver Center's Senior Arts Journalist.
Photo gallery from the Retrospectacle: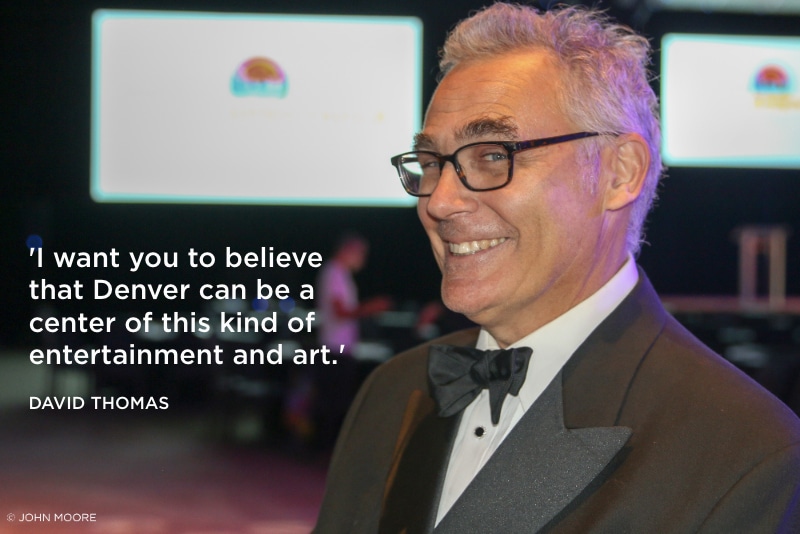 Click on any photo to see a larger version. Photos by John Moore.
Go to our complete gallery for more photos from the Retrospectacle
https://www.denvercenter.org/wp-content/uploads/2019/08/Gallery-6-Immersive-Retrospectacle-2019.-Photo-by-John-Moore..jpg
631
1000
John Moore
John Moore
2019-08-23 08:17:31
2019-08-26 11:35:04
Immersive theatre in Denver: 'Tightrope shows are no fun if there is a net'