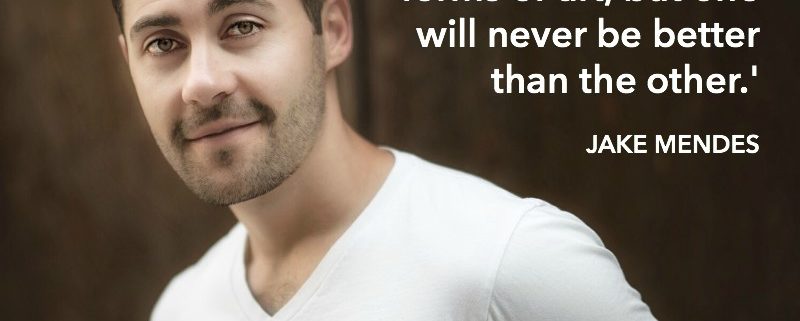 In the Spotlife: Jake Mendes of 'This is Modern Art'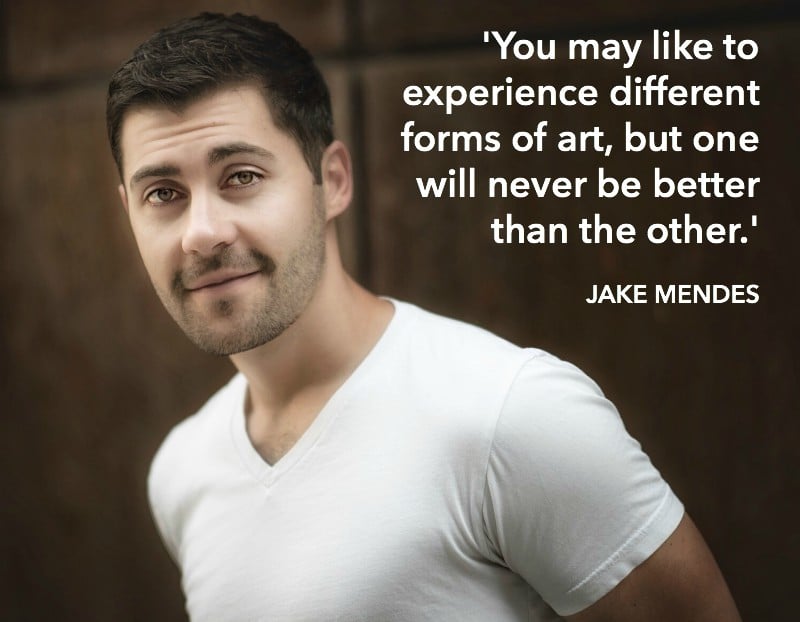 Jake Mendes glides from Hedwig glam to graffiti bomber in Off-Center's provocative new play This is Modern Art
MEET JAKE MENDES
2016 True West Award winner Jake Mendes, who plays Dose in Off-Center's This is Modern Art, is making his Denver Center debut. The University of Northern Colorado grad just blew the roof off the Aurora Fox starring in Hedwig and The Angry Inch. At the Arvada Center, he recently played Rueben in Joseph and the Amazing Technicolor Dreamcoat. Paul in A Chorus Line and he originated the role of Simon in the world premiere musical I'll Be Home For Christmas. Off Broadway, he performed in Bunnicula and Pinkalicious: The Musical. Other New York credits include Xanadu, A Man of No Importance, The Little Dog Laughed, The Normal Heart and The Drowsy Chaperone.
Hometown: Lakewood
Home now: Denver
What's your handle? @_jake_mendes_ on Instagram
What have you done for us lately? I played Hedwig in Hedwig and the Angry Inch at the Aurora Fox
Twitter-sized bio: Portuguese. Virgo. Lactose Intolerant.
What would you be doing if you were not an actor? I would be directing and choreographing. I thrive on the creation of art and collaboration with artistic minds. I feel like I can best contribute to the world around me through theatre and performing arts.
One role you were completely miscast for: While it was very fun … I did a spot in a web series where I had to be a hipster bro, introducing my girlfriend to my sex-obsessed, over-sharing parents for the first time.
Bucket-list role? I was lucky enough to cross this off of my list earlier this year when I played Hedwig with the incomparable Norrell Moore. So now I'm waiting for someone to cast me as Effie White in Dreamgirls.
One seminal experience where you saw greatness play out in front of you: When I saw Larry Kramer's The Normal Heart on Broadway, I had a moment where I truly understood how theatre could immediately affect people in a guttural and primitive way. At the end of the play, people were crying and hugging each other, silent. I realized then that it is truly our responsibility and privilege as performers to send our stories to people's hearts and souls. We won't be able to determine how they'll  be received, but we could be the ones to provide an opportunity for an audience member to be transformed in some way.
What are you listening to on Spotify right now? I'm always listening to Betty Who, but I'm also really into the playlist compiled from the Netflix series "She's Gotta Have It" right now.
What is This is Modern Art all about? It's based on the true story of a Chicago graffiti crew that is are willing to risk everything for their art. But when they pulled off the biggest graffiti bomb the city had ever seen, the consequences got real, and it sparked a public debate that asked where art does — and does not — belong?
Why does This is Modern Art Matter? This play highlights the fact that art should never be boxed into something specific. Artistic expression means different things to different people. You may like to experience different forms of art, but one will never be better than the other.
What do you hope audiences get out of seeing This is Modern Art? At the very least, I hope their eyes will be more open to the beautiful and illustrious street art culture that is exploding in Denver.
One thing we should be doing to foster the next generation of theatregoers? We need to encourage people to listen, and to be open and honest. Whether you're listening to a performance, listening to your castmates on stage with you, listening to what your director is saying … listening to your own heart and soul. Listening, honesty and openness all help to foster a sense of trust, which cultivates one's ability to take risks and create dynamic, life-changing experiences.
What do you want to get off your chest? Dear Dad, I got my nose pierced… I've been keeping it hidden for a few months… sorry.
What's one thing we don't know about you? I'm a certified Pre-Natal and Post Partum Personal Trainer.
This is Modern Art: Ticket information
Presented by Off-Center
Performances through April 15
Jones Theatre, Denver Performing Arts Complex
Written by Kevin Coval and Idris Goodwin
Directed by Idris Goodwin
Featuring Robert Lee Hardy, John Jurcheck, Brynn Tucker, Jake Mendes, Chloe McLeod and Marco Robinson
Call 303-893-4100 or BUY ONLINE
Selected previous NewsCenter coverage of This is Modern Art:
This is Modern Art will make you look
Idris Goodwin is going places: From Curious' Detroit '67 to Denver Center
Graffiti: Modern art or 'urban terrorism'?
Vast and visceral: Off-Center season will include This is Modern Art
More 2017-18 'In the Spotlife' profiles:

• Meet Ilasiea L. Gray of Sleeping Beauty
• Meet Candy Brown of Love Letters
• Meet Christy Brandt of Creede Rep's Arsenic and Old Lace
• Meet Deb Persoff of Vintage Theatre's August: Osage County
• Meet Monica Joyce Thompson of Inspire Creative's South Pacific
• Meet Hugo Jon Sayles of I Don't Speak English Only
• Meet Marialuisa Burgos of I Don't Speak English Only
https://www.denvercenter.org/wp-content/uploads/2018/04/featured-image-5775.jpg
622
800
John Moore
John Moore
2018-03-30 10:53:00
2018-12-21 17:50:08
In the Spotlife: Jake Mendes of 'This is Modern Art'