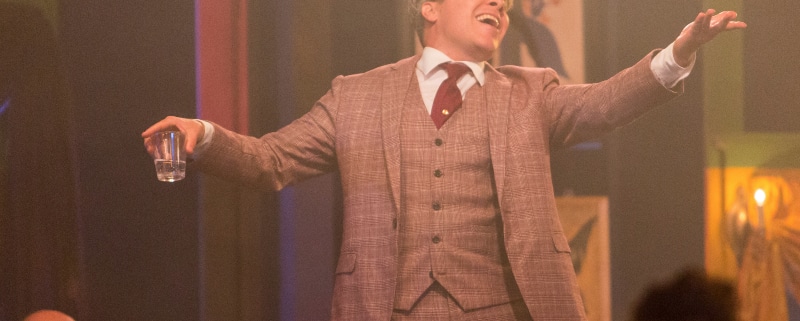 In the Spotlife: Meet Aaron Vega of 'Xanadu'
High rollers! Meet the cast and creative team that will bring Xanadu from Mount Olympus to the Garner Galleria Theatre
Denver Center Cabaret has announced the cast and creative team for the fun roller-skating musical Xanadu, to be presented by a five-actor ensemble in the Garner Galleria Theatre through April 28, 2019. And as has long been a point of pride for many homegrown Galleria productions, Xanadu features an all-Colorado company of actors.
Meet Aaron Vega
Role: Danny
Hometown: Mansfield, Ohio
What's your website? aaronvega.com
What have you done for us lately? Jackie in Off-Center's The Wild Party and Theo in Lake Dillon Theatre's The Underpants
Twitter-sized bio: Actor, director, producer, overeater of hummus and pizza
If you were ever to find yourself on Mount Olympus and asked to describe the 1980s Earthling fad known as "roller disco," how would you explain it? 🎼Shiny happy people holding haaaaaaaands.🎶
Best 1980s roller-skating song: 'I Wanna Dance With Somebody'
Best hand-holding roller-skating song for when they slow it down and turn down the lights with just you and the person you want to be your Saturday Night Skate City sweetie circling the rink: Scorpions' "Wind of Change"
Teenage roller-skating memory: When I was in junior high, there wasn't a lot to do in Amish country Ohio. So we would go roller skating every week, and it was such an amazing time. Splitting a giant pretzel and a giant pickle and holding hands with a cute girl. Trying to master skating backwards. Amazing feeling. (But why was all the food giant?)
Your present skill level on skates: Well, I haven't put them on since junior high, so …
Fill in the blank with any word other than "mellow": "Have you never been _____: Snazzy? Have you never tried?"
To read a fun introductory, skating-themed profile of each cast member, click on a name from the list below:
Xanadu: Cast
Xanadu: Creative team
Director and Choreographer: Joel Ferrell
Musical Director: David Nehls
Assistant Director: Piper Lindsay Arpan
Scenic Design: Lisa Orzolek
Light Design: Charles MacLeod
Costume Design: Meghan Anderson Doyle
Sound Design: Craig Breitenbach
Xanadu: Ticket information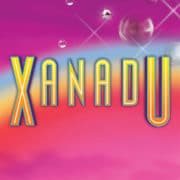 Xanadu, based on the 1980 cult film starring Olivia Newton-John and Gene Kelly, is a Tony Award-nominated musical that follows the journey of a magical and beautiful Greek muse named Kira who descends from the heavens of Mount Olympus to Venice Beach, California. She is on a quest to inspire struggling artist Sonny to achieve the greatest artistic creation of all time – the first roller disco. (Hey, it's 1980.) But when Kira falls into forbidden love with the mortal Sonny, her jealous sisters take advantage of the situation and chaos abounds. This is a musical adventure about following your dreams despite the limitations others set for you, with an original score composed by pop-rock legends Jeff Lynne and John Farrar.
Written by: Douglas Carter Beane (book); Jeff Lynne and John Farrar (music and lyrics)
When: Performances through April 28
Where: Garner Galleria Theatre, Denver Performing Arts Complex
Information: Call 303-893-4100 or BUY ONLINE
Groups: Call 800-641-1222
Age recommendation: 12 and over
https://www.denvercenter.org/wp-content/uploads/2018/09/aaron-vega-in-The-Wild-Party.-adamsviscom_37740223671_o.jpg
599
800
John Moore
John Moore
2018-10-01 11:52:39
2018-11-26 10:09:18
In the Spotlife: Meet Aaron Vega of 'Xanadu'