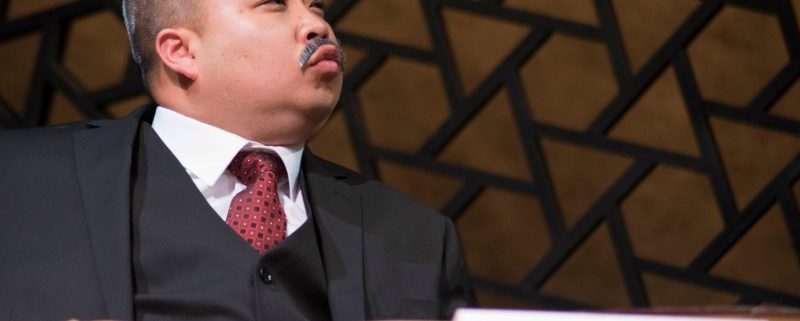 MEET PETER TRINH

Peter Trinh plays three roles in the Aurora Fox's 'Chinglish,' a comedy about the challenges of doing business in a country where the language and underlying cultural assumptions can be worlds apart from those of the West. It runs through April 9.

Hometown: Denver
Home now: Denver

High school: Arvada West
College: Metropolitan State University of Denver
What have you done for us lately? I played Monk in the The Oldest Boy, presented by Vintage Theatre and Theatre Esprit Asia
What's next? I will play myself in the return of my one-man play Boat Person with Theatre Esprit Asia from July 27-30 at the Bas Bleu Theatre,
401 Pine St. in Fort Collins
Twitter-sized bio: First generation American; DEN native; father of two boys; actor; playwright; stand-up comedian.
Twtter and Instagram handle: @Peter_Trinh
What was the role that changed your life? I was cast in Dust Storm for Theatre Esprit Asia in 2013. It is a solo play and it was my first lead role. This show proved to myself that I could carry a show as a lead, and even on my own.
Ideal scene partner: I have always respected Edward Norton. He is a character actor, but strong enough to play a lead. I recall his scene in Birdman with Michael Keaton, and I imagine working a scene with him would be similar to that. There is an honesty in his performances that I feel is deeply engaging.
What is Chinglish all about? The inevitable miscommunications between cultures. It's a comedy that follows Daniel, a businessman from the Midwest, who arrives in a bustling Chinese province looking to score a lucrative contract for his family's sign-making company. He soon finds that the complexities of such a venture far outstrip the expected differences in language, customs and manners – and calls into question even the most basic assumptions of human conduct. Through comic exchanges, he learns what is lost and found in translation. Despite our efforts to understand each other, there is a part of us that will never understand those from other cultures, but that doesn't mean we cannot share or live together.
Tell us about the challenge of playing your part: My lines are about 65 percent Mandarin. I do not speak Mandarin. Learning enough to be able to pronounce my lines decently was a bear. It's harder than it looks. Luckily, our dramaturg and the two native speakers in our cast made me feel comfortable. I am bilingual in Vietnamese – which could be considered a derivative dialect of Mandarin – so learning the tones was familiar.
What do you hope audiences get out of seeing this play? I hope they laugh. The jokes (which come with subtitles) make for a unique theatregoing experience for the audience. But most of all, I hope this play inspires people to travel and experience the world outside the realm of what they presently know.

More Colorado theatre coverage on the DCPA NewsCenter

What's one thing most people don't know about you? I'm the first person on either side of my family to be born on American soil. My parents were pregnant with me when they were sponsored to Denver in 1982.
What's one thing you want to get off your chest? I feel like what the world is missing is compassion. We need to find away to allow others to believe the way they wish without imposing our own beliefs. This country has been so busy drawing lines in the sand on this issue, and that issue, we seem to be losing our humanity. Let's agree to disagree.

From left: Mark Rubald, Tim O'Connell, Peter Trinh and Ke Zang in the Aurora Fox's production of 'Chinglish.' Photo by Christine Fisk.
Aurora Fox's Chinglish: Ticket information
• By David Henry Hwang
• Directed by Steve Wilson
• Through April 9
• Performances 7:30 p.m. Thursdays through Saturdays; 2 p.m. Sundays
• 9900 E. Colfax Ave., Aurora
• Tickets $16-$37
• 303-739-1970 or aurorafox.org



Cast list:


• Mark Rubald as Daniel Cavenaugh
• Peter Trinh as Bing, Judge Geming and Qian
• Tim O'Connell as Peter Timms
• Christa Yan as Xi Yan
• Ke Zang as Minister Cai Guoliang and Prosecutor Li
• Molly O'Niel as Zhao and Waitress
More 'In the Spotlife' profiles:
Meet Lauren Bahlman of Wide-Eyed West's theMumblings
Meet Mark Collins of And Toto Too's Lost Creatures
Meet Carley Cornelius of Colorado Springs TheatreWorks' Constellations
Meet Emily Paton Davies of Miners Alley Playhouse's God of Carnage
Meet Kelsey Didion of Curious Theatre's Constellations
Meet Denise Freestone of OpenStage's August: Osage County
Meet Sam Gregory of the Arvada Center's Tartuffe

Meet John Hauser of Curious Theatre's Hand to God
Meet Jim Hunt of Buntport's The Zeus Probem
Meet Jeff Jesmer of Spotlight Theatre'sThe Crucible
Meet Wayne Kennedy of BDT Stage's Mid-Life 2
Meet Carla Kaiser Kotrc of Miners Alley Playhouse's A Skull in Connemara
Meet Seth Maisel of Town Hall Arts Center's The Firestorm
Meet Tim McCracken of Local Theatre's The Firestorm
Meet Angela Mendez of Beauty and the Beast
Meet Joelle Montoya of Su Teatro's El Sol Que Tu Eres
Meet Rebekah Ortiz of The Robber Bridegroom
Meet Anne Oberbroeckling of Boulder Ensemble Theatre Company's Ripcord
Meet Jessica Robblee of Buntport Theatre for All Ages' Siren Song: A Pirate Odyssey
Meet Cory Sapienza of Miners Alley Playhouse's Hir
Meet Sean Scrutchins of the Arvada Center's Bus Stop
Meet Jane Shirley of Santa's Big Red Sack
Meet Petra Ulyrich of Germinal Stage-Denver's Johnny Got His Gun
Meet Megan Van De Hey of the Arvada Center's Sister Act
Meet Sharon Kay White of the Arvada Center's I'll Be Home for Christmas

https://www.denvercenter.org/wp-content/uploads/2018/04/featured-image-4489.jpg
519
800
John Moore, Senior Arts Journalist
John Moore, Senior Arts Journalist
2017-03-31 14:24:00
2017-03-31 14:24:00
In the Spotlife: Peter Trinh of 'Chinglish'