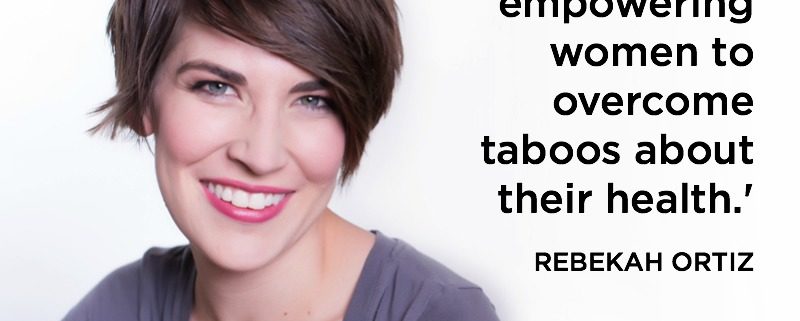 In the Spotlife: Rebekah Ortiz of 'The Robber Bridegroom'
Photo of Rebekah Ortiz by Kellie Coughlin Henriksen.
MEET REBEKAH ORTIZ

Rebekah Ortiz plays Rosamund in Town Hall Arts Center's 'The Robber Bridegroom,' a 1975 musical set in late 18th-century Mississippi through April 30.

Hometown: Lakewood
Home now: Lakewood

High school: D'Evelyn
College: BFA in musical theatre from Metropolitan State University of Denver
What have you done for us lately? I played Miss Dorothy in Thoroughly Modern Millie for BDT Stage
What's next? I will be playing Stepsister in The Slipper and the Rose: The Story of Cinderella at the Candlelight Dinner Playhouse in Johnstown from June 15-Aug. 27
Twitter-sized bio: Proud Colorado native who lives for family, travel and theatre – and still gets her breath taken away whenever she sees those Rocky Mountains.
Twtter and Instagram handle: @bekahlekah
What was the role that changed your life? I was cast in the ensemble for Fiddler on the Roof in the ninth grade. Fiddler is a beautiful, timeless, perfectly written piece that always will have something to teach us about being human. This is when I first learned to bring a character to life with an incomparable sort of empathy. I learned theatre would be a way for me to teach others through my own imagination. I always strive to keep that ninth-grade passion for getting inside the head of whatever character I am creating.
Ideal scene partner: I was fortunate to have played Catherine in Ignite Theatre's 2011 production of Pippin, a role Rachel Bay Jones later played in the 2013 Broadway revival, which I was fortunate to see in New York. Everything about it was incredible. I cried. She now plays the mother in Dear Evan Hansen. I recently listened to her interview on one of my favorite podcasts, Theatre People. As she spoke, I connected with her passion, honesty and heart. She is a kindred spirit. I'd love to tackle a project with her to see how she approaches a scene.
What is The Robber Bridegroom all about? It's a Southern-fried Robin Hood musical set in late 18th-century Mississippi. It tells the story of Jamie Lockhart, a refined gentleman by day and a dangerous bandit by night, and how his world is turned upside down when he falls in love with the daughter of a wealthy planter. The musical is filled with comedic performances and features a catchy, energetic folk and bluegrass score. The Robber Bridegroom won the Tony Award in 1975 for Best Book of a Musical – and for good reason.
Tell us about the challenge of playing Rosamund: In the original version, the Robber takes advantage of Rosamund in a shockingly dark way. We decided to play with Rosamund being a stronger woman who has greater control of her destiny. It has been challenging to let go of the original script, and how those actions defined the character. Finding the motivation behind the new choices, allowing them to shape who Rosamund is, what she wants, and how she's going to get it, is my challenge.
What do you hope audiences get out of seeing this play? A lot of laughs and a bounce in your step. You won't be able to help but smile and tap your foot. You should sail through a tall tale filled with wildly large characters and leaves you in stitches.

More Colorado theatre coverage on the DCPA NewsCenter

What's one thing most people don't know about you? I love long-distance hiking. My first big hike was the famous Inca Trail to Machu Picchu with my husband. My most recent was the Kalalau Trail in Kauai with river crossings, bamboo forests and steep, slippery climbs. I love the challenge of a good hike, and the feeling of accomplishment afterward. Hiking is a metaphor for life – all its ups and downs, challenges and rewards. I also love it because by exploring different parts of the world by foot, you can really appreciate the detail and slow down.
What's one thing you want to get off your chest? My passion is empowering women to overcome taboos about their health. A couple of years ago, I was diagnosed with a condition called Polycystic Ovarian Syndrome. It is a female hormonal condition with varying symptoms, the most heartbreaking of which is infertility. It's estimated to affect 1 in every 10 to 15 women, yet many gynecologists and doctors know little about how to treat it. In my personal journey through research and experimenting with nutrition, I learned that my cycle is connected to my overall mental and physical health. Paying attention to the subtle changes in my body has changed my life. I've really begun to understand the shroud of mystery hanging over women's health. Society has bred misleading and inadequate health education that impedes women from living to their fullest potential. I could go on and on, but I will just say that every woman should read Taking Charge of Your Fertility by Toni Weschler and be enlightened by the knowledge it brings.


The set for the Town Hall Arts Center's upcoming production of The Robber Bridegroom' designed by Michael Ray Duran.
Town Hall Arts Center's The Robber Bridegroom: Ticket information
• Adapted from the Eudora Welty novella by Alfred Uhry (book and lyrics) and Robert Waldman (music)
• Directed by Bob Wells and Donna Debreceni (music)
• March 31 through April 30
• Performances 7:30 p.m. Thursdays through Saturdays; 2 p.m. Sundays; additional matinee on Saturday, April 15
• 2450 W. Main St., Littleton
• Tickets $20-$42
• Info: 303-794-2787 (press 5), or townhallartscenter.org



Cast list:


• Ryan Buehler as Jamie Lockhart
• Rebekah Ortiz as Rosamund
• TJ Hogle as Clement
• Steph Holmbo as Salome
• Chas Lederer as Big Harp
• Ben Cowhick as Little Harp
• Ryan Heidenreich as Goat
• Caitlin Conklin as Raven and Goat's Mother
• John Mackey as Airie
• Townsfolk: Cara Lippitt, Leah Nikula and Kris Graves
More 'In the Spotlife' profiles:
Meet Lauren Bahlman of Wide-Eyed West's theMumblings
Meet Mark Collins of And Toto Too's Lost Creatures
Meet Carley Cornelius of Colorado Springs TheatreWorks' Constellations
Meet Emily Paton Davies of Miners Alley Playhouse's God of Carnage
Meet Kelsey Didion of Curious Theatre's Constellations
Meet Denise Freestone of OpenStage's August: Osage County
Meet Sam Gregory of the Arvada Center's Tartuffe

Meet John Hauser of Curious Theatre's Hand to God
Meet Jim Hunt of Buntport's The Zeus Probem
Meet Jeff Jesmer of Spotlight Theatre'sThe Crucible
Meet Wayne Kennedy of BDT Stage's Mid-Life 2
Meet Carla Kaiser Kotrc of Miners Alley Playhouse's A Skull in Connemara
Meet Seth Maisel of Town Hall Arts Center's The Firestorm
Meet Tim McCracken of Local Theatre's The Firestorm
Meet Angela Mendez of Beauty and the Beast
Meet Joelle Montoya of Su Teatro's El Sol Que Tu Eres
Meet Anne Oberbroeckling of Boulder Ensemble Theatre Company's Ripcord
Meet Jessica Robblee of Buntport Theatre for All Ages' Siren Song: A Pirate Odyssey
Meet Cory Sapienza of Miners Alley Playhouse's Hir
Meet Sean Scrutchins of the Arvada Center's Bus Stop
Meet Jane Shirley of Santa's Big Red Sack
Meet Petra Ulyrich of Germinal Stage-Denver's Johnny Got His Gun
Meet Megan Van De Hey of the Arvada Center's Sister Act
Meet Sharon Kay White of the Arvada Center's I'll Be Home for Christmas

https://www.denvercenter.org/wp-content/uploads/2018/04/featured-image-4501.jpg
546
800
John Moore
John Moore
2017-03-27 11:04:00
2018-06-15 08:48:15
In the Spotlife: Rebekah Ortiz of 'The Robber Bridegroom'