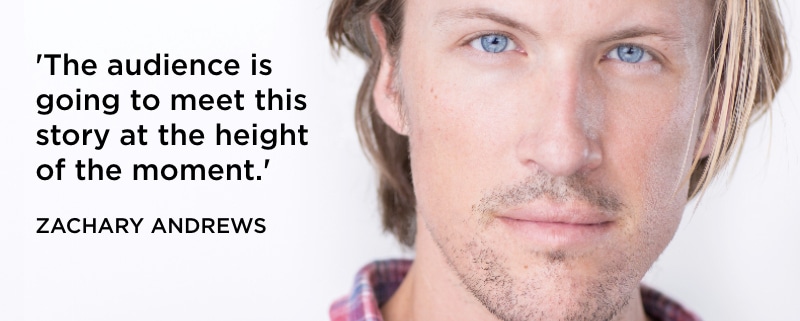 In the Spotlife: Zachary Andrews on 'A Doll's House,' drones and Dwight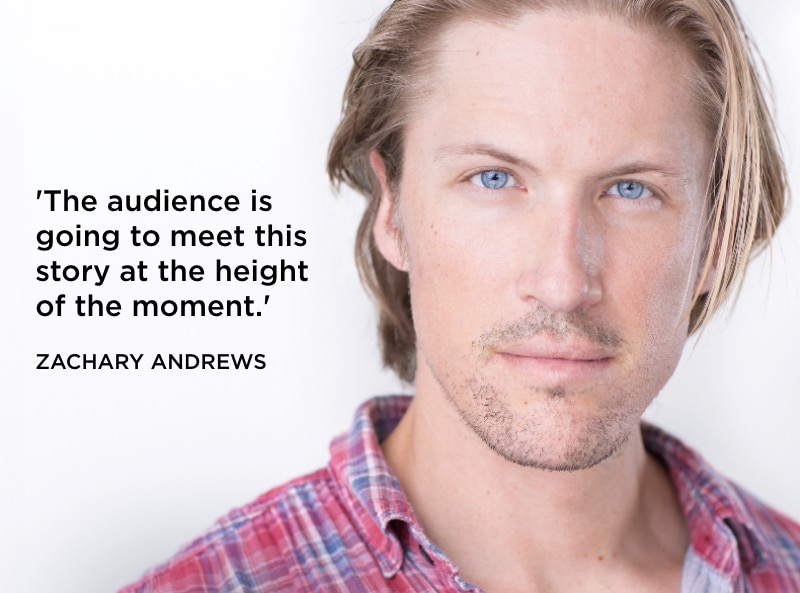 "Ibsen recognized 140 years ago that men struggle to recognize women as peers, as autonomous, as human."
Meet Zachary Andrews
Zachary Andrews has previously appeared in DCPA Theatre Company productions of Romeo & Juliet, A Christmas Carol and The Three Musketeers. Regional credits include playing Spike in Vanya & Sonya & Masha & Spike for Kansas City Rep and Centerstage Baltimore. Local credits last year include the award-winning Paper Cut for Local Theater Company and Pride & Prejudice for Boulder Ensemble Theatre Company. He is also a returning member of the Arvada Center's Black Box Ensemble and maintains a parallel career as a professional photographer and filmmaker.
Role: Nils Krogstad in A Doll's House. (He's the blackmailing banker who gives Nora the loan that gets her in all that trouble and saves her husband's life.) Sir Not Appearing in this Play in A Doll's House, Part 2
Hometown: Denver
High school: Thomas Jefferson

College: BFA from the University of Colorado Boulder; MFA from the University of Missouri Kansas City
Twitter-sized bio: I'm an actor/creator working in photography, theater and video production. Tech geek, dog dad, homebody.
Got a web site? Check out my photography at zacphoto.com
Hot Denver tip: Larimer Street between 25th and 35th streets is a cool stretch in RiNo that has something for everyone. Plus that's my neighborhood, so I won't have to drive to meet you!
One thing many people might not know about you: I'm a certified drone pilot. My dog weighs 4 pounds. And I'm bad at following directions.

What's the one role you would give anything to play … but would be completely miscast for? Dwight Shrute in TV's "The Office."

What are you listening to on your Spotify? I'm editing a documentary featuring music from the late '60s. So, Canned Heat, Blue Cheer, and Lothar and the Hand People when you wanna get wild.
So, about this whole 'it's illegal for a woman to take out a loan' thing in 'A Doll's House': Whatever.
In 2019, What should a man say to his wife when he discovers she has secretly taken out a loan that literally saved his life? "OMG, THANK YOU. But is it adjustable or fixed rate? I mean … thank you. But seriously … fixed rate? … but thank you."
Who is the modern-day Nora in your life? My cat, Waffles. She's untamed, wily, and uses her cuteness to get stuff. She's also quietly plotting the downfall of my family … so she's kind of Krogstad, too.
"I Love Lucy," "Everybody Loves Raymond," "The Handmaid's Tale" or "Schitt's Creek"? "Schitt's Creek," but without all that "having been wealthy" baggage.
Why does revisiting A Doll's House matter now? How incredibly prescient Henrik Ibsen was, and how intricately and precisely balanced his play is. He recognized 140 years ago that men struggle to recognize women as peers, as autonomous, as human. This play has returned my attention to the discomforting truth that his point still stands.
What do you hope the audience gets out of seeing these plays? I hope they get to see them together for the first time. I hope it is entertaining and provocative for our audience, and that they get lost in the world created by these two titanic scripts. I think the intimacy and immediacy of the Ricketson will mean that the audience is going to meet this story at the height of the moment.
What's one thing you want to get off your chest? If I didn't get health insurance from Actor's Equity Association, I'd likely be working as the world's unhappiest document clerk. Everyone deserves health care, and it should not have to dictate the course of one's life or career.  Also, the Amazon is burning. And Greenland is melting. So … just hug your mom, and your dog, and a tree, and a stranger. Unless they have space issues. Feel it out.
A Doll's House: Ticket information
Henrik Ibsen's renowned classic shattered the traditions of his time as his protagonist, Nora, walked out on her stark marital obligations. Decades later, Lucas Hnath brought her home (and to Broadway) to revisit her actions through a contemporary lens.
Dates: Performances now through November 24 (both open September 21)
Where: Ricketson Theatre

Genre: Drama (A Doll's House) and comedy (A Doll's House, Part 2), performed in repertory
Advisory: Contains adult themes
Tickets: Start at $30 and can be purchased at 303-893-4100 or in person in the Helen Bonfils Theatre Complex at 14th and Curtis streets or online by clicking here:

A Doll's House: Cast
Nora's life is a picture-perfect portrait, complete with a doting husband, gleeful children and the small pleasures of her 1870s Norwegian home. But underneath her wide-eyed demeanor lies a deceit that she fears will tear her family apart. As the consequences stack up to reveal deeper flaws in her relationship, she slams the door on her marriage to assert her independence in this heart-wrenching and gripping production.
Written by Henrik Ibsen
Adapted by Frank McGuinness
Directed by Chris Coleman
Nora Helmer: Marianna McClellan
Torvald Helmer: Michael Schantz
Doctor Rank: Leif Norby
Nils Krogstad/Messenger: Zachary Andrews
Kristine Linde: Anastasia Davidson
Anne-Marie: Leslie O'Carroll
Helmer children: Jessiah DeLeon, Radley Wright and Samuel Bird
A Doll's House, Part 2: Cast
Fifteen years later, Nora's unexpected return cuts through the subtext to confront her decisions head-on in this Tony-nominated, contemporary sequel. Asking for favors instead of forgiveness, the proudly independent woman demands help from the family she left behind. But as she roasts the society she has shunned, her husband and children get their long-awaited chance to stand their ground.
Written by Lucas Hnath
Directed by Rose Riordan
Nora Helmer: Barbra Wengerd
Torvald Helmer: Leif Norby
Emmy: Anastasia Davidson
Anne-Marie: Leslie O'Carroll
Creatives for both:
Scenic design by Lisa Orzolek
Costume design by Meghan Anderson Doyle
Lighting design by Jason Lynch
Sound design by Lindsay Jones
Voice and dialect coaching by Kathy Maes
Dramaturgy by Lynde Rosario
Casting by Harriet Bass and Grady Soapes, CSA
Stage management by Heidi Echtenkamp and D. Lynn Reiland, Malia Stoner, Tess Neel and Rick Mireles
Video bonus: Chris Coleman on selecting the two A Doll's House plays:
https://www.denvercenter.org/wp-content/uploads/2019/09/Zachary-Andrews.-A-DOLLS-HOUSE.-2.jpg
593
800
John Moore
John Moore
2019-09-06 14:53:49
2019-09-23 12:19:33
In the Spotlife: Zachary Andrews on 'A Doll's House,' drones and Dwight