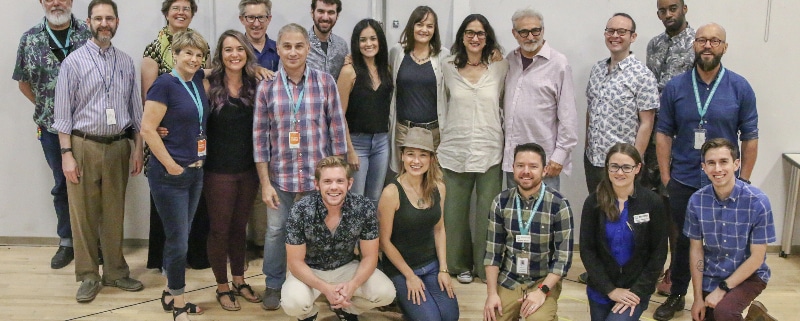 'Indecent' rehearsals open: A look back at 'God of Vengeance' controversy
Here are five facts about the Broadway play that was shut down on obscenity charges in 1923
Rehearsals have begun for the DCPA Theatre Company's 2019-20 season-opening production of Indecent, Pulitzer Prize-winning playwright Paula Vogel's powerful play (with live music) inspired by events surrounding the controversial 1906 play God of Vengeance. The source play, about a Jewish brothel owner, includes Jewish prostitutes, a lesbian scene and the hurling of a Torah across the stage. It has been hailed by some as a seminal work of Jewish culture, and by others as an act of traitorous libel. The play, written and performed in German and Yiddish, was a hit across Europe for 15 years before finally arriving on Broadway in 1923. Shortly after opening night, performed in English, the play was shut down. The entire cast and the play's producer were arrested for "an indecent, immoral, and impure theatrical performance."
Indecent charts the history of playwright Sholem Asch's incendiary drama and the path of the artists who risked their careers to perform it. After Indecent was nominated for the 2017 Best Play Tony Award, God of Vengeance was given its own off-Broadway revival by the New Yiddish Rep. And as Director Nancy Freestone gathered her cast and creative team for the first time to tackle Indecent in Denver, we wanted to know more about the source play. Here are five facts we learned about God of Vengeance and its era:
1. Although the entire cast was arrested, only lead actor Rudolph Schildkraut and producer Henry Weinberger were prosecuted, convicted and fined for obscenity ($200 each – almost $3,000 in today's dollars). In his ruling, the judge declared that "whatever the moral lesson of a play, it must not be taught by the use of indecent, impure or obscene language or conduct." And he warned all 12 cast members "that should they act in an immoral play in the future," they would be sent to prison.
2. When Asch first presented God of Vengeance at a Warsaw salon in 1906, his mentor, I. L. Peretz, told him to burn it. Instead, the play went on to great success in Berlin and toured across Europe. But in New York, where the play featured the first lesbian kiss in Broadway history, the backlash was immediate. At a time of rising xenophobia, such as Henry Ford's newspaper The Dearborn Independent denouncing Jews as un-American, even a leading Reform rabbi came out against the play.
3. Weinberger said in response to the ruling: "If the charge of this court is correct, then 50 percent of the plays performed in the city of New York over the past year could have been indicted and convicted."
4. Weinberger, who claimed shuttering the play cost him $100,000, declared "Jewish religious bigotry entrenched in power is responsible for the indictment in this case," and said that as a result of the ruling: "Any interest, whether it is the Jewish, the Ku Klux Klan, the Catholics, the Protestants politicians or business opponents who have a grudge to serve and happen to be in power, can stop any play in the city of New York under the guise of obscenity or immorality."
5. Weinberger went on to warn other New York theatre proprietors that they were surely next. "This case is of national importance," he said. "If Broadway managers do not realize it at this particular moment, they will in the future when, whether because of malice or bigotry or enmity, indictments are filed against their plays without notice or hearing."
Bonus: Did you know Marlon Brando performed in the Yiddish theatre? He was taught by Stel­la Adler, the fore­most teacher of Amer­i­can ​"method" act­ing – and the daughter of two prominent Yiddish actors. In 1946, Brando performed in A Flag is Born, a proto-Zionist play that has been credited with helping to create the state of Israel. Brando, who was not Jewish, passionately believed that Holocaust survivors deserved their own land where they could live free from the oppression of the outside world. He accepted only his union's minimum payment for his performance, enabling more of the play's proceeds to go toward efforts to create the state of Israel.
Indecent: Ticket information
When: August 30-October 6 (Opens September 5)
Where: Space Theatre

Genre: Drama, history play with music
Advisory: Contains adult themes, language and sexual content
Tickets: Start at $30 and can be purchased at 303-893-4100 or in person in the Helen Bonfils Theatre Complex at 14th and Curtis streets or online by clicking here:

The making of Indecent in Denver: Photo gallery
Click on any photo to see a larger version.
Indecent cast:
Ben Cohen (Multi-instrumentalist for bands including Hal Aqua and Lost Tribe) as Musician/Moriz Godowsky
Lianne Marie Dobbs (Jane Austen's Emma, Repertory of St. Louis/Cincinnati Playhouse) as The Middle/Halina
Erik Fellenstein (DCPA Theatre Company's Anna Karenina) as Musician/Mayer Balsam
Andrea Goss (Indecent, Cort Theatre on Broadway) as The Ingenue/Chana
Paul Kreppel (Comedy of Errors, Delacorte Theatre) as The Elder/Otto
Zal Owen (The Band's Visit on Broadway) as The Ingenue/Avram
John Plumpis (Widowers' Houses, The Actors Company Theatre @ Theatre Row) as Lemml/Stage Manager
Valerie Spencer (Apollo, Portland Center Stage) as The Elder/Vera
Jonathan Spivey (Arcadia, Yale Repertory Theatre) as The Middle/Mendel
Meg York (Founder of Iranian Farabi Ensemble and Klezmerize) as Musician/Nelly Friedman
Creative team:
Written by Paula Vogel
Directed by Nancy Keystone
Scenic design by Efren Delgadillo Jr. (DCPA Theatre Company's Smart People)
Costume design by Jeff Cone (DCPA Theatre Company's Oklahoma! and Anna Karenina)
Lighting design by Elizabeth Harper (Between Two Knees, Oregon Shakespeare Festival)
Sound design by Curtis Craig (DCPA Theatre Company's Smart People)
Music direction by Angela Steiner (Associate for DCPA Theatre Company's Oklahoma!)
Voice and dialect coaching by Mary Mac
Projection design by Gregory Wren Towle
Fight direction by Chris DuVal (Twelfth Night, Oregon Shakespeare Festival)
Dramaturgy by Doug Langworthy (DCPA Director of New Play Development)
Casting by Harriet Bass and Grady Soapes, CSA
Stage management by Michael Morales (Stage Manager), Corin Davidson (Assistant Stage Manager), Nick Nyquest (Apprentice Stage Manager)
https://www.denvercenter.org/wp-content/uploads/2019/08/800-Indecent-rehearsal.-Photo-by-John-Moore..jpg
549
800
John Moore
John Moore
2019-08-01 17:15:42
2019-08-26 12:15:04
'Indecent' rehearsals open: A look back at 'God of Vengeance' controversy