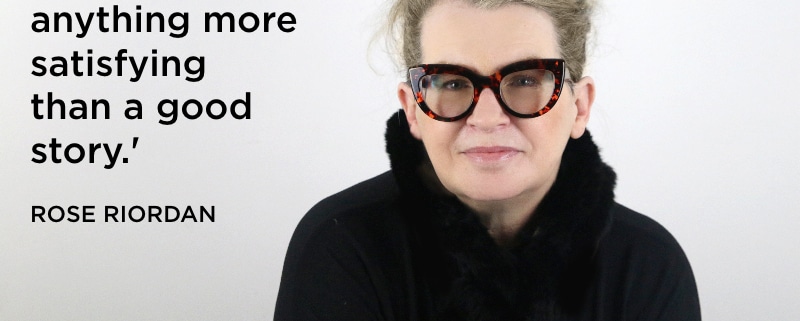 Introducing new DCPA Theatre Company Associate A.D. Rose Riordan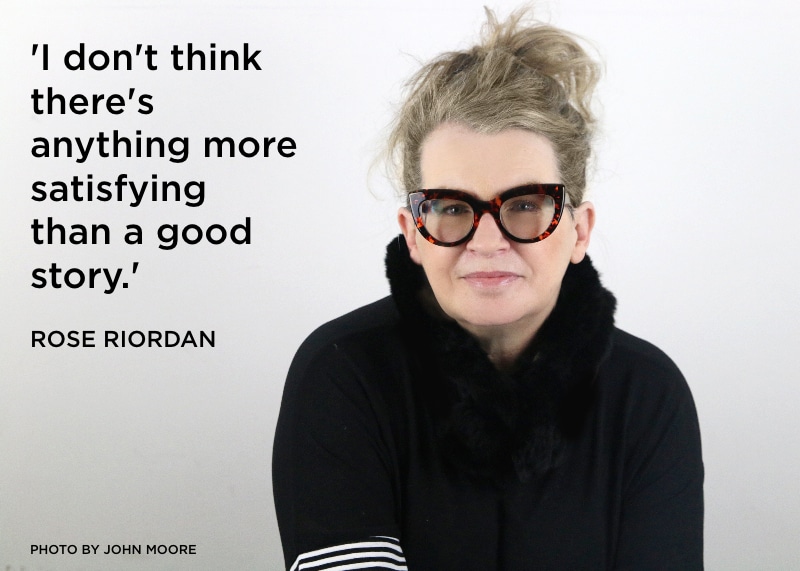 Chris Coleman turns to a familiar face to be the DCPA Theatre Company's new Associate Artistic Director
DCPA Theatre Company Artistic Director Chris Coleman named Rose Riordan as his Associate Artistic Director today, calling his longtime friend and collaborator "an additional, really strong voice for the artistic department."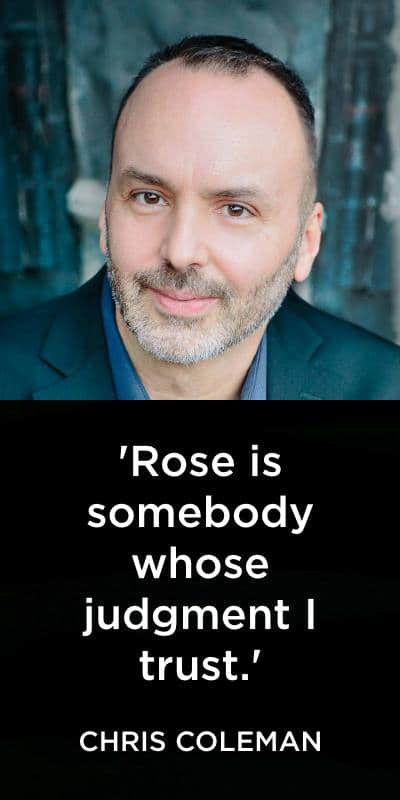 Riordan is currently directing Sweat, which opened Friday in the Space Theatre and runs through May 26. It was previously announced that she will next helm A Doll's House, Part 2, when it plays in repertory with Coleman's A Doll's House in the Ricketson Theatre this September.
The two enjoyed a 17-year working relationship at Portland Center Stage that Coleman said made Riordan his only choice for the job. In fact, had Riordan turned down the offer, Coleman said he was prepared to let the position go unfilled until he found the next perfect fit.
"I felt I needed someone who is an experienced director and someone I believe in – and that's a very short list for me right now," Coleman said. "Rose is somebody whose judgment I trust. We have worked together long enough that she can say things to me that nobody else can say."
What makes the two perfect artistic partners, Riordan said, is that "we are both story junkies. We both really, really like a good story. I would say that is more important to me than anything."
Riordan will begin her full-time duties on July 1. Coleman said Riordan will be "totally integrated into all artistic planning and visioning conversations at the Denver Center. "We will benefit greatly from a theatre professional like Rose," Coleman said.
Sweat opens rehearsals: Talking about a De-Industrial Revolution
Each season, the Theatre Company produces up to nine plays, develops at least four Off-Center productions, produces the annual Colorado New Play Summit and supports the DCPA's Cabaret and Education producing divisions. In addition to directing and having a say in casting decisions, Riordan will be involved in planning upcoming seasons as well as the annual Summit.
"Rose shares a deep passion and commitment in the DCPA's mission to develop new works and support playwrights, and I look forward to bringing Rose's talent and exceptional vision to the Denver community," Coleman said.
The start of a beautiful friendship
Riordan was working as an artistic producer at Portland Center Stage at the time Coleman was hired as Artistic Director there in 2001. Coleman promoted Riordan to the No. 2 position after he saw her direct the Adam Bock play The Thugs as part of Portland's 2005 JAW (Just Add Water) New Play Festival. "We have been joined at the hip – and fighting like brother and sister – ever since," Coleman said with a laugh.
"That was probably the best staged reading I had ever seen," Coleman said of The Thugs. "That is a complex play, and I was struck by her ability to get completely cohesive, realistic performances out of everybody in that group. She has a capacity to get performances out of actors that I'm always trying to find in directors – but it's hard."
At the time, Bock said of Riordan: "She's completely herself as a director. She's so smart, funny and makes beautiful work. I talk with her without being afraid that she won't be interested. She supports my process by giving me space."
Sweat actor Tara Falk: 'I turned my cancer into the most positive thing in the world'
Coleman says Riordan also has an uncanny ability to watch a show Coleman is developing and pinpoint what needs work. "Rose has no ability or desire to be tactful or diplomatic – and that is extremely valuable to me," he said with a laugh. She's also a free spirit who will tell you straight out: "The only things that truly matter to me are the work and my dog."
That last part comes as no surprise to Coleman. He remembers meeting Riordan when he was interviewing for the top job in Portland in 2001. Riordan, who had joined the company several years earlier, had founded the company's JAW festival and was handling many day-to-day matters for the artistic side of the company.
"I met Rose on my second interview, and I think her first question to me was: 'How do you feel about dogs?' And I thought, 'What an odd question,' " Coleman said. "But then I started doing some reconnaissance with colleagues who had worked with her, and they said, 'Well, you should spend time with her because she's probably the best in the country at what she does.' "
One of Riordan's seminal productions in Portland was staging the world premiere of The Body of an American, playwright Dan O'Brien's intimate story of how meeting a war photographer changed his life. O'Brien told American Theatre: "Rose is a fiercely intelligent advocate for provocative new work, as well as a first-rate director. She also has daring, bold choices in material — often political, always substantive, theatrical and joyful."
Riordan said she feels fancy for O'Brien having said that, "but truthfully, I'm interested in the storytelling and the humanness of a play. More than anything, that's what I relate to. If there is a message and it starts the conversation, that's awesome, but I'm not attracted to the work for that. Maybe I'm old-fashioned, but I don't think there's anything more satisfying than a good story."
(Story continues after the video)
Video: Rose Riordan talks about the DCPA Theatre Company's Sweat
Video above: DCPA NewsCenter interview with Rose Riordan, director of the Theatre Company's new staging of Lynn Nottage's 'Sweat,' winner of the 2017 Pulitzer Prize for Drama. Video by John Moore and David Lenk.
If you want to better understand Riordan's artistic taste, consider that one of her favorite TV shows is the Netflix comedy "Schitt's Creek," starring Catherine O'Hara and Eugene Levy. It's about a wealthy family that loses its fortune and is forced to move to a small backwoods town.
"I love that show," she said. "I just think they're having a wonderful time doing it. And the storytelling is hilarious. But another one that I love with my whole heart is a Korean television show called 'Misaeng, An Incomplete Life' on Netflix."
That's a fish-out-of-water story of a young expert gamer who is hired as an intern at a large trading company and is soon mired in the unwelcome world of office politics.
"The way they address corporate culture on that show is genius," Riordan said. "It's a window to a world that I'm not familiar with at all. But I would say that kind of human storytelling is my aesthetic, from head to toe."
Coleman said it was not his plan to hire Riordan as his Associate Artistic Director from the start. "I really said to myself, 'I want to get to Denver and live there and experience what skills the rest of the team have and then see what I need," he said. "But as I started to experience the crazy production schedule here, I quickly learned that trying to figure out how to both focus on my work and give meaningful feedback to other projects that were in development was going to be a challenge. And I felt really pulled too thinly."
Fortuitous timing then, that his once and future creative partner would soon be in town to direct the season-ending Sweat, Lynn Nottage's Pulitzer Prize-winning drama that follows a group of Pennsylvania steelworkers whose company is considering layoffs. Riordan says it was working on Sweat that convinced her to join the Denver Center full-time.
"I love that Sweat is my debut here," Riordan said. "I've had such a good time on this show. I mean, what better introduction to what it's like to work here? This has been a seriously flawless experience. I have felt very supported. I have felt respected, and I have been listened to – and I think it shows in this production. I'm very, very proud of it."
Alaska beginnings
Riordan says she has been doing theatre pretty much from the minute she arrived on the planet in Chugiak-Eagle River, Alaska, a small town about 20 miles south of Anchorage. "That's how I played as a child," she said. "I made up these wild stories. I directed all the kids in the neighborhood and we created these elaborate shows."
Riordan wrote and directed her first full-length play when she was in the fifth grade. "It was about six stewardesses and their man troubles," she said with a laugh. "I knew nothing about being a stewardess or man trouble, but there you go. I'm sure it was absolutely horrible."
Riordan's life was changed by a high-school speech teacher who had students take an object out of a box and then improvise a scene. "I did that and she stopped me as I was leaving class and said, 'I want you to come audition for this play,' " Riordan said. "So I did, and I got the lead. She had an inkling that I was a little uneasy about school and had a lot of things going on so she actually kept me in school. I can honestly say I graduated from high school because of theater."
She left Alaska, in part, "because of my desire to experience theater on a much deeper level," she said. Her path eventually led her to Portland Center Stage.
"Rose Riordan played a major role here in her two decades with the company, helping build our artistic strength and reputation nationally in many ways, but in particular through our annual JAW Playwrights Festival," Portland Center Stage Board Chair Ted Austin said. "She and Chris Coleman are a dynamic team, and we wish them both the greatest success in Denver."
For her part, Riordan added: "I'm just grateful to be here and excited to help out wherever I can."
John Moore was named one of the 12 most influential theater critics in the U.S. by American Theatre Magazine in 2011. He has since taken a groundbreaking position as the Denver Center's Senior Arts Journalist.
More about Rose Riordan
Rose Riordan is currently directing Sweat for the DCPA Theatre Company and will next helm A Dolls House, Part 2, there. She was Associate Artistic Director at Portland Center Stage for 18 years. She directed Tiny Beautiful Things, Our Town, The People's Republic of Portland, Vanya and Sonia and Masha and Spike, The Typographer's Dream, LIZZIE, A Small Fire, The Mountaintop, The Whipping Man, The North Plan, Red, One Flew Over the Cuckoo's Nest, A Christmas Story, The 25th Annual Putnam County Spelling Bee, The Receptionist, A Christmas Carol, Frost/Nixon, How to Disappear Completely and Never Be Found, Doubt, The Underpants, The Pillowman and The Thugs, which won four Drammy Awards, including Best Ensemble and Best Director. She also directed 10 readings for Portland's JAW new-play festival.
https://www.denvercenter.org/wp-content/uploads/2019/05/ROSE-RIORDAN.-Sweat.-Photo-by-John-Moore..jpg
571
800
John Moore
John Moore
2019-05-04 12:57:00
2019-05-06 00:43:25
Introducing new DCPA Theatre Company Associate A.D. Rose Riordan