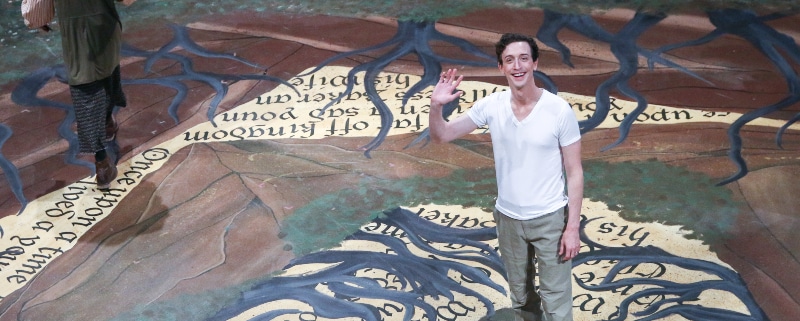 Actor, professor and DCPA Teaching Artist with Crohn's disease embraces the 'radical honesty' of Phamaly Theatre Company
Actor Jeff Parker's 18th birthday present was an onstage abdominal cramp that would change the course of his life.
"It was March 1, 1999. I was doing a production of Children of Eden, my last show of high school," Parker said. He darted into a bathroom and soon saw blood coming out where blood should not.
"I was pale. I had lost some weight. I was tired all the time," he said. "But it was my last semester of high school. My teachers thought I just had senioritis. And my friends thought I was just being emo."
Four months later, Parker sat in a doctor's office with his parents processing the unprocessable: "It's either colon cancer or Crohn's disease," they were told. Those grim words had Parker's tormented mother actually begging for the culprit to be Crohn's — "because that won't kill you," Parker said. For worse or for worse — Crohn's won out.
Crohn's disease is a rare, unpredictable and incurable auto-immune disease that affects the lining of the digestive tract. Simply put, Parker said: "My immune system hates me." Crohn's attacks otherwise healthy intestines, causing excruciating pain, spasms — and a lot of awkward bathroom moments. Because Crohn's prevents the body from absorbing nutrients, patients are often rail-thin and battle against bone-weary fatigue. At one point, the 6-foot-tall Parker dropped from 160 to just 123 pounds. He has had surgery, undergone every treatment ever concocted, and sometimes has to walk with a cane.
The progression of the disease initially made college impossible. But somehow Parker, now 37, has managed, with the help of his family and wife, Nicole, to eventually graduate from UCLA and earn an MFA from the University of California at Irvine. The 9-year-old Parker whose fervid dream was to be a Broadway baby is now an Associate Professor of Theatre at Metropolitan State University of Denver and a Teaching Artist at the Denver Center for the Performing Arts. He has transformed his antipathy for his disease into a passion for teaching voice, dialects, acting and improv comedy. And he performs whenever his body and schedule allow, notably starring in Performance Now's recent production of The Producers as the nebbish accountant-turned Broadway-producer Leo Bloom. (The Matthew Broderick role in the movie).
Parker, who moved to Colorado with his wife in 2014, is now performing for the first time with Denver's internationally acclaimed Phamaly Theatre Company, which exists to create performance opportunities for actors with disabilities. He is playing Cinderella's Prince in Stephen Sondheim's Into the Woods through Aug. 5 in the DCPA's Space Theatre. Parker says it has been an experience like no other — one where the creative task at hand is managed professionally, but with uncommon compassion.
"If you have a disability, a lot of companies try to hide it," Parker said. "You become a pariah if you are sick or if you have to ask for something. But Phamaly sees everyone as their authentic selves representing who they are as artists with their disabilities — and that was beautiful and empowering to me."
He calls the governing spirit between Phamaly and its audiences as a kind of "radical honesty."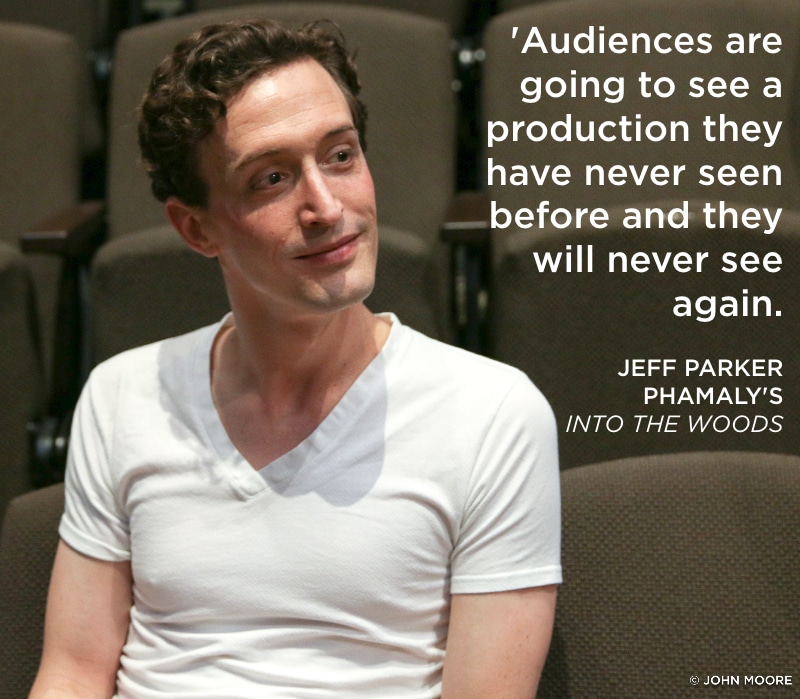 Not always happily ever after
Into the Woods is a sophisticated dark comedy that intertwines the plots of several Brothers Grimm and Charles Perrault fairy tales, exploring the haunting consequences when these beloved characters actually get what they want. At the forefront is the story involving a childless baker, his wife and their quest to begin a family, and their interaction with a witch who has placed a curse on them.
The first act ends with everyone appearing to have a happy ending. But things get real in the second act. Parker sees the story as a community of people bumping up against things that are bigger than they are and having to come together as a community to overcome them.
"And that's exactly what we are doing in the rehearsal room every day," Parker said. "We couldn't do this without the support of each other."
Phamaly Artistic Director Regan Linton, who has been in a wheelchair since she was paralyzed in a car accident at age 20, is returning to the Phamaly stage as an actor for the first time since 2010. She sees Into the Woods as "hopeful realism."
"I don't think you lose hope in the second act," said Linton, who plays The Baker's Wife. "Something is pulling them through. They are a community, just like we are at Phamaly. And I think that's something we need more than anything right now: To realize things are not going to look like what you think they are going to look like. That doesn't mean we just stop and give up."
Often when new audiences hear of Phamaly for the first time, they think — "Oh isn't that nice?"
They have no idea yet what a transformative experience it can be for them to see musicals where the actors' disabilities are fully incorporated into their on-stage characters. So what if Cinderella can't walk without a limp? So what if the Baker's Wife is in a wheelchair? "We don't try to hide it or shy from it," Parker said, "and that gives the story a unique twist." But there is no pity or sympathy that goes along with that, he said: That just becomes the reality of the story.
"This is not community theatre," Parker said. "We're doing a real production here in a way that no one else could, with real heart and professionalism."
He credits Director Christy Montour-Larson for her approach to the show — and her actors.
"Christy takes people in the cast and says, 'Let's give you something impossible to do,' " Parker said. "Our Jack (Adam Johnson), for example, took a bad spill, and now he walks with a cane. So Christy makes him walk a full loop on the stage. And with every step he takes, we can see that it's harder for him than it would be for you or me to take 50 steps. And yet … he's doing it. And on top of that, we are going to fly him in. So we taking this person who struggles to walk, and we are going to watch him fly."
True West Awards: Regan Linton is Colorado's Theatre Person of the Year 
There are extraordinary moments in every Phamaly production, and there are plenty more in every rehearsal. The other day, Parker joined with his castmates in delivering thunderous applause when castmate Erin Schneider, who plays The Witch, finished her song, "Last Midnight," even though she was dizzy from her Multiple Sclerosis.
"Every day there are little victories like that," Parker said. "And it can be as small as Erin getting a harmony right. This is some of the most difficult music you are going to find in all of musical theatre — especially if you have M.S. But Erin pushes past that. She is delivering one of the best performances I have ever seen."
Learning to live with your body's enemy
Fewer than 200,000 people are diagnosed with Crohn's disease each year. Some may remain symptom-free most of their lives, while others can have severe chronic symptoms that never go away. On a bad day, Parker said, "I'm still an 18-year-old kid curled up on my parents' couch going, 'When is this going to stop? Is this a week? Is this a month? Am I back in the hospital? Or is this just until tomorrow?' I just never know."
Parker bottomed out in 2008 trying to establish himself as a New York actor while constantly at war with his body. He was overcome with depression, pain and fatigue. "Every dollar I made was going to medication and doctor's appointments," he said. "It became too much. I had no coping skills."
His life changed direction when he answered a random ad to teach voice at Chattanooga State Community College. "And I have been professing ever since," said Parker, who convinced several of his current Metro students with disabilities to audition for Into the Woods with him.
The disease has taught Parker much about patience, compassion and the importance of a sense of humor. For a recent Phamaly profile, Parker was asked what the world might be like if it were filled with his clones. His response: "Loud, with many bad puns. For instance: Your question sounds like an outbreak of Clone's Disease."
Steroids and immunosuppressants are used to slow the progression of disease and manage the side effects. "My daily cocktail is between 17 and 29 pills," Parker said. "My party trick is I can swallow them all in one gulp."
More Colorado theatre coverage on the DCPA NewsCenter
He hopes audiences will come to see Into the Woods, first, for the Sondheim. But mostly because "there will be no other opportunity to experience this story this way," he said. "I am not saying that because we have disabilities, we have some special ability to tell the story that other actors don't. But I do know that only Phamaly can tell the story the way we are telling it. Audiences are going to see a production they have never seen before and they will never see again."
But to Linton, who has been in a wheelchair for 16 years, this is everyone's story.
"People make such a big deal of living with a disability," she said. "It's just the woods. And everybody has their own woods."
John Moore was named one of the 12 most influential theater critics in the U.S. by American Theatre Magazine in 2011. He has since taken a groundbreaking position as the Denver Center's Senior Arts Journalist.
Into the Woods: Ticket information
Music and Lyrics by Stephen Sondheim, Book by James Lapine
July 12 through Aug. 5
Space Theatre, Denver Performing Arts Complex
Tickets: $20-$29
Call 303-893-4100 or BUY ONLINE 
Groups: Call 303-572-4590
Cast and creatives:
Directed by Christy Montour-Larson
Choreography by Debbie and Ronni Stark
Music Direction by Mac Merchant
Stage Manager: Paul Behrhorst
Assistant Stage Managers: Zach Madison, Jane Stewart
Cinderella: Jenna Bainbridge
Jack: Adam Johnson
Jack's Mother: Amber Marsh
The Baker: MacGregor Arney
The Baker's Wife: Regan Linton
Cinderella's Stepmother: Maggie Whittum
Florinda: Esha Mehta
Lucinda: Rachel Graham
Little Red Ridinghood: Kirsten Lang
The Witch: Erin Schneider
Cinderella's Mother: Juliet Villa
Mysterious Man: Lucy Roucis
Wolf: Trenton Schindele
Rapunzel: Lyndsay Palmer
Rapunzel's Prince: Jeremy Palmer
Cinderella's Prince: Jeff Parker
Steward: Daniel Traylor
Narrator: Albert Tharpe III
Giant's Wife/Granny: Laurice Quinn
Milky White: Molly Nash
Cinderella's Father: Phillip Lomeo
Snow White: Miranda Ireland
Sleeping Beauty: Shannon Sauer
Ensemble: Maria Ciobanu, Carson Hanna, Vianca Marez, Aloukika Patro and Riley Tuttle
https://www.denvercenter.org/wp-content/uploads/2018/07/4-Jeff-Parker-Into-the-Woods.jpg
561
800
John Moore, Senior Arts Journalist
John Moore, Senior Arts Journalist
2018-07-12 16:20:50
2020-09-01 08:40:09
Jeff Parker finds his way out of the woods