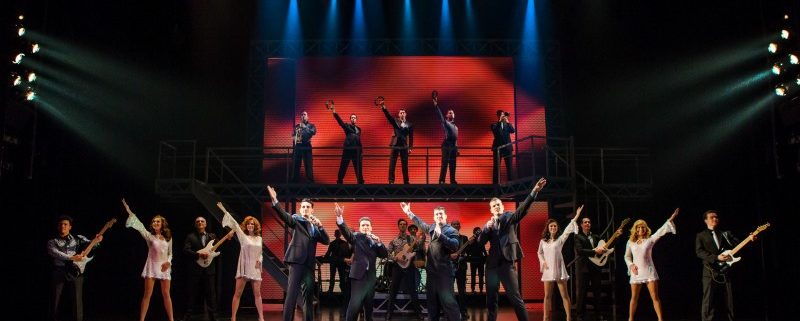 'Jersey Boy' Andrew Russell workin' his way back to Denver
The national touring company of 'Jersey Boys.' Photo Jeremy Daniel.
Andrew Russell can relate to the Four Seasons' unlikely rise from a street corner in New Jersey to the Rock and Roll Hall of Fame. He's lived a storybook tale of his own, rising from Pomona High School to his new place at the Jersey Boys' table. Along the way he's married his high-school sweetheart, performed in five musicals at the Arvada Center and now he returns home to perform in the national touring production of Jersey Boys from Nov. 9-13 on the most fabled stage of his youth, the Denver Center's Buell Theatre.
"It's definitely going to be a very eye-opening experience. This is something I have always dreamed of," said Russell, who saw his first live theatre performance at the Buell Theatre when the national touring production of Rent, starring Anthony Rapp, visited Denver in 2001.
"I spent a lot of time around the Buell as a kid, and throughout my entire life, seeing whatever big shows were touring at the Denver Center," Russell said. "Theatre in Denver was what I always imagined Broadway would be like. I also remember seeing Les Miserables at the Arvada Center and the touring production of Avenue Q at the Buell. That was my ticket to becoming whatever it is that I wanted to be in my life. Being able to see these quality productions really sparked something in me and made me think that possibly I could be doing this.
"And now being part of one of those quality productions, and coming back to Denver – it's a full-circle story."
Russell wasn't particularly driven to join the theatre program at Pomona High. You might say gang-leader Gavin Mayer made him an offer he couldn't refuse – Jersey Boys-style.
"He pulled me into the program," Russell said of his teacher and director. "I was this very shy, awkward kid, and I didn't know what I wanted to do with my life. I was nervous and not ready for high school. I just didn't have confidence, and I feel like Gavin saw something in me."
Russell's family had moved often when he was a kid, finally settling in Westminster when he was in the fifth grade. Pomona was his first time at the same school for more than two years.
On his first day of orientation, Mayer invited Russell to sit in and observe what the theatre program there was all about. "Sure enough, a few months later, he cast me in Footloose, The Musical. That was all him," Russell said. And seven years later, as fate would have it, Mayer would cast Russell again – in the Arvada Center's Legally Blonde, The Musical.
"And so Gavin cast me in my first production of anything in high school, and then in my junior year of college, he cast me in my first professional theatre production of anything, and that was Legally Blonde."
Before Russell graduated from Pomona, Mayer also cast him in Hello Dolly! opposite Brenna Larsen, another fortuitous gift in Russell's life. The two played Minnie Fae and Barnaby. They became high-school sweethearts, they matriculated together to the University of Northern Colorado in Greeley, and they were married in August 2015.
In 2014, Russell performed in the Arvada Center's throwback holiday musical She Loves Me. At the cast party, he met a party-crasher named Matthew Dailey. He was another Arvada Center alum who had just learned he would be playing Tommy DeVito in the national touring production of Jersey Boys. "We talked a little about the show, and I just thought that was so cool," Russell said. "Who knew that a couple years later, I'd actually be joining him in the tour? It's a crazy thing."
It's a little more crazy that Russell made it into the cast than Dailey, given Russell's own account of his audition. He was up for the role of goofball Hank Majewski, who was briefly a member of The Four Lovers – the precursor to Frankie Valli and the Four Seasons. "It was kind of a flop," Russell said of The Four Lovers. "Hank was kind of a dorky guy who didn't really lead the group to any kind of success at all. So they dropped him and picked up Bob Gaudio, who obviously made everything right."
(Photo above and right: Andrew Russell with Rob Costigan in 2014's 'She Loves Me.' Photos by P. Switzer.)
Because Russell is now based in Burbank, California, he submitted his audition tape through YouTube. When the casting team then asked him to come in for a real audition, Russell left a key accessory at home. "Hank needs to play guitar, and when they called me back, I didn't even think to bring a guitar," Russell said with a laugh. "I walked into the room and the first question they asked was, 'Where's your guitar?' And so I had to say, "Um … back in Burbank?"
But it worked for him.
"I think that set up this kind of goofball attitude from the beginning," he said. "I feel like they saw that in me."
The Four Seasons – sans Majewski – went on to chart 50 hit singles and sell an estimated 100 million records worldwide. The core of the group during its 1962-67 heyday were lead singer Frankie Valli, Gaudio on keyboards, DeVito on lead guitar and Nick Massi on electric bass. The band was inducted into the Rock and Roll Hall of Fame in 1990.
All of which was news to Russell when he was a student at Pomona – more than 40 years after "Sherry" was the No. 1 song in America. It was 2005 when the Jersey Boys Broadway soundtrack was released and found its way to Arvada.
"My friends and I would be singing along down the halls of Pomona High School," Russell said. "I had never heard these songs before. I didn't know who the Four Seasons were. So me being able to attach to these iconic songs at my age is very much attributable to Bob Gaudio's genius. They are just so memorable that kids generations later can snap along to them just like their parents did."
When Russell was cast, part of his intensive training was a third-row ticket to watch the original New York production, which is preparing to end its 11-year run in January as the 12th-longest-running show in Broadway history.
"I just listened to the way people responded to these songs like 'Oh What a Night,' 'Sherry' and 'Walk Like a Man,' " Russell said. "This isn't your typical Broadway experience. On top of the book and the score just being really, really good, the direction and the choreography are very specific; It's like a well-oiled machine, from the way the Four Seasons snap their fingers to the way the ensemble put their chairs down.
More Colorado theatre coverage on the DCPA NewsCenter

"The audience forgets they are watching a show. They find themselves singing along and enjoying their memories. Then you see the kids like me who just really enjoy the show, too. That's definitely why the show keeps on going like it has: Because everybody can enjoy it.
Russell enjoys stepping into the spats of a band of brothers who like to play with each other and make fun of each other. "They get in each others' faces," Russell said. "But in the end, they have this bond, and that bond is their word. They are family."
And Russell's family is his high-school Minnie Fae. Brenna Larsen Russell is also a performer, and she is currently touring the country in Nick Jr.'s cable television show Peppa Pig Live.
"We always had this crazy bond together," Russell said. "I couldn't be more proud of her. Here we are just a couple of years out of college in little old Greeley, Colorado, and we both are working professionally, sustaining our life together as a married couple in the industry. It's been pretty fun.
"Throughout our whole lives, people have told us, 'Don't have relationships with other people in the industry.' But I have seen a lot of relationships be very successful, especially when you find somebody you really have a connection with. I feel like we were brought together for a reason. We just have this soulmate connection. I can't imagine my life with anybody else."
John Moore was named one of the 12 most influential theater critics in the U.S by American Theatre Magazine in 2011. He has since taken a groundbreaking position as the Denver Center's Senior Arts Journalist.



Jersey Boys: Photo gallery
Jersey Boys: Ticket information

• Nov. 9-13
• Buell Theatre
• Talkback with the cast following Thursday, Nov. 10 performance
• ASL interpreted, Audio-described and Open Captioned performance: 2 p.m. Saturday, Nov. 12
• Tickets: 303-893-4100 or Tickets: 303-893-4100 or BUY ONLINE
Additional NewsCenter coverage of Jersey Boys:
Andrew Russell workin' his way back to Denver
Matthew Dailey walks like a man back to Denver
Dailey, Russell: There's plenty of Colorado in Jersey Boys
Video, photos: Jersey Boy sings national anthem at Broncos game
https://www.denvercenter.org/wp-content/uploads/2018/04/featured-image-3608.jpg
477
800
John Moore
John Moore
2016-11-06 10:41:00
2018-06-13 16:04:30
'Jersey Boy' Andrew Russell workin' his way back to Denver