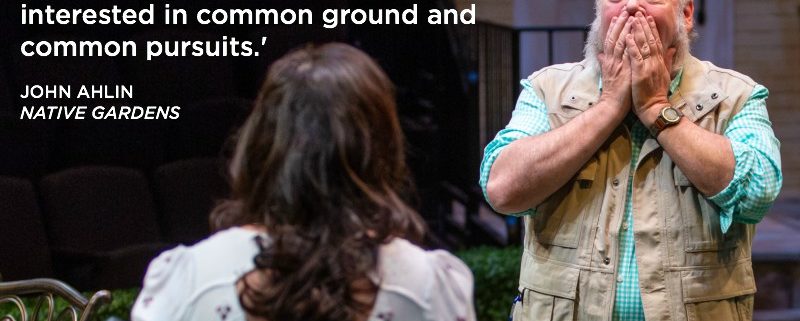 John Ahlin of 'Native Gardens' on what theatre can learn from Comic-Con

Photo by Adams VisCom.
Broadway veteran's garden grew out of a dream to be a forest ranger. Now he's tilling the soil in the Space Theatre.
MEET JOHN AHLIN

John Ahlin, who plays gardening fan Frank Butley in Native Gardens, has appeared on Broadway in seven productions including Waiting for Godot with Nathan Lane and Bill Irwin, 2007 Tony Award-winning Best Revival Journey's End (alongside DCPA master's graduate John Behlmann), The Lieutenant of Inishmore, Macbeth, and others. Other New York credits include Orson Welles in Orson's Shadow (Barrow Street Theatre), Gray Area (Barrow Group), ChipandGus (Soho Playhouse) and others. TV and film credits include: "Inside Llewyn Davis" (Coen Brothers), "Law & Order: SVU," "Late Show with David Letterman," "As the World Turns" and many more. (Pictured above: John Ahlin and Jefferson Mays in Journey's End.' Photo by Paul Kolnik.)
Hometown: Aurora
Home now: New York
Website: JohnAhlin.com
Twitter-sized bio: Actor, playwright, thinker: Lives 36 floors above New York City: Works hard: Plays nice: Likes all people and distant train whistles
What would you be doing if you were not an actor? Out of high school, I wanted to be a forest ranger, and I was sidetracked by theatre in college and never looked back. I still have the "what if" pangs whenever I look up at forested mountains, and as I type this I can look out to see some snowy Rockies. There is where I'd most likely be if not for acting.
One role you were completely miscast for: Not a prideful fellow I, but I feel I'm able to perform myriad roles somewhat effectively, and am not pigeonholed into a type. For example, I've appeared on Broadway in a splashy musical, a whodunit, a contemporary Irish black comedy, an all-black musical revue, a Shakespeare, an absurdist classic and a Tony Award-winning revival of a World War I drama. I did, however, once get mis-booked on a radio show where I thought I was going to promote a play I had written, and they instead thought I was a bright young comedian. Luckily I was quick-witted enough to survive that interview, but I wouldn't want to do that again.
Bucket-list role: If I were forced to list my all-time bucket-list role, it would be Lear. A small portion of the rest of the list: Willie Loman, Big Daddy, Sheridan Whiteside, Walter Burns, Estragon and Mama Rose. (Note: I included Mama Rose because, in theory, after you complete your bucket list, don't you kick the bucket? If I have one un-played role on my list, I hope to stave off the inevitable end.)
What's playing on your Spotify? "Levon" by Elton John, "Everybody's Talkin' " by Harry Nilsson, "Elusive Butterfly of Love" by Bob Lind, "Gentle on My Mind" by Glen Campbell and "And When I Die" by Blood, Sweat and Tears — my favorite band. I would call these my top-five favorite songs, and it wasn't until this little exercise that I realized what was alike about them all: Scope. The expansive reflection on one's life, both past and future and its echoing through time.
What's one thing we don't know about you? I have done Falstaff 11 times — and I'd be happy to do him 11 more times. (Pictured above right.)
One time you saw greatness play out in front of you: Watching Mark Rylance in Jerusalem by Jez Butterworth was the happy confluence of seeing both the greatest performance and the greatest play I had ever witnessed, at the same time. And to see such a marvel, after my nearly four decades in show business, was more than an inspiring glimpse of what theatre can be. It was a rejuvenating experience, fueling me to go on, to keep wondering, and seeking the surprises that lurk around every corner of life. (Pictured at right: Mark Rylance in 'Jerusalem.' Photo by Simon Annand.)


One thing we should be doing to foster the next generation of theatregoers?

This is a bit wacky, but I think everyone who makes or markets theatre should go to a

Comic-Con

and see the enthusiasm of the crowds of young people lining up around the outside of the convention center, and then just ponder what it is that drives these joyous fans to surrender themselves completely to the stories, characters and ambience. There are probably many revelations that can come just by thinking and wondering how to nurture, increase, reciprocate and reward fandom for theatre — and not just the young, but all theatregoers.

What is Native Gardens all about? Karen Zacarías' play is about a young Latino couple who move into a well-established D.C. neighborhood. Though their neighbors have the best intentions, their newly budding friendship is tested when they realize their shared property line isn't where it's supposed to be.
Why does Native Gardens matter? Native Gardens is what all good theatre should be: the lifting out of ideas and concepts intrinsic to life, to be examined in a focused and palatable way. The themes, characters, plot and style blend beautifully so that the play makes its points through behavior and not comment. This play wonderfully fulfills theatre's purpose, where we humans gather in one big room and debate life through our stories.
What do you hope audiences get out of seeing Native Gardens? Someone once said "the audience is the only genius in theatre," so what they get out of it is all that really matters. I have a feeling they will get a wonderful and funny night of theatre, but more, they will see a play that shakes preconceived notions and will cause the audience to look at something afresh, as if for the first time. And hint at avenues of hope.
What do you want to get off your chest? I think too many people are getting things off their chests. I'm far more interested in common ground and common pursuits. There are an awful lot of good things to be done without all the complaints and recriminations dividing people.
Your first look at the DCPA Theatre Company's 'Native Gardens.' Video by DCPA Video Producer David Lenk for the DCPA NewsCenter.)


Native Gardens: Ticket information

Dealing with neighbors can be thorny, especially for Pablo and Tania, a young Latino couple who have just moved into a well-established D.C. neighborhood. Though Frank and Virgina have the best intentions for making the new couple feel welcome next door, their newly budding friendship is tested when they realize their shared property line isn't where it's supposed to be. Frank is afraid of losing his prized garden, Pablo wants what is legally his, Tania has a pregnancy and a thesis she'd rather be worrying about, and Virginia just wants some peace. But until they address the real roots of their problems, it's all-out war in this heartfelt play about the lines that divide us and those that connect us.
Presented by DCPA Theatre Company
Performances through May 6
Space Theatre, Denver Performing Arts Complex
Call 303-893-4100 or BUY ONLINE

Previous NewsCenter coverage of Native Gardens:

https://www.denvercenter.org/wp-content/uploads/2018/04/featured-image-6260.jpg
502
800
John Moore
John Moore
2018-04-20 15:35:00
2018-06-14 15:46:05
John Ahlin of 'Native Gardens' on what theatre can learn from Comic-Con