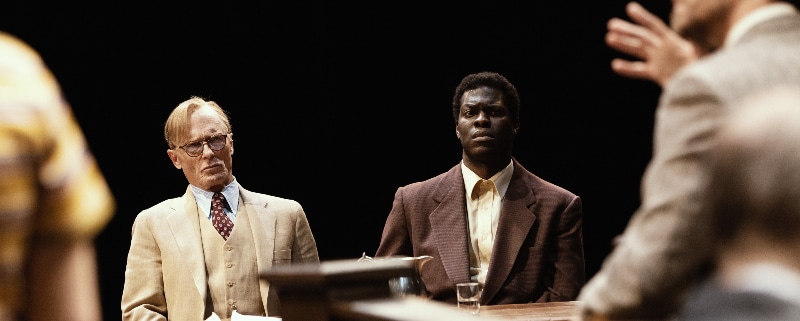 Just announced: 'To Kill a Mockingbird' coming to Denver
Aaron Sorkin's stage adaptation to be part of DCPA's Broadway and Theatre Company seasons
Producer Scott Rudin and the Denver Center for the Performing Arts announced today that To Kill a Mockingbird, Aaron Sorkin's new play, directed by Bartlett Sher and starring Emmy Award winner Richard Thomas, based on Harper Lee's classic novel, will play The Ellie Caulkins Opera House from July 13-August 1, 2021, as part of both the 2020-21 Broadway and Theatre Company full season subscription packages.
A public on-sale date will be announced at a later date.
Please note that the remaining 2020-21 DCPA Broadway season subscription package and added attraction titles will be announced on March 9. The remaining 2020-21 Theatre Company titles will be announced on February 21.
These dates are announced as part of the national tour that will begin in August 2020 at the John F. Kennedy Center for the Performing Arts in the heart of the nation's capital.
On Broadway, To Kill a Mockingbird holds the title of the most successful American play in Broadway history. Since performances began on Thursday, November 1, 2018, To Kill a Mockingbird has not played to an empty seat, with capacity remaining over 100 percent for every performance. To Kill a Mockingbird will open at London's Gielgud Theatre in May 2020.
Lee's enduring story of racial injustice and childhood innocence has sold 45 million copies worldwide. 2020 marks the 60th anniversary of its publication.
Set in Alabama in 1934, To Kill a Mockingbird centers on one of the most venerated characters in American literature, the small-town lawyer Atticus Finch. The cast of characters includes Atticus' daughter Scout; her brother, Jem; their housekeeper and caretaker, Calpurnia; their visiting friend, Dill; mysterious and reclusive neighbor Arthur "Boo" Radley, and the other indelible residents of Maycomb, Alabama from the novel.
Critics' comments
"A 'Mockingbird' for our moment. Beautiful, elegiac, satisfying, exhilarating." – Jesse Green, The New York Times
"It's soaring, towering, and deeply embedded in the American consciousness." – Peter Marks, The Washington Post
"All rise for Aaron Sorkin's great play. One of the best in history." – David Richardson, NPR
"A game-changing Mockingbird. A genuinely radical new play that fits this riven American moment." – Chris Jones, Chicago Tribune
 "Stirring, provocative, and thoroughly original, it speaks to our troubled times." – Charles McNulty, Los Angeles Times
"Majestic and incandescent, this Mockingbird is filled with breath and nuance and soul." – Sara Holdren, New York Magazine
 "Aaron Sorkin's play is a great work of American theater." – Toby Zinman, The Philadelphia Inquirer
Biographies

Aaron Sorkin (Playwright) is a celebrated writer, producer and director known for his multi-award-winning work across stage and screen. Sorkin is probably best known as the creator and screenwriter of the Emmy Award-winning hit television series "The West Wing" and films such as Steve Jobs and The Social Network for which he received an Academy Award, Golden Globe, BAFTA and Writer's Guild Award for best screenplay. He is the writer-creator of "The Newsroom" and the Academy Award-winning 1992 film A Few Good Men, which he adapted from his 1989 Broadway play. His other credits as a playwright include Making Movies and The Farnsworth Invention.
Bartlett Sher (Director) is the multi-award-winning Director of the Lincoln Center Theater in New York, a post he has held for more than a decade. His critically acclaimed stage productions include the Tony Award-winning South Pacific and Oslo, My Fair Lady and Women on the Verge of a Nervous Breakdown. He has also worked extensively in opera, staging productions at English National Opera, Metropolitan Opera, Seattle Opera and New York City Opera.
Richard Thomas (Atticus Finch) last appeared on Broadway in the revival of The Little Foxes, for which he received a Tony Award nomination. He has been seen in acclaimed performances on stage including You Can't Take It With You, Race, Democracy, Incident at Vichy (Drama Desk Award nomination), The Stendhal Syndrome (Lucille Lortel Award and Outer Critics Circle Award nominations), A Naked Girl on the Appian Way, An Enemy of the People, Tiny Alice, The Front Page, The Fifth of July, innumerable Shakespeare productions, and his professional debut at 7 years old in Sunrise at Campobello on Broadway. He was last seen on national tour in the award-winning productions of The Humans (Elliot Norton Award) and Twelve Angry Men. Thomas is an Emmy Award-winning actor beloved for his performance in the iconic series "The Waltons." He is best known to contemporary television audiences for his work in the critically renowned series "The Americans" as well as his appearances on "Billions" and the limited series "Tell Me Your Secrets." His feature film performances include Curtis Hanson's Wonder Boys, Tim Blake Nelson's Anesthesia, and Ang Lee's Taking Woodstock. Thomas is also a published author who resides in New York City. 
To Kill a Mockingbird is designed by Miriam Buether, with costumes by Ann Roth, lighting by Jennifer Tipton, sound by Scott Lehrer and an original score by Adam Guettel.
To learn more, visit tokillamockingbirdbroadway.com
Please be advised that the Denver Center for the Performing Arts – denvercenter.org – is the ONLY authorized ticket provider for To Kill a Mockingbird in Denver. Ticket buyers purchasing tickets from a ticket broker or any third party run the risk of overpaying and/or purchasing illegitimate tickets. Patrons should be aware that the DCPA is unable to reprint/replace lost or stolen tickets and are unable to contact patrons with information regarding time changes or other pertinent updates regarding the performance if they purchase from a ticket broker or any third party. Patrons found in violation of the DCPA Ticket Purchase and Sale Terms and Policies  may have all of their tickets canceled.
Photo gallery
Photos from the Broadway production of 'To Kill a Mockingbird,' coming to Denver next year as a national tour. Photo by Julieta Cervantes.
https://www.denvercenter.org/wp-content/uploads/2020/01/191028_Cast-of-To-Kill-a-Mockingbird_Photo-by-Julieta-Cervantes-1.jpg
512
800
DCPA Press
DCPA Press
2020-01-30 11:06:31
2020-01-30 11:06:31
Just announced: 'To Kill a Mockingbird' coming to Denver