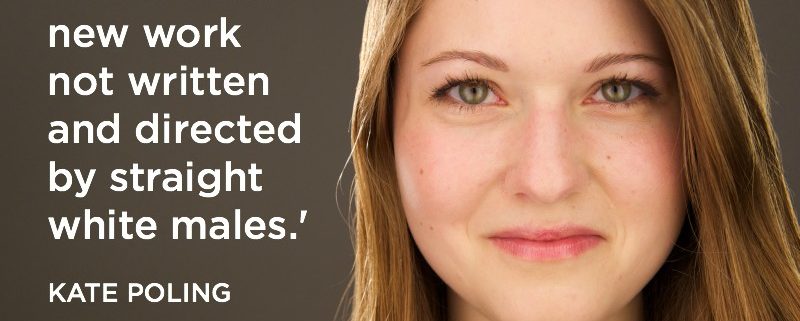 Kate Poling on the need to choose fight over flight
Featured actor in two new one-act plays by local playwright calls for more original work that is neither safe nor easy

MEET KATE POLING

Katie Poling, a DCPA Education Teaching Artist, plays Daisy in The Way Station and Stel in South Star, two original one-act plays by Denver playwright Rebecca Gorman O'Neill now being premiered by And Toto Too, the only Denver theatre company to focus entirely on producing new plays by women playwrights. Poling has performed for the Boulder Ensemble Theatre Company, Arvada Center, Miners Alley Playhouse and Bitsy Stage. Favorite roles include Viola in Twelfth Night (Foothills Theatre Company), Guildenstern in R and G are Dead (NYU) and Nurse in Romeo and Juliet (Royal Academy of Dramatic Arts). She also teaches children's theatre at the Mizel Arts and Culture Center. (Pictured above: James O'Hagan-Murphy and Kate Poling in And Toto Too's 2015 production of 'Smoke.' Photo by Meghan Ralph, Soular Radiant Photography.)
Hometown: Highlands Ranch
Home now: Denver
What's your handle? @katepoling on Instagram
Twitter-sized bio: Colorado native. Old soul who loves tea, books, Shakespeare and dragons. A teacher and a student of the world.
What would you be doing if you were not an actor? I would probably be in politics. I double-majored in political science at NYU, and I love the drama, the stakes and the potential to make the world better that is inherent in any political system. To me, it's just a different form of theatre.
One role you were completely miscast for: Rebecca Nurse in The Crucible at age 16. While very fun, I definitely need to age a few years before tackling that again.
Bucket-list role: Iago in Othello. And with all the gender-bending in Shakespeare these days, it could happen someday!
What's playing on your Spotify? The Anastasia Broadway soundtrack
What's one thing we don't know about you? I am super into Greek mythology, and I know a lot about it.
One time you saw greatness play out in front of you: I saw the play Seminar, by Theresa Rebeck, during its Broadway run, and it was a life-changing experience. The script was incredible, the characters were nuanced and the ensemble worked together effortlessly. Lily Rabe's performance, in particular, blew me away. When an actor can make you love them, pity them, hate them, and want to be them all in a 90-minute period, you know you're experiencing great writing and wonderful acting. Seminar also appealed to me because it beautifully expressed the idea that art and creation aren't always easy, and they aren't always comfortable, but they are necessary — and they are important.

One thing we should be doing to foster the next generation of theatregoers? We need to be offering rush tickets, discount tickets and other incentives to bring in younger theatregoers. Some places in Denver are really good about this, but it's a simple way to bring in younger audiences, who might decide to spend their $10 on a play instead of a movie, or a beer.

What are The Way Station and South Star all about? The Way Station is the story of three strangers from different places and times, each pulled out of their travels and dropped off at a mysterious way station. It's about what happens when you run from your problems instead of facing them, and how people get stuck (literally, in this case) when they choose flight over fight. The South Star is set seven years in the future, during the second American Civil War. It's also about running, but this time it's about spies, intrigue and war, as it takes place during a coming second American civil war.
Why do these plays matter? Everyone has things they'd rather run from than face, and I think The Way Station really highlights that flight never truly works out, and we should face things rather than try to bury them. As for South Star, we're stuck right now in a political environment that is very black and white, and I think South Star really highlights that fact that there are grey areas between what is "right" and what is "wrong." Even more than that, it brings war and rhetoric to its smallest level of the people and the lives that are affected by it.
What do you hope audiences get out of seeing these plays? I hope they leave thinking about the plays and wake up the next morning still thinking about what they meant.
What do you want to get off your chest? I think it is so important to keep supporting and producing work that isn't safe and easy. There have been great strides in Denver over the past couple of years, but we can do more. Pick the play that challenges. If you're producing a classic, make sure it says something new. I think theatre wages a constant battle to stay relevant, and the best way we can do this is by continuing in this direction. That's why I love working with And Toto Too. They only produce work by women, and only new work that hasn't been done in Colorado. I think Denver needs more of that. More new work, more work not written and directed by straight white males, and more work that challenges audiences.


The Way Station and South Star: Ticket information
Presented by And Toto too Theatre Company
Written by Rebecca Gorman O'Neill
Directed by Susan Lyles
Performances through May 5
At The Commons on Champa at 1245 Champa Street, Denver Performing Arts Complex
Call 720-583-3975 or go to andtototoo.org
April 27 will be an ASL interpreted performance
Cast list:
Austin Lazek, Kate Poling and Seth Palmer Harris
Note: The Way Station and The South Star is sponsored by The Next Stage NOW, an initiative of the city's department of Arts and Venues with a mission to enliven, diversify and sustain the Denver Performing Arts Complex through public performances, programming and place-making.
More 2017-18 'In the Spotlife' profiles:

• Meet Erica Brown of Emancipation Theatre's Honorable Disorder
• Meet John Ahlin of DCPA Theatre Company's Native Gardens
• Meet Elizabeth Bernhardt of Phamaly's Romeo and Juliet
• Meet Sheryl McCallum of Aurora Fox's Passing Strange
• Meet Brynn Tucker of Off-Center's This is Modern Art
• Meet Gustavo Márquez of DCPA Theatre Company's Native Gardens
• Meet Gia Valverde of DCPA Theatre Company's Native Gardens
• Meet Jake Mendes of Off-Center's This is Modern Art
• Meet Ilasiea L. Gray of Denver Children's Theatre's Sleeping Beauty
• Meet Meet Jordan Baker of DCPA Theatre Company's Native Gardens
• Meet Candy Brown of Lone Tree Arts Center's Love Letters
• Meet Christy Brandt of Creede Rep's Arsenic and Old Lace
• Meet Deb Persoff of Vintage Theatre's August: Osage County
• Meet Monica Joyce Thompson of Inspire Creative's South Pacific
• Meet Hugo Jon Sayles of I Don't Speak English Only
• Meet Marialuisa Burgos of I Don't Speak English Only
https://www.denvercenter.org/wp-content/uploads/2018/04/featured-image-6266.jpg
552
800
John Moore
John Moore
2018-04-21 13:34:00
2018-06-15 09:17:23
Kate Poling on the need to choose fight over flight