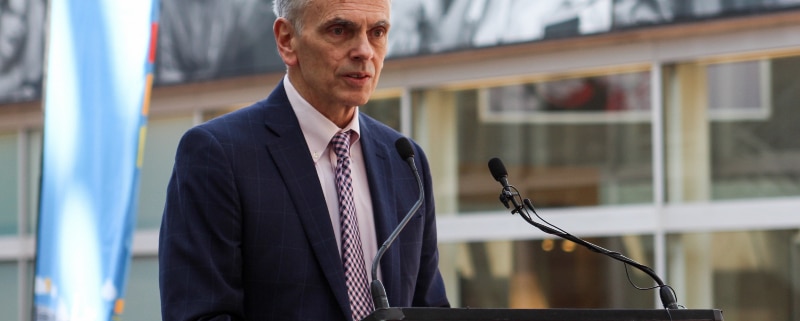 Kent Rice to retire after eight years leading Denver Arts & Venues
Ginger White named interim leader of agency that manages city's arts facilities, including the Denver Performing Arts Complex
Mayor Michael B. Hancock today announced that Kent Rice will retire at the end of 2018 after eight years as Executive Director of Denver Arts & Venues. Deputy Director Ginger White has been named his interim replacement.
Arts & Venues is the City and County agency responsible for operating some of the region's largest cultural facilities, including the Denver Performing Arts Complex, where the Denver Center for the Performing Arts is the leading theatrical tenant. Arts and Venues also manages Red Rocks, the Colorado Convention Center, Denver Coliseum and McNichols Civic Center Building. Arts & Venues oversees the Denver Public Art Program, Create Denver, SCFD Tier III granting process, the Arts Education Fund and other entertainment and cultural events such as the Five Points Jazz Festival, Urban Arts Fund, and the implementation of IMAGINE 2020: Denver's Cultural Plan.
"Kent has been a superb leader and public servant, and his impact as a seasoned executive and dedicated public servant will be with us for years," Hancock said. "He and his highly qualified team have been able to deliver impressive results in our venues year after year, while burnishing Denver's already well-regarded arts and cultural scene."
Rice was first appointed by then-Mayor John Hickenlooper in 2010, and re-appointed by Hancock in 2011. Since then, Rice claims as among his agency's accomplishments:
The creation of Arts & Venues through the merger of the former Theatres and Arenas division with the former Office of Cultural Affairs.
An increase in the agency's revenue from $21 million to $54 million, driven by improved venue bookings and the launch of two new businesses.
The development of long-range plans for both the Performing Arts Complex and Colorado Convention Center.
The renovation of the McNichols Civic Center Building and its reopening as a cultural center and public venue.
The launch of the city's first cultural plan in over 25 years, IMAGINE 2020, coupled with a major increase in funding for cultural programs and grant-making in the creative sector.
The National Western Stock Show at the Denver Coliseum
"My eight years in public service have given me a once-in-a-lifetime opportunity to be a city builder with dozens of dedicated executives – a path I'd never envisioned after a career in the private sector," Rice said. "I'm deeply grateful to Mayor Hancock for his unswerving support for my amazing team as we worked to lift up the Denver community through arts and entertainment offerings, and through stimulating the creative economy."
White has served as the Deputy Director for six years. Before that, she was an economic development specialist who inaugurated the city's Create Denver program. She was Director of Marketing and Programs at the Cherry Creek Arts and served as Membership Manager at Atlanta's High Museum of Art. White graduated from Xavier University and has an master's degree in Urban Planning and Public Policy from the University of Illinois at Chicago.
"I have known Ginger since my days on City Council, and she has been nothing but spectacular at leading numerous key initiatives in our arts and cultural scene," Hancock said. "Ginger is well-known and highly regarded throughout our community. I have every confidence in her ability to continue the successes we've seen these past eight years at Denver Arts & Venues."
Rice's last day will be December 7.
"While Kent will be greatly missed, I couldn't be prouder of the way he has elevated arts and culture here in our city to new and wonderful heights," Hancock said.
Editor's note: Most of the information in this report was submitted by Theresa Marchetta, Director of Strategic Communications and Media Policy for the city of Denver.
https://www.denvercenter.org/wp-content/uploads/2018/10/Kent-Rice-Photo-by-John-Moore.jpg
524
800
DCPA Press
DCPA Press
2018-10-17 11:22:18
2018-10-17 14:39:08
Kent Rice to retire after eight years leading Denver Arts & Venues