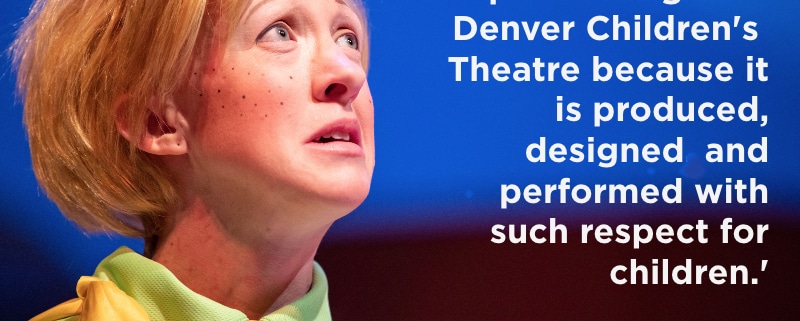 'The Little Prince' closes a storybook run for Denver Children's Theatre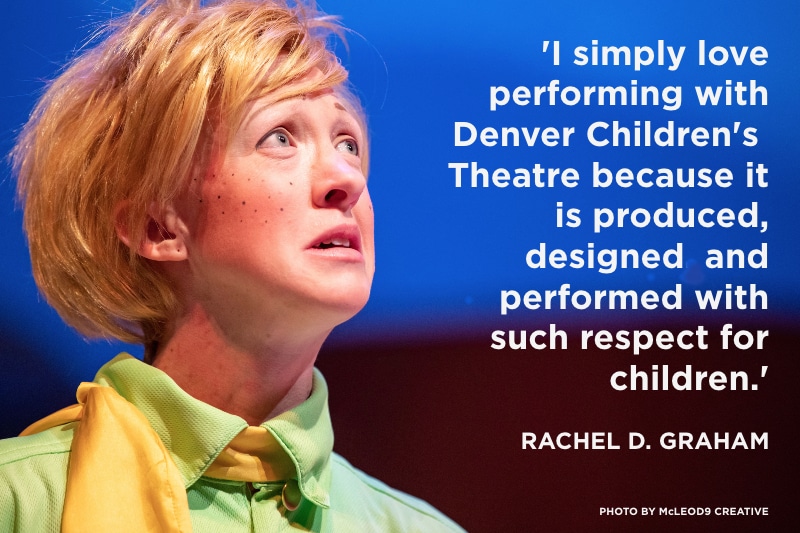 After 22 years of children's theatre, Mizel Arts and Culture Center will focus more on presenting than producing
The Denver Children's Theatre, which has performed for more than 150,000 young people over the past 22 years at the JCC Mizel Arts and Culture Center, has announced that its current production of The Little Prince, running through May 2, will be its last.
"It's sad because getting kids out to see live theatre has always been important to me, and for a large portion of those 150,000 kids, we were their first live theatre experience," said Steve Wilson, Executive Artistic Director of the Mizel Arts and Culture Center. "We are so grateful to have had the privilege of enlightening young minds with the creativity and imagination that only theatre can provide. And we played to a primarily diverse audience, because most of our kids come from the Denver Public Schools."
But it has become no longer economically feasible for the Denver Children's Theatre to continue to produce its own stories, Wilson said. The Mizel, whose programming also includes the Denver Jewish Film Festival, the Wolf Theatre Academy, adult art classes and more, will now transition away from producing live theatre into more of a presenting organization that will involve outside groups, partnerships, collaborations and rentals.
"The hope is we will still have some kids' programming," said Wilson, a graduate of the Denver Center's National Theatre Conservatory master's program. "We are excited to reinvent what can happen in that space." He expects to announce a plan by early 2020.
The Denver Children's Theatre has been producing an annual professional theatre production for young audiences since 1997 while employing some of Denver's best adult actors. That list includes Jamie Ann Romero, who just returned to Denver in the national touring production of The Play That Goes Wrong, as well as Karen Slack, Adrian Egolf, Josh Hartwell, Mare Trevathan, Brian Landis Folkins, Michael Bouchard (DCPA's The SantaLand Diaries), Elgin Kelley, Edith Weiss, GerRee Hinshaw and more. The cast of The Little Prince is made up of returning favorites Rachel Graham, Missy Moore, Damon Guerrasio and Ilasiea L. Gray. Many DCT shows over the years have been directed by Colorado Lifetime Achievement Award winner Billie McBride.
"Our philosophy has always been: We do not want to do children's theatre in a style that is children's theatre," said Wilson, who is directing the farewell show himself. "I cast who I cast because they are extraordinary actors. I don't want muggy, cutesy storytelling. And The Little Prince is indicative of that. It is an extremely heartfelt story that calls for some extraordinary acting."
Over the years, Wilson never shied from using DCT productions as an opportunity to expose young minds to differences in the world. Last year, Gray made history as the first local actor to play a Sleeping Beauty of color. Wilson would like to claim some intentional statement in that casting, but instead, he says, "She was just the best actor for the role." Still, nothing has given Gray more pride than playing a Disney princess for 6,000 young people – and then talking to them about it after.
Read more about Ilasiea L. Gray's 2018 True West Award for Sleeping Beauty
"Representation matters," Gray said. "I cannot tell you what it would have meant for me as a young girl to have seen a black lead character — especially a princess — in the live theatre. Someone I could hug and talk to afterward, as opposed to a movie."
When Graham played the title role in Rumpelstiltskin in 2014, she chose not to wear a wig. That meant curious children could clearly see that she has no hair – and they talked about it after every performance. Graham explained that she has Alopecia, a type of hair loss that occurs when your immune system mistakenly attacks your hair follicles.
"When I graduated from college in 2011 and began looking for places to work as an actor, the Denver Children's Theatre was at the top of my list," Graham said. "I love performing in children's theatre, and I knew that DCT, with Steve Wilson at the helm, did some of the best in Colorado. I simply love performing with DCT because it is produced, designed and performed with such respect for children and their emotions, thoughts and life experiences."
Time for a change at the JCC
The Denver Children's Theatre performs in the state-of-the-art Elaine Wolf Theatre, which was expanded and modernized into a 440-seat gem in 2012 thanks to a $2 million gift from philanthropist Elaine Wolfe. But the DCT has faced a variety of economic challenges ever since.
"We closed the theatre for two years to renovate and we had to build our momentum back up," Wilson said. Since then, school budgets have been cut, making transportation to the theatre more difficult. Competition has increased. And all of that has made attendance at DCT shows something of a roller-coaster.
"When we do a high-recognition title like The Jungle Book, people will come," Wilson said. "But when we did a great new play called Art Dog, people did not come."
The DCT operates on modest financial resources, with an annual budget of $60,000 – compared to, say, The Children's Theatre of Minneapolis, which has a budget of $11 million.
The overarching complication has been the financial difficulties of the Mizel's parent company. The future of the Staenberg-Loup Jewish Community Center was in grave doubt just last year. Facing $14.3 million in debt and a long list of deferred maintenance needs, local charities and private donors stepped up raise $16 million and wiped out the debt. But along with multi-million-dollar donations from the Rose Community Foundation, Mizel Family Foundation, the Sturm family and Staenberg himself came a new board of directors and a new land-ownership arrangement. As part of the deal, the JCC sold its 9-acre property to a new subsidiary of the Rose Foundation, which will now lease the property back to the JCC for $1 per year for the next century.
Denver Center's next Theatre for Young Audiences title: Goodnight Moon
"As this new era at the JCC begins, there has been a push for us to re-evaluate everything we are doing and re-focus," Wilson said. "The economics of children's theatre are tough. We just can't keep our mainstage theatre encumbered with one production for as long as a Denver Children's Theatre production requires. So if we want to be a center of activity, it's better for us to focus more on presenting than producing right now."
Going out on a high
Despite all of that, Wilson said, "we do have a spectacular show this year."
The Little Prince tells the story of an unlikely friendship between two stranded travelers in the Sahara Desert – an aviator whose plane has broken down (played by Missy Moore) and a mysterious "little prince" (Rachel Graham) who experiences the world through a series of drawings. During their two weeks together, the prince tells the aviator about his adventures throughout the galaxy. Eventually, both must go home — each with a renewed understanding of how to live again.
"It's the perfect play to go out on because our beautiful Little Prince, Rachel Graham, has been with us for a long time, and we are sending her off into the heavens to spread her amazing good will," Wilson said. The Little Prince, he added, "is a spiritual parable that adults will appreciate in a very different way than the kids will.
"This is just a beautiful story beautifully acted – and the technical elements are pretty great."
There are many ways to measure the success of any theatre as it closes: By years, shows or attendance. But to Wilson, "the legacy of the Denver Children's Theatre will be all those kids who came to our theatre and saw our shows and have continued to appreciate theatre as they have gotten older."
John Moore was named one of the 12 most influential theater critics in the U.S. by American Theatre Magazine in 2011. He has since taken a groundbreaking position as the Denver Center's Senior Arts Journalist.
The Little Prince: Ticket information
Written by Rick Cummins and John Scoullar from the book by Antoine de Saint-Exupery
Presented by: The Denver Children's Theatre
Where: Elaine Wolf Theatre at the Mizel Arts and Culture Center, 350 S. Dahlia St.
Public performances: 1 pm. Sundays through April 28; Weekdays through May 2
Tickets: $10-$12
Weekday performances: 10 a.m. Tuesdays through Fridays for school field trips and general-admission seating
Run time: 75 minutes
School field-trip packages available starting at $9 per student for weekday performances. Teachers are free. For information on booking a weekday school performance, email the box office at boxoffice@jccdenver.org. Discounts available for Title I schools. Workshops after the show are available.
303-316-6360 or jccdenver.org
Appropriate for all ages
Photo gallery: Denver Children's Theatre through the years
Click on any photo above to see an enlarged version.
The Little Prince: Cast and crew
Actors: Rachel Graham, Ilasiea Gray, Damon Guerrasio and Missy Moore
Directed by Steve Wilson
Set Design: M. Curtis Grittner
Lighting Design: Jennifer Orf
Costume Designer: Linda Morken
Masks Designer: Todd Debreceni
Props Designer: Becky Toma
Production Manager, Technical Director, Projection Designer and Sound Designer: Dan Rib
Tango Choreographer: Debbie Stark
Illustrations: Kellie Lambert
Stage Manager: Zachary Madison
Assistant Stage Manager: Kaitlyn Lawrence
https://www.denvercenter.org/wp-content/uploads/2019/04/800-2-QUOTE-The-Little-Prince-Rachel-D.-Graham.jpg
533
800
John Moore
John Moore
2019-04-09 16:16:12
2019-04-14 15:43:24
'The Little Prince' closes a storybook run for Denver Children's Theatre