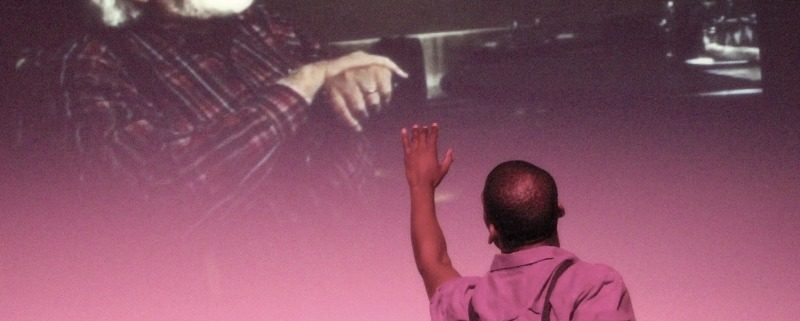 Lowenstein's accomplishments read into Congressional Record
Chris Page of Cleo Parker Robinson Dance performs "Motherless Child" at the Henry Lowenstein life celebration on Nov. 10. Photo by John Moore. Click here to see our full gallery of photos from the Henry Lowenstein celebration
Henry Lowenstein's achievements in theatre and his lifelong commitment to equal opportunity were read into the official Congressional Record on Nov. 12 by Rep. Diana DeGette from the floor of the House of Representatives in Washington, D.C.
The rare honor came two days after Lowenstein was championed for consistently breaking down racial and societal barriers at a celebration in the Wolf Theatre at the Mizel Arts and Culture Center in Denver.
DeGette staffer Tricia Stevens read the Lowenstein proclamation to a crowd of nearly 400 who gathered on a frigid Nov. 10 evening to mark Lowenstein's significance to the world of theatre – and the world at large.
Lowenstein, who escaped the Nazis as a boy in the kindertransport of 1938 and went on to run the famed Bonfils Theatre in Denver from 1956-86, died Oct. 7 at age 89.
"Henry Lowenstein was one of Colorado's most respected and honorable residents," said Stevens, reading DeGette's words at the Mizel. "He is widely considered one of the most important people in the shaping of Denver."
DeGette hailed Lowenstein for consistently fighting against discrimination in any form. "Henry held a deep compassion for artists and for outcasts," the proclamation read. "This passion formed from the horrors of Nazi Germany, which shaped the artist he would become."
​
The celebration was a mixture of poignant anecdotes, jokes and performances co-hosted by John Ashton and Robert Wells. In a letter read by Ashton, Denver Mayor Michael B. Hancock called Lowenstein a jewel in Denver's crown.
"Henry Lowenstein, without a doubt, was a giant in the Denver community in general, and in the arts community in particular," Hancock said. "His incredible love of theatre, his creativity and inspiring vision have set the standard for the high level of performances we enjoy today.
"Henry was resolute in his commitment to providing opportunities to those who crossed his path, and was an encourager of young people regardless of their race, their religion or their background. As the father of Denver theatre, he embraced thought-provoking pieces that caused the audience to consider the plight of others."
Denver First Lady Mary Louise Lee, who grew up seeing performances at the Bonfils Theatre, sings "Believe in Yourself" from "The Wiz." Photo by John Moore
Hancock's wife, acclaimed singer Mary Louise Lee, who grew up watching shows at the Bonfils Theatre, then sang "Believe in Yourself" from The Wiz. That theme resonated throughout the evening. International dance icon Cleo Parker Robinson delivered her rousing eulogy wearing colorful, sparkly shoes she once wore in a production of The Wiz. Why? "Because Henry made us believe in ourselves," she said.
Robinson's father, Jonathan Parker, was a prolific actor and crew member at the Bonfils, located on East Colfax Avenue and Josephine Street. But he was first hired as a janitor, and only after Lowenstein intervened and overrode internal objections from Bonfils patrons to whom it was unthinkable the theatre might hire a black man – even as a custodian.
"Henry made the Bonfils the greatest theatre on the planet because Henry made it our theatre," Cleo Parker Robinson said. "It belonged to all of us. Henry used art as a way of changing the world so we could see it differently and feel it differently and have the opportunity to experience it differently."
​

Cleo Parker Robinson refers to Henry Lowenstein as her godfather. Photo by John Moore

Robinson said without Lowenstein, there is no Cleo Parker Robinson Dance Theatre, "because the Bonfils made me who I am," she said. And since his death, "sometimes I have felt like a motherless child," she added as a way of introducing a dance she choreographed to the song "Motherless Child." It was performed by Chris Page, a member of her dance ensemble.
"I felt like I was a little lost at first without Henry," Robinson said. "But then I realized I will never be lost because Henry will always be our godfather, and he will always be a part of our hearts and lives."
Other speakers referenced many seminal chapters in Lowenstein's storied life: Growing up in Berlin with artist parents whose friends included Bertolt Brecht and Kurt Weill, who wrote The Threepenny Opera largely on the Lowenstein family piano. How a curious young Henry peeked in through the painted windows of the Kit Kat Club that inspired the musical Cabaret. Being accepted into the Yale School of Drama masters program without having earned an undergraduate degree. That his sister, Karen, was a spy for the Allies in World War II. Being hired by the legendary Denver Post publisher Helen Bonfils to run her new crown jewel theatre in Denver on the same day in 1956 that she hired Donald R. Seawell to be her attorney. Seawell would go on to use Bonfils' inheritance to build the Denver Center for the Performing Arts.
Click here to see our full gallery of photos from the Henry Lowenstein celebration
By the time the Bonfils Theatre closed in 1986, it had been renamed the Lowenstein Theatre and had hosted more than 400 plays and sponsored dozens more in city parks. In retirement, Lowenstein opened and ran the Denver Civic Theatre, which is now the Su Teatro Performing Arts Center.
Along the way, Lowenstein provided opportunities for hundreds of artists. He launched careers. He encouraged women, gays and people of color. Anyone he ever considered oppressed, as he and his family were. For hundreds of thousands of Colorado audiences, the Bonfils served as their first exposure to live theater.
"One of Henry's greatest accomplishments was to provide meaningful creative opportunities to just about anyone he came into contact with," Ashton said at the ceremony. "He saw a spark in just about everybody — and he knew how to kindle it."
Lowenstein also was hailed for taking programming risks, including the 1971 Denver debut of the gay-themed Boys in the Band.
"The number of people who came under the influence of Henry and his art is immeasurable," said his friend, Bruce Jackson Jr. "I don't think there is a place you can go in the American theatre where you can't find somebody who either knows, worked with or was influenced by something that Henry did."
Michael R. Duran said Lowenstein not only gave him his creative start out of college, he gave him his first professional opportunity to work as a set designer, properties master and director.
"Working for Henry was like a conservatory of learning," Duran said. "And when I went out into the world, he was my greatest cheerleader. So on a very personal level, I don't feel like I will ever lose him."
Actor Gwen Harris, who performed for Lowenstein at the Denver Civic and later became a regular performer for the DCPA's Theatre Company, flew in from Georgia. She remembered Lowenstein being deeply troubled by the true story of a Denver policeman who ran a stop sign and killed a friend of Lowenstein's — and went unpunished for it. So Lowenstein rallied donnie l. betts (lower-case intentional) to direct a topical play called Split Second.
"He was just so focused," Harris said. "He came right up to me and said, 'I am telling you right now: You are doing the role.' And that was it. I did the role."
Lucy Roucis, who would make her way to Hollywood before being slowed by early onset Parkinson's disease, still calls Lowenstein "Uncle Henry." He gave Roucis her first – and last, she joked — opportunity to direct. She remembered when she was assisting Lowenstein on a production of A Christmas Carol at the Denver Civic.
"The stage was high, but you could put your feet against the wall in the first row," she said. "So there I was with my notebook and my feet up when Henry came up to me and said, 'Have some respect! Put your feet down!' And I just said, 'Yes, sir.' And I put my feet down!"
Buddy Butler, a resident director at the Bonfils for 10 years, flew in for the celebration from San Diego, where he is now the Artistic Director of the Magic Carpet Theatre. He said Lowenstein can be aptly described in one word: Humanist.
"He was a man who cared and felt deeply for others," said Butler, who directed 35 productions at the Bonfils Theatre. He credited Lowenstein for colorblind casting, which didn't always sit well with all audiences.
"We mounted an integrated version of Guys & Dolls, and some people couldn't believe we were putting love relations on the stage that were mixed," Butler said. "Some people couldn't believe that black people were taking parts that weren't necessarily created for African-Americans. But Henry believed good theatre could be done by good people — and that good people will always appreciate it."
And good people came – and appreciated — Guys & Dolls, he said.
"Henry opened the front door, the back door and the side door. He had a vision to create a theatre that would embrace the entire city. Not just the white part; not just the Hispanic part; and not just the black part. Henry said, 'We are not going to be in the box. In fact: We are not going to have a box.' "

Deborah Goodman Lowenstein and Donna Smith. Photo by John Moore
Lowenstein's sons, David and Joshua, recalled a father who enjoyed backpacking, camping, fly-fishing and four-wheel driving. Who took his kids to rock concerts at Mammoth Gardens (now the Fillmore Auditorium) on East Colfax Avenue.
"At his commencement address at Colorado State University in 1986, Dad told the graduates to always question authority," David Lowenstein said. "I was proud of him — and sort of surprised by his radical nature."
Lowenstein had two great loves during his life. First wife Dorie died of cancer in 1990 and was the namesake of the Dorie Theatre at the Denver Civic. He later married Deborah Goodman, a massage therapist from California who had no intention of ever marrying – and certainly not a man in the arts.
David Lowenstein called his mother a funny and improvisational woman who made for a wonderful partner for his father. "When she passed away, my father was a shell of himself — until he met Deb," he said. "She not only loved and supported him — she also got him to mellow out and relax."
The ceremony drew friends and colleagues from around the country. But former Rocky Mountain News theatre critic Thom Wise was most impressed by the attendance of Joyce Meskis. She is the owner of the Tattered Cover Book Store that now operates in the shell of what once was the Bonfils Theatre.
"Henry imbued in her a love of that building," Wise said. "That theatre is still standing today because of her. And so I just thought it was incredible that she made the effort to come out tonight."
Wells, who runs the Avenue Theater and sits on the board of the Town Hall Arts Center, played Jesus in a wildly popular Bonfils production of Godspell in the 1970s. "No matter who else did the job," Wells deadpanned "… Henry made sure it was done over."
Other performers included Robert Johnson, who sang "Corner of the Sky" from Pippin, and Mark Middlebrooks, who sang "The Colors of My Life" from Barnum.
At the end of the poignant program, Nyssa Lowenstein likened her grandfather's life, fittingly, to the act of producing a show.
"Henry Lowenstein was a groundbreaking performance that had a tough rehearsal process, an inspirational tech week, and a glorious run," she said. "And even though it has now closed — the actors, the audience, the stage managers and stage hands, the box office and publicity, the boards and the critics, the directors, the choreographers, the designers and the crew will all talk about that show."
And if Lowenstein's life was a performance, Ashton said as a way of closing the evening, "then all I can say is … Good show."

John Moore was named one of the 12 most influential theater critics in the U.S by American Theatre Magazine in 2011. He has since taken a groundbreaking position as the Denver Center's Senior Arts Journalist.
Read our essay on the life of Henry Lowenstein
Click here to see our full gallery of photos from the Henry Lowenstein celebration
https://www.denvercenter.org/wp-content/uploads/2018/04/featured-image-1216.jpg
610
800
John Moore
John Moore
2014-11-19 17:28:00
2014-11-19 17:28:00
Lowenstein's accomplishments read into Congressional Record