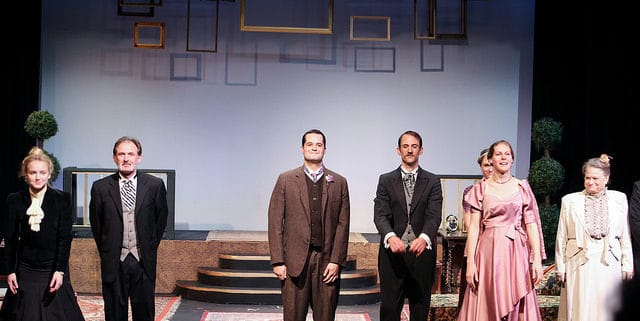 Master class culminates with 'An Ideal Husband' performances
Backstage photos from the opening performance of DCPA Education's 'An Ideal Husband.' To see more, just flick the forward arrow on the image above. Photos by Olivia Jansen for the DCPA NewsCenter.
​
The curtain rose to reveal a teacher, a headhunter, an engineer and a freelance writer. But these weren't characters in the story about to be told. They are among the occupations the student performers work by day.
Tonight, they each assumed the role of actor. This was the culmination of five weeks enrolled in a DCPA Education master class, learning and rehearsing for their opening night of Oscar Wilde's An Ideal Husband.
While some of the students have been taking acting classes for years and harbor dreams of getting cast in larger shows around town, others enrolled simply for the fun of it.
"I've always loved acting, and have wanted to do it since I was little," said Bev Berry, who has been taking classes with the DCPA for a year. "Now that I'm an empty-nester and my kids are grown and gone, I decided to go back and do it for fun."
Master classes are the highest level offered by DCPA Education, which serves about 80,000 students of all ages every year, offering a widely varying curriculum. But students must demonstrate prior acting experience (or have been enrolled in two previous Education classes or workshops) before they can audition for the master class.
Students chosen to participate in masters classes automatically receive full scholarships from the Lewis Myers Scholarship Fund through The Denver Foundation, so they do not have to pay to play.
This semester's cast included a melting pot of actors ranging from a college student to a grandmother, with varying skill levels and experience.
Teacher and director Kate Gleason is a True West Award-winning actor who performed on Broadway in The Pillowman and Noises Off, and was a faculty member at the New York Film Academy. This was the first master class she has taught for the Denver Center. She chose An Ideal Husband because she wanted her students to have the opportunity to explore a period piece.
An Ideal Husband is an 1895 comedy that centers on blackmail and political corruption. When Sir Robert Chiltern's fraudulent past is revealed, Lady Chiltern refuses to forgive him because her marriage is hinged on having a model spouse she can worship. The play follows the twists and turns of the next 24 hours as more secrets and schemes are revealed.
"The class is really about polishing their craft and going a little further than some of the scene study work they've done," Gleason said. "A lot of these students have never been in a full production, so we try to take scene work and class work, and move it into a production experience for them."
And an intensive one at that. Each student committed an estimated 90 hours to the project. And that's time added on to their normal workday schedules. The students went from being handed scripts on the first day to performing entire scenes without a hitch five weeks later. And because An Ideal Husband is set in England, the students also had to pay attention to their accents. They got some help with that from dialect coach Jennifer Thomas. The secret to a flawless English accent? Dropping your jaw more than you're accustomed to, which drags out certain vowels, she said.
Through the whole experience, Gleason was like a human remote control, pausing and rewinding scenes, and having her students work through them again. The communication with her actors was constant, and many of them jotted down her advice in their scripts.
"Kate is so much fun, and you learn a lot from her," said student Jon Fortmiller, who played Sir Chiltern. "She's really positive and supportive. She helps you focus on how to improve your craft, and the show."
After all of their hard work, the students were eager to perform before an audience on March 23. But Mother Nature had other plans. The opening performance was postponed as Denver was being buried in 19 inches of snow.
The performance the next night at the Conservatory Theatre went smoothly and earned many laughs from the audience. The crowd rewarded the actors with a standing ovation, which Fortmiller joked might have had something to do with the audience being packed with many friends and family.
"I thought it was great," Gleason said. "They're a great group of students and it's such a supportive environment with so many wonderful resources."
Summer class enrollment starts Thursday, April 14

In addition to learning specific skills such as how to "block" a show on a stage and how to properly tie those dreaded corsets, there are some takeaways for the students that can't be taught. Berry, who is a professional headhunter, said acting isn't just fun for her. It is mentally engaging.
"It's an artistic outlet outside of my job," added Fortmiller, who is an art teacher at Kent Denver School. "It gives me a social group as well. I've been coming to classes here for many years and I've made a lot of really close friends who are near and dear to me now.
"I'm so glad I found this, because it lets me keep acting as part of my life. I love it so much, and I wouldn't be able to have this kind of fun without it."
Enrollment for summer classes begins on Thursday, April 14. The next Master Class Project will be a performance of Leap, by John Yearley, directed by DCPA Head of Acting Timothy McCracken. Auditions will take place May 30 and June 1. The class runs June 6 through July 20 with performances July 21-23. This "shocking comedy" focuses on a handful of people before, during and after the 9/11 attacks. Call 303-446-4892 or email education@dcpa.org to request an audition time. Two previous Education classes or similar experience are required to audition.
DCPA Education is staffed by a wide variety of Teaching Artists, many of whom are accomplished members of the local acting community. Among those who will be teaching summer classes are Erin Rollman of Buntport Theatre (currently starring in The Rembrandt Room); Anthony Powell (director of DCPA Theatre Company's recent All the Way); Gabriella Cavallero (currently featured in Curious Theatre's Elliot, A Soldier's Fugue); Jeff Roark (currently in DCPA Theatre Company's Sweeney Todd); Cajardo Lindsey (actor in All the Way); Piper Arpan (star of Lone Tree Arts Center's recent pop-music revue Reunion 85); Brian Shea (recently of Boulder Ensemble Theatre Company's Ideation) and many more.
In the meantime, DCPA Education is offering several workshops in April, including an intensive on auditioning for the musical theatre (Diana Dresser, Kate Gleason, Steph Grogan, April 16-17); an intensive weekend on the Meisner acting technique (Christy Montour-Larson, April 16-17); and a seminar on the business of acting hosted by Radical Artists Agency talent agent Patty Kingsbaker (April 27), among mothers. Click here for information, or call 303-446-4892.
Click here to see the full summer brochure after it is posted on April 14.
More Colorado theatre coverage on the DCPA NewsCenter


Curtain call for 'An Ideal Husband.' Photo by Olivia Jansen for the DCPA NewsCenter.
About the Author:
DCPA NewsCenter intern Olivia Jansen, right, is a junior at Wartburg College in Waverly, Iowa, where she is studying multimedia journalism. She is from Johnsburg, Ill. Among her previous contributions are profiles of actor Karen Slack, actor Paige Price and DCPA Stage Manager Rachel Ducat. She has also addressed disability with the Phamaly Theatre Company and reported on the DCPA Director of Education's teaching trip to China, among others. She recently launched her first podcast, about live theatregoing trends in Colorado.
An Ideal Husband: Cast list
Directed by Kate Gleason
Mrs. Marchmont: Katie Cross
Lady Basildon: Bev Berry
Sir Robert Chiltern: Jon Fortmiller
Lady Gertrude Chiltern: Julia Owen
Lady Mabel Chiltern: Alex Wanebo
Lord Goring: Andrew Dus
Mrs. Chevely: Jaqueline Garcia
Lord Caversham: Kevin McGuire
Lady Markby: Gaynelle Winograd
Vicomte De Nanjac: Colin Stanley
Phipps: James Bloom
Mason: Bryce Doty
Ensemble: Kelly O'Laughlin
Ensemble: Genevieve Clough
Costume Assistant: Tracy Chinchilla
Assistant Director: Daniel Sharkey
Technical Director: Stuart Barr
https://www.denvercenter.org/wp-content/uploads/2018/04/featured-image-3438.jpg
434
640
John Moore
John Moore
2016-04-11 13:55:00
2016-04-11 13:55:00
Master class culminates with 'An Ideal Husband' performances