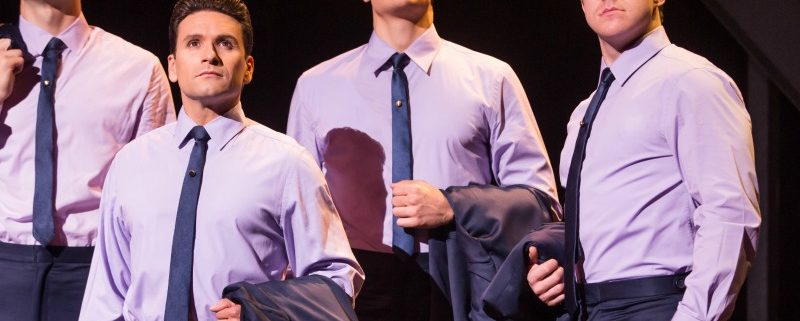 Matthew Dailey walks like a man home to Denver
Matthew Dailey comes home with Jersey Boys as Colorado as they come
Matthew Dailey may be a Jersey Boy today, but he's as Colorado as they come, having grown up in Littleton and learned the craft of theatre in Denver's equivalent of The Mickey Mouse Club. Disney had Justin Timberlake, Britney Spears and Ryan Gosling, but Denver had Melissa Benoist, Annaleigh Ashford, Matthew Dailey and more.
"When I was 9 years old, I saw a production of Guys and Dolls at the Country Dinner Playhouse," said Dailey, who now plays Tommy DeVito in the Denver-bound national touring production of Jersey Boys. "I saw how much fun everyone was having and I told my parents right there I wanted to be up there doing that, too.
Paul Dwyer was an actor in that production of Guys and Dolls, and a longtime friend of Dailey's mother, Mary. "So after the show he came over and we started talking, and I started taking classes with him the next week," Dailey said.
Dwyer and local choreographer Alann Worley ran an after-school program called the Academy of Theatre Arts, and Dailey was a student there for the next eight years. Among his classmates were Benoist, of Glee and Supergirl fame; Ashford, who won a Tony Award for her comic turn in Kinky Boots; and Jesse JP Johnson, who will soon return to Broadway in a new musical based on SpongeBob SquarePants. "A lot of really talented kids came out of Denver, and still do," said Dailey, including many around Denver such as Tim Howard, who recently starred in the Aurora Fox's Catch Me If You Can and has been Dailey's best friend for 20 years.
Dailey is now playing DeVito, who grew up the hard way in Jersey. He was youngest of nine children to Italian immigrant parents and raised in a cold-water flat. "You did anything to survive," DeVito often has said. "You'd steal milk off of porches." But there there is an ethical side to DeVito, Dailey said, even though, in Jersey Boys, he is shown to have been a minor crook at times.
"He did steal milk off people's porches as a kid, but he never stole from his own neighborhood, because those were his people," Dailey said. "And if a house had two jugs of milk, he only took one. Or if they had three, he only took two. He always left them with some.
"Tommy is definitely not without his good qualities. He's very determined. He sets his mind to something, and he then does everything within his power to achieve it."
Dwyer swells with pride to see Dailey coming home in a big Broadway national touring production. But he had to chuckle a wee bit when he first heard Dailey was cast as DeVito, because, well … "Let's just say Matthew did his character study at a young age," he said.
Wait, what?
"So in the show, you see Tommy DeVito and the guys do some bad things," Dwyer said, reveling in the telling of his story. "Well, when Matthew was in high school, I do remember this one time when he – without the owner's knowledge – broke into the Academy of Theatre Arts to have a party. So I'm just saying … maybe the role isn't that much of a stretch."
Oh, what a night!
Here's more with Dailey, a graduate of Arapahoe High School, on growing up in Colorado and his imminent return to Denver, where he will perform on the Buell Theatre stage for the first time.

John Moore: What were some of your favorite performances in Denver?
Matthew Dailey: The first show I ever did was Little Women at the Town Hall Arts Center in 1998. I loved doing shows at the old Country Dinner Playhouse. I did The Music Man, Titanic, Nuncrackers, and Annie Get Your Gun there. I also did Bye Bye Birdie and A Chorus Line at Town Hall – both with Melissa Benoist. I have done A Chorus Line three times now, but you never forget your first. I was only 16 at the time. That one was directed by Michael Gorman, and it was such an incredible experience. He was a taskmaster in the best possible way, and I think we all came out better for it.
John Moore: This will be the fourth Jersey Boys tour stop in Denver since 2009. Why is this show still truckin' along like it is?
Matthew Dailey: There is something really special and magical about this show. It's the perfect storm where you have this incredible story, paired with this incredible music. If you were to take the music out of the show altogether, you would still have this incredible underdog story of these four guys going from the streets of New Jersey to the Rock 'n Roll Hall of Fame. Similarly, if you were to take away the story, and just had this music, you would be left with this incredible soundtrack that has lasted more than 50 years. And when you bring the two together, you get this incredible Broadway show that has lasted 11 years on Broadway.
John Moore: Jersey Boys is, of course, the story of the beginnings of the Four Seasons, who combined doo-wop with astounding harmonies to make No. 1 hits like "Oh What a Night," "Sherry" and "Walk Like a Man." What's your favorite?
Matthew Dailey: It changes almost nightly, but I would say right now, my favorite is a song called Begging. It happens in the second act. It's fun choreography. It's got a great beat to it, and it launches us into one of my favorite scenes in the show.
John Moore: Tell us about playing Tommy DeVito.
Matthew Dailey: Tommy is this guy from the wrong side of the tracks, and he's the ringleader of the group. Everyone brings something different to the band, whether it's Frankie Valli's voice or Bob Gaudio's songs or Nick Massi's arrangements. Tommy brings everybody together. He brings the leadership and the ability to keep everyone heading in the same direction.
John Moore: Tommy DeVito is now 88 years old and still alive. Have you met him?
Matthew Dailey: I have not, but I hope to one day.
John Moore: Tell us about that Jersey Boys attitude. Because when we think of what that means – a Jersey Boy – we think of Springsteen and Sinatra on Bon Jovi. What is a Jersey Boy to you?
Matthew Dailey: To me, a Jersey Boy is a product of his neighborhood. There is a swagger. There is an air about him that is unlike any other. I mean there is no real "Denver Boy" to speak of. We just don't say that. But these are "the Jersey Boys." There is a kind of a cocky arrogance to them – but not in a bad way.
John Moore: What is it going to mean to you to be performing on the Buell Theatre stage for the first time?
Matthew Dailey: It is a dream come true. I can't wait. I have been looking forward to it since I joined the tour, hoping that we would eventually get to go to Denver. Last year, we went to Colorado Springs, which is the closest I thought we were ever going to get to Denver. When they announced we are actually going to the Buell, it was an unbelievable feeling. I didn't think it was even going to be possible. I grew up seeing shows on that stage. The Buell is where I would go and see all of these people living out the dream that I hoped to achieve one day. So it's really going to be meaningful and exciting for me to go back and hopefully bring that same feeling to a new generation of kids who are out there in the audience and want to be up performing on that stage someday, too.

(Photo above right: Matthew Dailey, far right, with Matt LaFontaine, Ben Dicke, Lauren Shealy and Shannan Steele in the Arvada Center's 'The 1940s Radio Hour' in 2011. Photo by P. Switzer.)
John Moore: You have dedicated your performance in this tour to your father, Phil Gottlieb, who was a good friend to the Colorado theatre at large. Tell us a little about him.
Matthew Dailey: My dad passed away in 2009 from a series of heart attacks. But he was a performer his whole life. He was born in New York, grew up in Wyoming and then moved back to New York after high school and a little bit of college. He started dancing and performing, he and achieved his dream to dance on Broadway. So he did that for a while, and then he danced in Vegas and L.A. Eventually, he came to Denver and had a family and became a Realtor. But eventually he got back into performing and choreographing for theatre companies all around Denver. For a number of years we got to do that together, which was amazing. Then he passed very suddenly in 2009. And so every night when I go out there, I always think about him.
John Moore: You mentioned your mother, who is a busy and beloved Music Director for theatre companies all over town. What is it going to mean to Mary and your brother, Chris, to see you at the Buell?
Matthew Dailey: They're excited just to have me home for a little bit. I rarely make it back to Denver, and when I do, it is always very rushed. They both have traveled all over the country to see me in the show, which has been fun. But they are looking forward to seeing it in Denver. I know they are both excited to bring friends and get to experience it all together.
John Moore: I have a feeling you are going to sell a few tickets in Denver.
Matthew Dailey: I hope I didn't use it all up last year. I had a whole party bus of people come down to Colorado Springs, led by (local choreographer) Piper Arpan. Hopefully there are still a few people there who want to see me at the Buell.
John Moore: So for those who haven't seen Jersey Boys, what are they in for?
Matthew Dailey: They are in for a night unlike any other. There are in for flashy costumes, great music, a great story, live instruments, good-looking girls and good-looking guys. It's got something for everybody. It's not a typical night at the theatre. The theatre stereotype is that women have to drag their husbands and boyfriends to the theatre. For this show, it's the other way around. This is the show that boyfriends and husbands drag their girlfriends and wives to. It's like a Hollywood blockbuster – only it's live."
John Moore was named one of the 12 most influential theater critics in the U.S by American Theatre Magazine in 2011. He has since taken a groundbreaking position as the Denver Center's Senior Arts Journalist.
Jersey Boys: Ticket information

• Nov. 9-13, 2016
• Buell Theatre
• Talkback with the cast following Thursday, Nov. 10 performance
• ASL interpreted, Audio-described and Open Captioned performance: 2 p.m. Saturday, Nov. 12
• Tickets: 303-893-4100 or Tickets: 303-893-4100 or BUY ONLINE
Additional NewsCenter coverage of Jersey Boys:
Dailey, Russell: There's plenty of Colorado in Jersey Boys
Video, photos: Jersey Boy sings national anthem at Broncos game
https://www.denvercenter.org/wp-content/uploads/2018/04/featured-image-3624.jpg
531
800
John Moore
John Moore
2016-11-02 06:00:00
2019-08-28 10:59:22
Matthew Dailey walks like a man home to Denver