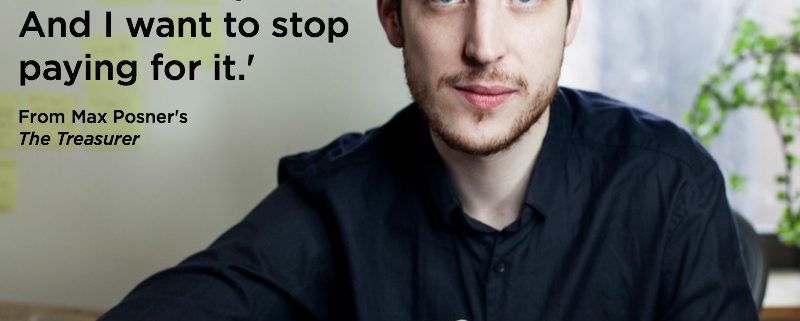 Max Posner's new play to be staged at Playwrights Horizons

Photo of Max Posner by Elisa Quero.
So what does rocketing Denver playwright Max Posner have in common with Sarah Ruhl and David Cromer?
Posner and Ruhl – who was just named among the 10 most important living American playwrights in a national survey by the DCPA NewsCenter – both will have their newest plays premiered later this year by New York's esteemed Playwrights Horizons. And Posner's director will be Cromer, a MacArthur Genius best known for his groundbreaking directions of Our Town, The Adding Machine and Angels in America.
"It's a total fantasy realized," said Posner, a 28-year-old graduate of Denver School of the Arts. "I think Playwrights Horizon is my favorite theatre. Going to plays there has enriched my ideas about what a play can and should be. So having my own play staged there is totally insane, and I feel very fortunate."
Posner's The Treasurer will open Sept. 22 in the Peter Jay Sharp Theater in midtown Manhattan. The play is a darkly funny and very private portrait of an aging mother and her son. Ida Armstrong is broke, lonely and fading – and she is spending her children's money fast. This forces her son into the unwanted role of "The Treasurer," an arrangement that becomes untenable the more he questions his devotion to her.
Posner says his play is set "in the hell of a guilty conscience."
"My goal was to address a kind of emotional constipation I have sensed in various relationships between people I know and their aging parents," said Posner. "I wanted to really think about debt, and people try to monetize their feelings. It's about what parents think they are owed by their children, and what children think they are owed by their parents."
The resulting play, he said, is "definitely emotionally wrenching, But I hope it's kind of funny, too." Posner is interested in exploring frayed family dynamics but not by filling the stage with dramatic yelling. "To me, that doesn't capture the reality of being in a family as I know family to be," he said. "In fact, when families are facing something really difficult, it seems to me that they mostly speak about it indirectly, or in hushed tones … And rarely with the person they should be having the conversation with."
That approach, it was suggested to Posner, may make him the anti-Tracy Letts – author of August: Osage County. "What's funny about your comparison is that my play requires the exact same thing a Tracy Letts play needs, but the outlet for that need is a little more decentralized in mine. I think my play sets us on a more winding kind of path."
More Colorado theatre coverage on the DCPA NewsCenter

A year ago, Posner was selected to have his developing play workshopped by the Sundance Theatre Lab in, of all places, Morocco. When Posner heard he was assigned Cromer as his director, he said, "I was elated – and immediately desperate to make the play worthy of his time."
The New Yorker's Hilton Als recently called Cromer a director with singular vision that lifts any script up into something unpredictable, new and fresh. Cromer's expertise, Als said, "is moving human beings from darkness to light and back again."
Posner and Cromer spent a month together working on The Treasurer last May. During that time, "he really became such a deep and amazing collaborator," Posner said. "I think he revealed the play to me and the actors. So in many ways he helped form it."
And now, Posner said, "He's my buddy."
Casting for The Treasurer has not yet been completed, but it's a safe assumption that it will be performed by some of the biggest names in the New York theatre.
As a teenager, Posner studied writing under Moss Kaplan at Denver School of the Arts. He was also a longtime student of the Curious New Voices young playwrights program under Dee Covington. And he was named one of The Denver Post's "Can't Miss Kids" in 2006. (Pictured at right: Jeremey Palmer and Max Posner in 'Lost in Yonkers' at the Mizel Arts and Culture Center in 2002.)
Posner had his first New York production in 2015 with Judy, which is set in the winter of 2040. Posner called Judy "a subterranean comedy about family life when technology fails and communication breaks down."
For Posner, Judy was also a crash-course in both playing in the big leagues … and swimming with the sharks. The New Yorker hailed Posner as one of New York's most unique new voices, saying "Posner's revelations, touching on the linguistic, the sociological and the theological, waver between the explicit and the mysterious, and give us something funny and scary to ponder."
But former New York Times critic Charles Isherwood just didn't get it. And Posner gets that.
"The success of our plays can't be measured based on how warmly they are received by any one person," Posner said. "A lot of my work is about facing moments of extreme discomfort, or dealing with things that are frustratingly undefined. I think it is important that theatre does that. My favorite theatre does that. It's completely legitimate to be upset by my plays because a lot of my plays are upsetting comedies."
John Moore was named one of the 12 most influential theater critics in the U.S by American Theatre Magazine in 2011. He has since taken a groundbreaking position as the Denver Center's Senior Arts Journalist.
The Treasurer
By Max Posner
Opens Sept. 22
Peter Jay Sharp Theater
416 West 42nd St., New York
Info: 212-564-1235

From the video archive: Our 2015 interview with Max Posner
Watch our video interview with Max Posner from May 2015 in New York City. Video by John Moore.
Selected previous coverage of Denver's Posner family:
Denver playwright Max Posner scores first New York production
Jessica Posner's triumphant tale is a world-changer and a page-turner
Jessica Posner: Changing lives in a hell on Earth
From 2006: Max Posner one of Colorado's "Can't Miss Kids"
Max Posner/At a glance
Max Posner's play Judy premiered Off-Broadway in 2015 (Page 73, directed by Ken Rus Schmoll). Recent productions include Snore (Juilliard, directed by Knud Adams), Sisters on the Ground (Playwrights Horizons Theater School at NYU, directed by Ken Rus Schmoll), and Gun Logistics (Drama League, directed by Knud Adams). He is the recipient of the Helen Merrill Emerging Playwright Award, the Heideman Award from Actor's Theatre of Louisville, the P73 Fellowship, and two Lecomte du Nouy awards from Lincoln Center. Max is a Sundance Institute Theatre Fellow, a two-time MacDowell Colony Fellow, and was the Writer-In-Residence at Williamstown. He's an alum of the Soho Rep Writer/Director Lab, Ars Nova's Playgroup, The Working Farm at Space on Ryder Farm, and I-73. He contributed to John Early's episode of The Characters (Netflix) and is working on a libretto for the Brooklyn Youth Chorus with composer Ellis Ludwig Leone. Max's plays have been developed by Playwrights Horizons, Soho Rep, Page 73, Clubbed Thumb, Williamstown, The Atlantic, Ars Nova, The Bushwick Starr, NYTW, American Theater Co., The Juilliard School, and Space on Ryder Farm. He is a frequent volunteer at Manhattan's 52nd Street Project. He studied writing as an undergrad at Brown, and recently completed a two-year Lila Acheson Wallace Playwriting Fellowship at The Juilliard School. Max was born and raised in Denver and lives in Brooklyn.
David Cromer/At a glance
Recent credits include: Man from Nebraska (Second Stage Theater); The Band's Visit (Atlantic Theater Company); The Effect (Barrow Street Theatre); Come Back, Little Sheba (Huntington Theatre); Angels in America (Kansas City Rep); and Our Town at the Almeida Theatre in London. New York Credits include: Women or Nothing at Atlantic Theater Company, Really Really at MCC, The House of Blue Leaves and Brighton Beach Memoirs on Broadway, When the Rain Stops Falling and Nikolai and the Others at Lincoln Center Theater. Also at the Barrow Street Theatre he has directed Tribes, Our Town, and Orson's Shadow as well as Adding Machine, which was a BST production at the Minetta Lane. Originally from Chicago, his credits there include Sweet Bird of Youth (The Goodman); A Streetcar Named Desire, Picnic, and The Price (Writers Theatre); Cherrywood, Mojo, and The Hot l Baltimore (Mary-Arrchie); The Cider House Rules (co-directed with Marc Grapey at Famous Door); and Angels in America (The Journeymen); among others. For Michael Ira Cromer (1966-2015).
https://www.denvercenter.org/wp-content/uploads/2018/04/featured-image-4549.jpg
632
800
John Moore, Senior Arts Journalist
John Moore, Senior Arts Journalist
2017-02-28 15:42:00
2017-02-28 15:42:00
Max Posner's new play to be staged at Playwrights Horizons