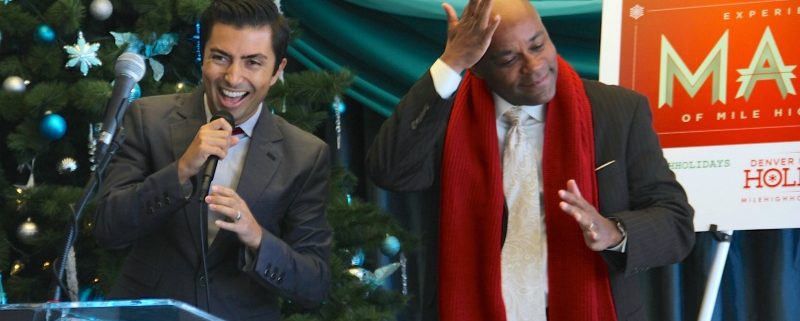 Mayor, Grinch, Jersey Boy and Tiny Tim launch DCPA's store opening

Video: Broadway actor Shaun Taylor-Corbett walks Denver Mayor Michael Hancock through a crash-course in the Four Seasons' signature 'Walk Like a Man' dance. At the end of the video, young Elias Harger delivers Tiny Tim's signature line from 'A Christmas Carol,' opening Nov. 28 at the Stage Theatre. To see our full gallery of downloadable photos from the event, click here.
An eclectic quartet made up of a Mayor, a Grinch, a Jersey Boy and the most adorable waif in literary history gathered today to once again declare the Denver metro area and the surrounding region open for holiday business.
The city's 11th annual "Mile High Holidays" press event is an opportunity for the metro business community to tout all of the varied shopping, entertainment and tourism options available to consumers through the end of January.
"The holidays are a magical time of year," said Mayor Michael Hancock. "But they are also a crucial make-it or break-it period for many businesses in the city."
This year, the event was held in Cherry Creek North to officially launch the opening of the Denver Center for the Performing Arts' bold new enterprise: A temporary, 4,000-square-foot storefront on First Avenue that will blend commerce with performances, information, storytelling, classes and craft activities.
"We want to welcome everyone to come down to this new Holiday Box Office," said DCPA Director of Marketing and Sales Jeff Hovorka, "and we really encourage you to give the gift of theatre this holiday season."

Shaun Taylor-Corbett of 'Jersey boys' walking tall with Denver Mayor Michael Hancock. Photo by John Moore. To see our full gallery of downloadable photos from the event, click here.
Monday's lighthearted program included Broadway actor Shaun Taylor-Corbett singing the holiday standard "I'll Be Home for Christmas" and "Can't Take My Eyes Off of You" from Jersey Boys, the beloved Frankie Valli and the Four Seasons musical that plays at the Buell Theatre Dec. 10-14. Taylor-Corbett is the son of renowned choreographer and Littleton High School grad Lynne Taylor-Corbett, whose credits include Chess, Titanic, Swing! and the Denver-born Red Hat Society musical, Hats.
"My mother and her family have a deep history with the city of Denver," said Taylor-Corbett, who last performed here as Sonny in the 2010 touring production of In the Heights. "At age 17, my mother moved to New York and worked her way up, and she very much influenced me to come into this career."
Taylor-Corbett has now spent the bulk of his career working on two musicals that both won the Tony Award for Best Musical.
"In the Heights changed my life, and I remember audiences here in Denver were unbelievable," he said. "It was special to be back here in my mother's hometown. I guess I'll have to do Jersey Boys for the rest of my life because I don't see how it can get better than this."
Taylor-Corbett said Jersey Boys continues to introduce Broadway to a new, blue-collar audience, for one obvious reason: Who doesn't love the Four Seasons?
"Sometimes you have a good story, and sometimes you have a good score," he said. "This one has both. I mean, every single song is a hit: 'Walk Like a Man,' 'Sherry,' 'Big Girls Don't Cry.' But the way they weave them into this behind-the-scenes look at these guys' rags-to-riches story is really the best writing I've ever seen in a musical. People just go crazy over it."
Even dudes.
"They do," Taylor-Corbett said. "Guys will say, 'I don't want to go to a musical,' and then their wives or girlfriends drag them to the show – and they love it, because it's cool."
​

Kids listen in as The Grinch reads how he, you know … stole Christmas. Photo by John Moore. To see our full gallery of downloadable photos from the event, click here.

On Monday, Taylor-Corbett walked Mayor Hancock through a crash-course in the Four Seasons' signature "Walk Like a Man" dance — and he came away impressed with Hancock's moves.
"He's actually the best choreography student I've ever had when I've done a press event," Taylor-Corbett said. "And I'm not lying. He's awesome. And he loves the show. He's seen it, like, five times with his wife (Mary Louise Lee)."
The DCPA's holiday offerings will include A Christmas Carol (Nov. 28-Dec. 28), Dr. Seuss' How The Grinch Stole Christmas, The Musical (Dec. 17-28) and The SantaLand Diaries (Nov. 28–Dec. 24), based on caustic NPR humorist David Sedaris' semi-true experiences working as an "elf" in a Macy's SantaLand display. Non-holiday titles will include Jersey Boys (Dec. 10-14) and Forbidden Broadway: Alive and Kicking (through March 1). Call 303-893-4100, go to the DCPA web site – or visit the new Holiday Box Office, where all ticket fees are being waived for the holiday season.
The Holiday Box Office is located between Detroit and Clayton streets, sharing a building with the Orvis and Bose stores. The storefront includes a stage for free performances, free activities for kids, costume and set-design samples from recent Theatre Company shows, as well as information about upcoming classes for kids and adults. The store will be open Fridays through Sundays, plus Dec. 22 and Dec. 23. Read more about the store here.
Taylor-Corbett was also joined on the Holiday Box Office stage by The Grinch from Dr. Seuss' How The Grinch Stole Christmas, and young Elias Harger, who plays Tiny Tim in A Christmas Carol. The Grinch read the storybook version of his story to gathered children, with Harger turning his pages. And Harger also invoked his character's famous line, "God bless us everyone."
Mile High Holidays is a cooperative marketing effort that includes two dozen local business partners — and their efforts are said to boost the local holiday economy by $1 million.
An 'Annie'/'A Christmas Carol' mashup: Elias Harger (Tiny Tim) poses in the 'Annie' cutout. 'Annie' plays the Buell Theatre from April 29-May 10. Photo by Jennifer Nealson. To see our full gallery of downloadable photos from the event, click here.
Highlights from Monday's Mile High Holidays press conference:
The Mile High Holidays web site details more than 500 events and holiday concerts, shopping opportunities, more than 30 hotel discount packages and holiday weekend suggestions.

Traditional upcoming holiday events will include the lighting of the City and County Building, the Zoo Lights, the Botanic Gardens' Blossom of Lights, the New Year's Eve fireworks show on the 16th Street Mall and the National Western Stock Show.

The 40th annual 9News Parade of Lights will take place at 8 p.m. Dec. 5, and at 6 p.m. Dec. 6. It is expected to draw a combined 300,000.
The Denver Pavilions will open a carousel from Dec. 12-21.
The Annual Tuba Christmas (300 tuba players) will take place from 1-2 p.m. on Dec. 21 in Skyline Park.
Free outdoor ice-skating returns to Skyline Park from Nov. 25 through Feb. 16. Skates may be rented for $2.
The annual Christkindle market featuring authentic German cuisine and crafts returns to Skyline Park Nov. 21-Dec. 23.
Officials from Cherry Creek North and the Cherry Creek mall touted the end of the recent storm-drainage construction project that has snarled traffic around the mall for months.
Cherry Creek North will offer free valet holiday parking in two locations.
The Ross Public Library in Cherry Creek will offer free holiday gift wrapping.
The Cherry Creek Mall's annual Ice Palace holiday Santa Claus exhibit will be themed in partnership with Disney's Frozen movie. On Dec. 14, patrons are welcome to bring their pets and have their photos taken with Santa Claus.
From left: Shaun Taylor-Corbett ('Jersey Boys'), Denver Mayor Michael Hancock, The Grinch, Elias Harger ('A Christmas Carol'), Tami Door (Downtown Denver Partnership), Dave Dixon (Cherry Creek Shopping Center), Richard Scharf (Visit Denver), Julie Underdahl (Cherry Creek North) and Jeff Hovorka (DCPA). Photo by John Moore.
To see our full gallery of downloadable photos from Monday's event, click here.
DCPA Holiday Box Office: At a glance
2771 E. 1st Ave. between Clayton and Detroit streets in Cherry Creek North
Open Nov. 21-Dec. 23
Hours: 11 a.m.-7 p.m. Fridays and Saturdays, plus Dec 22 & 23; 1-5 p.m. Sundays
No handling fees on any in-store ticket purchases
https://www.denvercenter.org/wp-content/uploads/2018/04/featured-image-1218.jpg
475
800
John Moore
John Moore
2014-11-17 17:40:00
2014-11-17 17:40:00
Mayor, Grinch, Jersey Boy and Tiny Tim launch DCPA's store opening