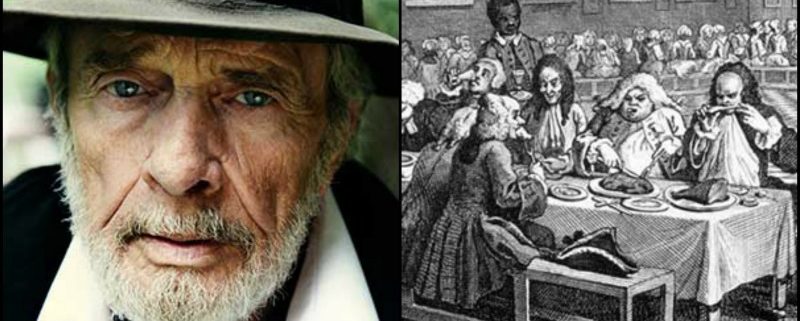 MCA Denver, Off-Center bringing 'Mixed Taste' to Denver Center

Last year, Mixed Taste espoused the virtues of Merle Haggard and "The History of Dinner." The popular summer series moves to the Seawell ballroom in July.
The Museum of Contemporary Art Denver and the Denver Center for the Performing Arts are officially a mixed match.
MCA Denver and the DCPA's adventurous Off-Center wing have formed a partnership to present Mixed Taste: Tag Team Lectures on Unrelated Topics throughout the summer at the Denver Center's Seawell Ballroom.
Mixed Taste, conceived by MCA Denver's Adam Lerner, pairs two speakers addressing completely unrelated subjects, followed by questions from the audience. During the first part of the program, no connections are allowed between the topics. But during the Q&A, anything can happen.
The partnership begins on July 5 and will continue on Wednesday nights through Aug. 23.
"Having nurtured Mixed Taste for over 10 years, the program is ready for its next level of growth, and I believe Off-Center is the perfect partner to help us take it there," said Lerner, MCA Denver's Director and Chief Animator. "Off-Center produces the kind of smart and quirky programming in the theater world that we strive to create in the art world. We're excited to see what happens when we work together."
Charlie Miller, curator of Off-Center, is a fan of Mixed Tape because, he said, "it is an inherently theatrical format that is always engaging, surprising and fun – everything we strive for in an Off-Center experience. We are excited to partner with MCA Denver to give Mixed Taste its next life at the Denver Center."
More Colorado theatre coverage on the DCPA NewsCenter

Lerner originated Mixed Taste in 2004 in an empty storefront in the Belmar shopping center in Lakewood. In 2009, when he took the helm at MCA Denver he moved the program to downtown Denver. The program has been imitated from Boston to Mexico City. It has been discussed in various museum studies books and is regarded by many as the forefront of innovative cultural education programming.
Past Mixed Taste lecture topics have included:
Walt Whitman and Whole Hog Cooking
Existentialism and Giant Vegetables
Parkour and Bollywood
Gospel Music and Zebra Sharks
Tequila and Dark Matter in the Universe
The full lineup for the summer series will be announced at a later date.
Travelers of the Lost Dimension coming to Stanley Marketplace

https://www.denvercenter.org/wp-content/uploads/2018/04/featured-image-4553.jpg
372
800
John Moore
John Moore
2017-02-27 13:19:00
2021-02-09 14:27:00
MCA Denver, Off-Center bringing 'Mixed Taste' to Denver Center