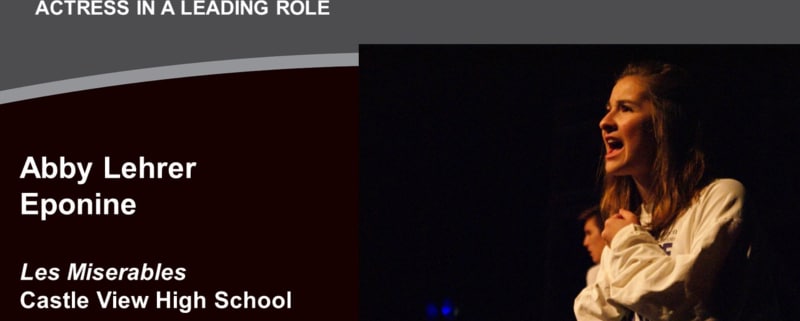 Meet 2018 Bobby G Awards Outstanding Actress nominee Abby Lehrer
The Bobby G Awards celebrate outstanding achievement in Colorado high-school musical theatre. The sixth annual awards take place at 7 p.m. Thursday, May 24, at the Buell Theatre. (Reserve your seat here)
Today we begin our daily rollout of the five students who are finalists for Outstanding Lead Actress. The winner will advance to represent Colorado at The Jimmy® Awards/The National High School Musical Theatre Awards™ (NHSMTA).
ABBY LEHRER
Eponine in Les Misérables
Castle View High School in Castle Rock
Class of 2018
Twitter bio: Hello everybody! My name is Abby Lehrer, but Abs or Balou work too:) I adore talking to people. Every story is a good story, so if you've got one to share, I would love to listen! //redeemed//
College plans: I am taking a gap year during which I can work and take more time to look for colleges so I can be solid and confident in my choice.
First role: My theatre debut was playing Molly in Annie
Why do you perform? That's a packed question. I perform because it is where I find I am most strong at leaving an impact on the most people. There are so many stories to tell that can inspire or change lives, and having that power and using it for a purpose bigger than yourself is so fulfilling. I find that music speaks to almost everyone, so using the gift I've been given to impact others and being able to get lost in the moment at the same time is simply incredible to me. I do it to glorify God!
One time you saw greatness play out in front of you: I remember looking for a song to sing for an audition in Oklahoma City when I came across "Not a Day Goes By" from Merrily We Roll Along, and Bernadette Peters was singing. I remember being blown away because of the real, raw talent she shared with the audience. I watched it over and over because I felt like she was sharing a piece of herself with everyone, and that we were so lucky to get to witness her story. Her acting was flawless, and it inspired me to really strengthen my storytelling.
Ideal scene partner: Either Barbra Streisand, Meryl Streep or Jeremy Jordan
What's playing on your Spotify right now? Jon Bellion or Steffany Gretzinger. A good song I listen to is "Guilty" by Barbra Streisand and Barry Gibb.
Favorite moment from your show: Our final performance of "One Day More" sent shivers through everyone's spines, and it was the moment we as a cast understood just how important and powerful our show really was. We went off stage and the crowd kept cheering. We felt so unified.
How does it feel to be nominated? It is an honor and a privilege that I am beyond thankful for. I remember always being inspired by the nominees each year and just hoping and praying I would get the chance to perhaps inspire others on the same stage. I still can't really believe it.
What has this experience taught you about the value of arts education and extracurricular activities at your school? They make people feel important and heard. They create lasting friendships and stories that will never be forgotten. They help kids find their purpose and, with the right coaching, give them a goal to strive for. They tells student they can leave a lasting impact on those around them.
Reserve your seat for the May 24 Bobby G Awards celebration here!

Selected recent coverage of the Bobby G Awards:


https://www.denvercenter.org/wp-content/uploads/2018/05/featured-image-8891.jpg
450
800
John Moore
John Moore
2018-05-13 13:56:00
2018-06-13 16:04:26
Meet 2018 Bobby G Awards Outstanding Actress nominee Abby Lehrer