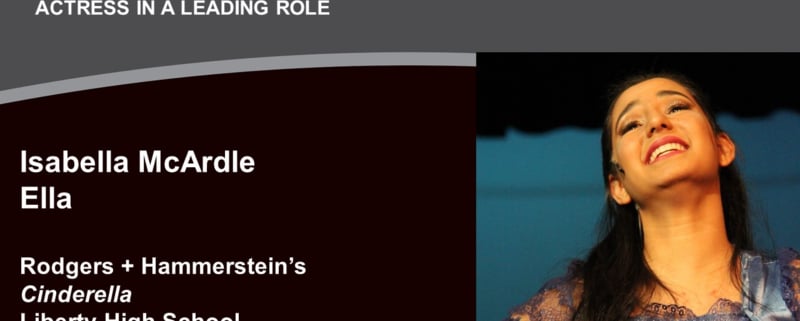 Meet 2018 Bobby G Awards Outstanding Actress nominee Isabella McArdle
The Bobby G Awards celebrate outstanding achievement in Colorado high-school musical theatre. The sixth annual awards take place at 7 p.m. Thursday, May 24, at the Buell Theatre. (Reserve your seat here)
Today we continue our daily rollout of the five students who are finalists for Outstanding Lead Actress. The winner will advance to represent Colorado at The Jimmy® Awards/The National High School Musical Theatre Awards™ (NHSMTA).
ISABELLA McARDLE
Ella in Rodgers + Hammerstein's Cinderella
Liberty High School in Colorado Springs
Class of 2018
Twitter bio: Just a regular shmegular girl with a heart for the Lord and His people. I love to bring joy and laughter into the lives of others and that's exactly why I fell in love theatre.
College plans: I am excited to pursue a nursing degree at George Fox University located in the beautiful and quaint town of Newberg, Ore. One day, I hope to work at a children's hospital where I will heal and care for the little ones.
First role: My theatre debut was my 8th-grade musical, Don't Say No to the USO. I was featured as the infamous Carl (which still gives me nightmares to this day). I was honored to have the opportunity to take on the essence that is Carl, and despite his being a boy, I learned a lot about myself: 1. I will never look good with a bowl cut. And 2. My tremendous love for theatre.
Why do you perform? Performing in Rodgers + Hammerstein's Cinderella opened my eyes to the beauty of theatre. When I performed the dress transformation — that my Fairy Godmother made, of course — and heard all of the "oohs" and "ahhs" from the crowd, knowing we brought someone to believe in fairy-tale magic is so incredible. I remember coming out after the show in my ball gown to greet the children and watched as their faces lit up. That is why I love to perform: Because you get to be a part of someone's joy and be the reason for their happiness. That feeling absolutely makes all of the hard work we put into the show worth it. After hugging, taking pictures and talking to the kids, they were bursting with excitement. They truly believed they were talking to a real-life Cinderella — and that is the magic of theatre. I love creating a space for pure imagination and childlike wonder. Theatre allows you to bring magic to life. The joy of the audience is so worthwhile.
One time you saw greatness play out in front of you: Hands down: When Teresa Giudice flipped the dinner table on "The Real Housewives of New Jersey." That was the best moment on reality TV. Teresa is my role model as far as theatrics go, and I learned much about how to be a proper drama queen.
Ideal scene partner: Ben Platt because, I mean, Ben Platt. Ben, Benjamin, Benny, the guy from Pitch Perfect, whatever name you know him by, you definitely know him by his stage name, Evan in Dear Evan Hansen. He is charming, funny and an all-around great guy who I would absolutely love to work with.
What's playing on your Spotify right now? "Beyond" by Leon Bridges. His voice is like butter. Or just really good chocolate cake.
Favorite moment from your show: Charlotte's shoe throw in "Stepsister's Lament." We would wait offstage for her to chuck the shoe at us, and whoever caught it would win. We had even created a "catch record" on a whiteboard where we tallied how many shoes were caught and missed. (Update: I only caught one shoe).
How does it feel to be nominated? I am beyond honored. I was such a shy girl with crazy stage fright. However, this year I challenged the limits I had placed upon myself and found the courage and confidence inside me to perform for no one but the Lord and the joy of others. God has placed his hand over Cinderella, as it proved time and time again to be a show full of light, love and laughter. Our show was the most incredible journey, and now as I embark on another journey into the Bobby G Awards, the Lord has made it abundantly clear He supports me every step of the way. I am also honored to be working alongside so many incredibly talented Colorado student performers, and I have made many lasting friendships because of it.

What has this experience taught you about the value of arts education and extracurricular activities at your school? I should have joined theatre earlier in my high-school career — not senior year! But I am so thankful to God for preparing me and leading me to where I am now. He has shown me this tremendous talent I didn't even know I possessed, guiding me in strength and confidence. When I'm on stage, I take joy knowing I might bring joy to someone else. I couldn't ask for anything more special than that. The friendships I have made during this process — directors, castmates, teachers and my fellow Bobby G Award nominees — is something so special to me. This is such a magical experience that I will truly cherish forever.
Our featured nominated actors and actresses to date:


Selected recent coverage of the Bobby G Awards:


https://www.denvercenter.org/wp-content/uploads/2018/05/featured-image-9036.jpg
450
800
John Moore
John Moore
2018-05-17 13:25:00
2018-06-14 10:20:47
Meet 2018 Bobby G Awards Outstanding Actress nominee Isabella McArdle