Meet 2019 Bobby G Awards Outstanding Actor Joseph Robinson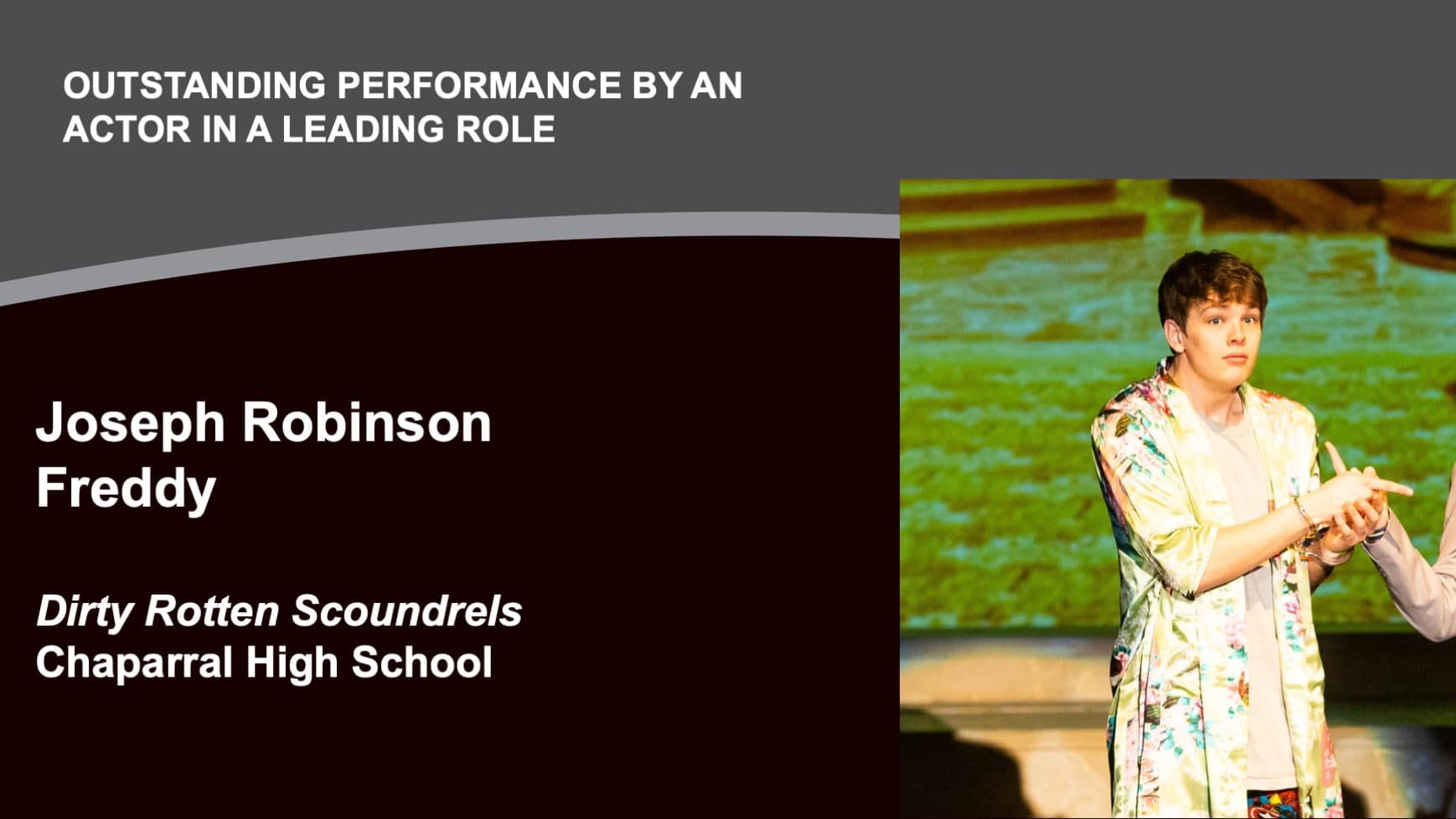 The Bobby G Awards celebrate outstanding achievement in Colorado high-school musical theatre. The seventh annual awards take place at 7 p.m. Thursday, May 23, at the Ellie Caulkins Opera House. (Reserve your seat here.) Today we continue our rollout of the five finalists for Outstanding Lead Actor. The winner will advance to represent Colorado at The Jimmy® Awards/The National High School Musical Theatre Awards™ (NHSMTA).
Joseph Robinson
Freddy Benson in Dirty Rotten Scoundrels
Chaparral High School
Class of 2019
Director: David Peterson
Twitter bio: I love dance and musical theatre, and can be heard singing exclusively in my shower and car. I also love long walks on the beach …
College plans: I will be attending BYU this fall, but I'm currently doing summer stock at the Playmill Theatre in West Yellowstone, Montana.
Why do you perform? I love it more than anything else.
One time you saw greatness play out in front of you: Watching Peter and the Starcatcher at Playmill two years ago. I knew I needed to stretch to become a better performer.
Ideal scene partner: Benedict Cumberbatch, because he's my idol.
What's playing on your Spotify right now? Phil Collins.
Favorite moment from your show: On opening night, a glass was accidentally broken on stage. And when I bent over to pick it up, my pants ripped right up the back and I used that moment to model my red boxers underneath.
What does it mean to you that the Bobby G Awards exist? The Bobby G's highlight the hard work and dedication that's required of performers, and that awards and scholarships are not just for athletes.
What has this experience taught you about the value of arts education and extracurricular activities at your school? That performing is a service, almost a sacred responsibility.  It's a chance for you and the audience to escape from the outside world together.
https://www.denvercenter.org/wp-content/uploads/2019/05/Joseph-Robinson.jpeg
978
1738
DCPA Press
DCPA Press
2019-05-20 17:33:15
2019-05-21 08:58:31
Meet 2019 Bobby G Awards Outstanding Actor Joseph Robinson