Meet 2019 Bobby G Awards Outstanding Actor nominee Kyler Hershman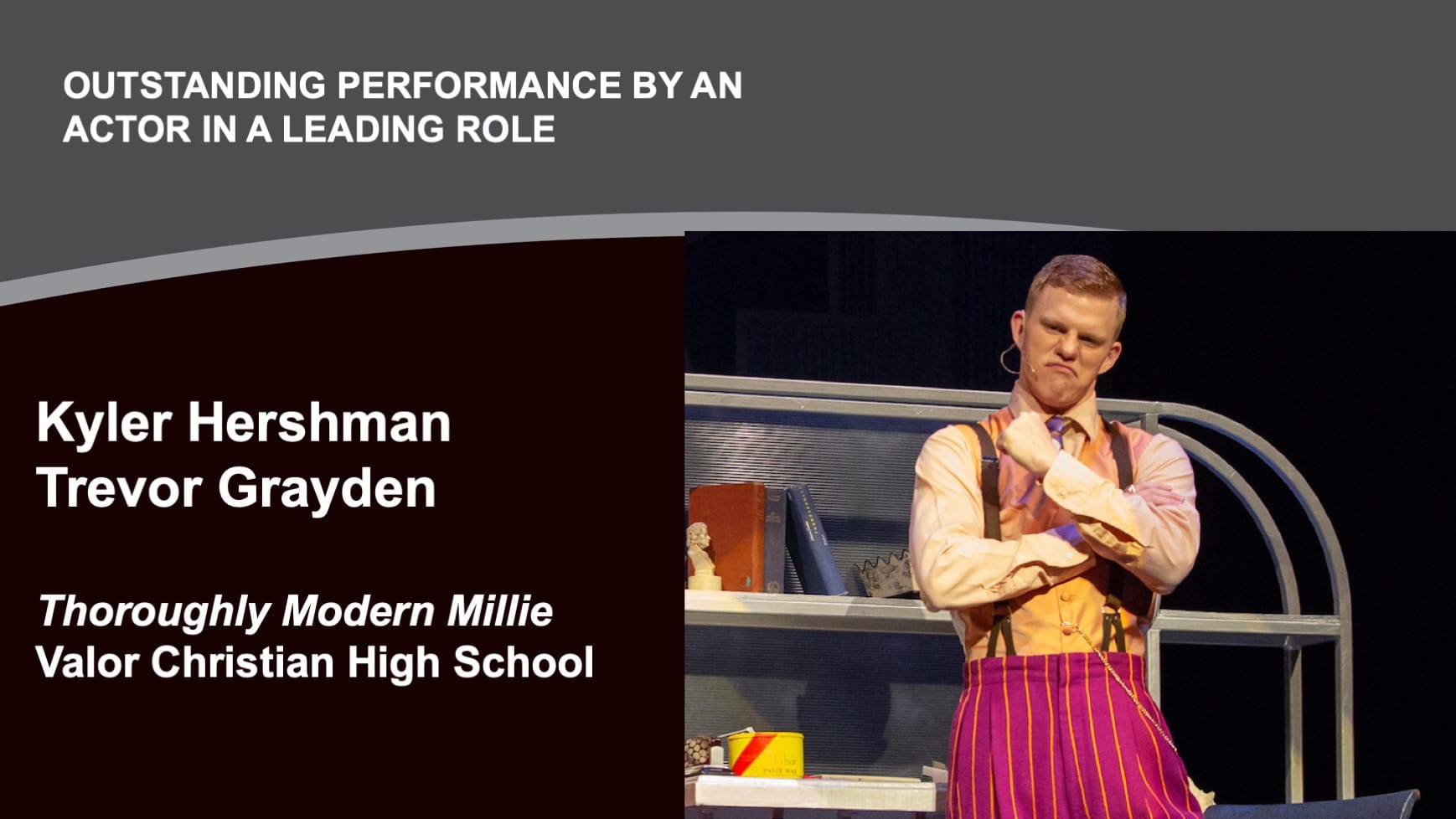 The Bobby G Awards celebrate outstanding achievement in Colorado high-school musical theatre. The seventh annual awards take place at 7 p.m. Thursday, May 23, at the Ellie Caulkins Opera House. (Reserve your seat here.) Today we continue our rollout of the five finalists for Outstanding Lead Actor. The winner will advance to represent Colorado at The Jimmy® Awards/The National High School Musical Theatre Awards™ (NHSMTA).
Kyler Hershman
Trevor Graydon in Thoroughly Modern Millie
Valor Christian High School
Class of 2019
Director: Kurt Muenstermann
Twitter bio: I am a mature kid who loves to hang out with friends, sing showtunes and enjoy the beauty of life.
What's your handle? @kylerhershman on Instagram
College plans: I will attend Pace University in New York this fall to pursue a BFA in musical theatre.

First role: I performed in the annual Magic Moments production with my family, most recently in 2010. My first real school role was playing Marius in Les Misérables my junior year.

Why do you perform? I love telling stories and making people feel joy. I love giving people the chance to connect with a variety of emotions. People love various forms of entertainment because all artists are storytellers. Performing artists tell stories that allow people to connect emotionally regardless of storyline. When one watches a show they feel joy and excitement upon entering the theatre and are happy with what they saw when they leave. This is because storytelling has the unique ability to cause change in one's heart. Performing on stage and telling a story makes me feel joy, and that is the same feeling I want to bring to my audience.
One time you saw greatness play out in front of you: I was so incredibly moved when I saw the touring cast of Dear Evan Hansen in Denver. Each individual actor was amazingly talented and told the story with excellence. The show really touched my heart, and I fell in love with the story. This show and the way it was told was greatness to me.
Ideal scene partner: There are so many I would love to be in a scene with. But I would probably pick between Jeremy Jordan and Will Smith.
What's playing on your Spotify right now? I really enjoy listening to the album "Sing to Me Instead" by Ben Platt.
Favorite moment from your show: One time during a show, about about 10 mics stopped working, our fly system locked up and just about everything else went wrong. This experience was not the best but the response from our cast and crew was amazing. Instead of getting down and being sad that the show did not go as planned, we all came together and finished the show with strength. It was a great moment where the cast truly united as one, and I loved it.
How does it feel to be nominated? It's a great way to go out my senior year. I'm super excited to represent Valor and so thankful that I get the opportunity to do so.
What does it mean to you that the Bobby G Awards exist? It's important to have recognition for the arts in general. The Bobby G Awards are a great way to recognize the talent around our community on a high-school level.
What has this experience taught you about the value of arts education and extracurricular activities at your school? This is where lifelong memories and friends are made. My best moments of high school have been with my family in the theatre community. It has taught me to value the people in my life and never take their friendship for granted.
https://www.denvercenter.org/wp-content/uploads/2019/05/Kyler-Hershman-1.jpeg
978
1738
DCPA Press
DCPA Press
2019-05-20 17:04:17
2019-05-21 09:00:00
Meet 2019 Bobby G Awards Outstanding Actor nominee Kyler Hershman