Meet 2019 Bobby G Awards Outstanding Actress nominee Abby Linderman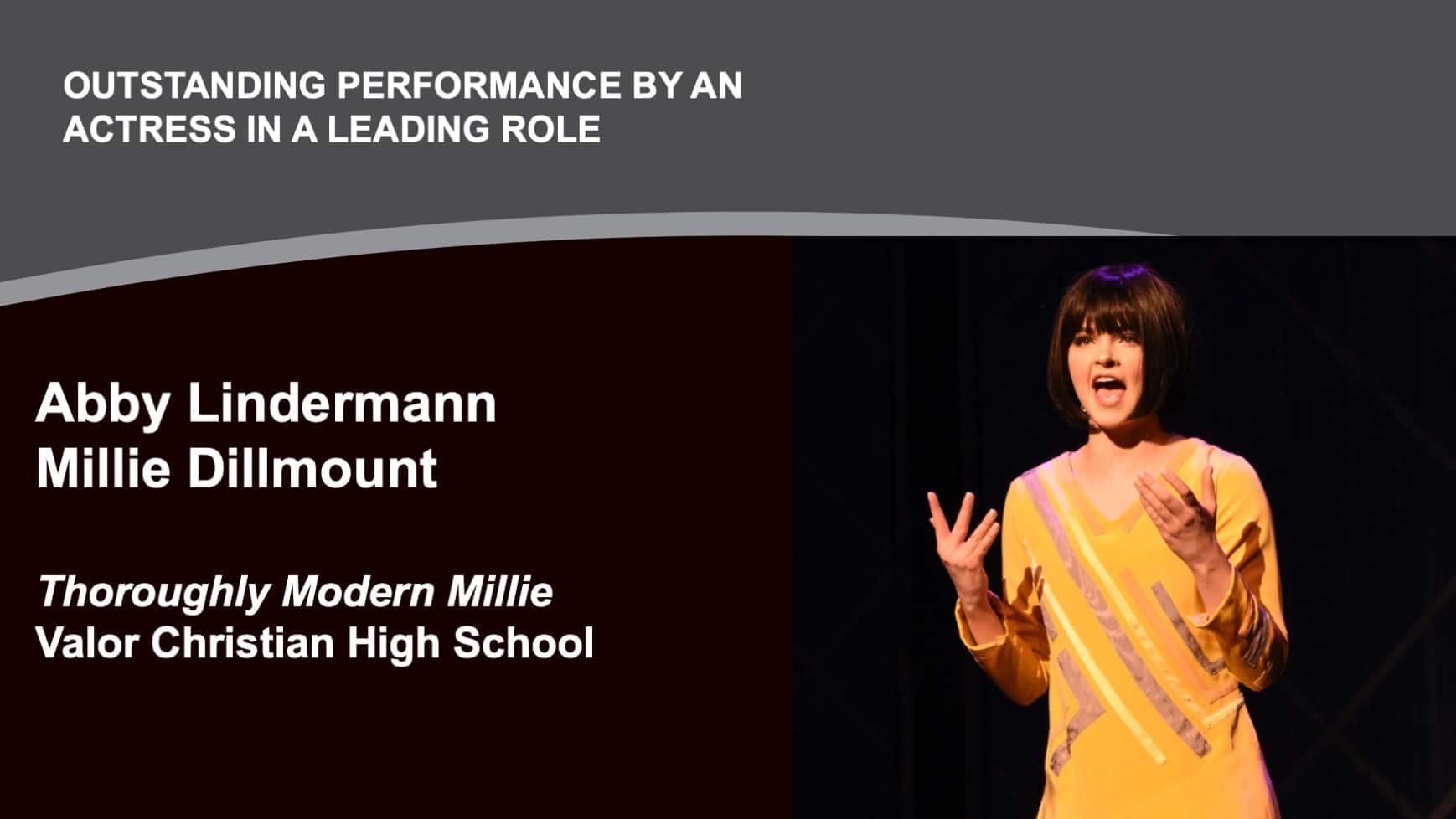 The Bobby G Awards celebrate outstanding achievement in Colorado high-school musical theatre. The seventh annual awards take place at 7 p.m. Thursday, May 23, at the Ellie Caulkins Opera House. (Reserve your seat here.) Today we continue our rollout of the five finalists for Outstanding Lead Actress. The winner will advance to represent Colorado at The Jimmy® Awards/The National High School Musical Theatre Awards™ (NHSMTA).
Abby Linderman
Millie Dillmount and co-choreographer of Thoroughly Modern Millie
Valor Christian High School
Class of 2019
Director: Kurt Muenstermann
Twitter bio: I named my car Sutton after Sutton Foster – and if that doesn't describe me, I don't know what does. Hebrews 10:24.
What's your handle? @abby.linderman on Instagram
College plans: I will be pursuing my BFA in Musical Theatre at Pace University in New York City.
First role: It was in the ensemble in Thoroughly Modern Millie, so this is definitely a full-circle moment!
Why do you perform? Because it is the way I can be a small part of making the world a better place. Theatre tells important, always relevant stories that allow society to be both inspired by the good in the world and moved to spark change in the many areas we are falling short. There is something uniquely powerful about people live onstage sharing a version of the human experience with other human beings. We are all so much more alike than we are different, and I believe that theatre can unite us in a time of division like nothing else can.
One time you saw greatness play out in front of you: Seeing Cynthia Erivo as Celie in the Broadway revival of The Color Purple. Hands down. She could literally manipulate the molecules in the room with her presence. It was the first time I really realized why people go to see theatre: So they can feel what she made me feel. Clearly, the whole audience felt the same way, as she got a standing ovation halfway through Act 2 after "I'm Here." Pure genius.
Ideal scene partner: Sutton Foster. I've always said that if I met her I could die happy. I think she's a genius and I look up to her as a powerful woman playing powerful women in the theatre. She is so diverse and spontaneous in performance and humble in her demeanor and I would have a lot to learn from her.
What's playing on your Spotify right now? I'm not even going to lie: I definitely get down to the new Jonas Brothers songs.
Favorite moment from your show: After one of our performances, a young girl approached me in the lobby and told me that Millie was her favorite character because "she does what she wants." I was suddenly taken aback by the immense privilege I had been given to tell Millie's story. Being the vessel for the story of an independent, brave, confident woman is certainly fun for me, but to know that it impacted even just that one young lady in the way that it did is so rewarding. That's why we do this.
How does it feel to be nominated? Wow. What a massive honor. Millie was the dream role of all dream roles for me, and to play the role my senior year with the absolute best company was already the picture perfect way to end my high school journey. The Bobby G nominations were the cherry on top for me and for the whole cast! I feel blessed beyond words to be nominated alongside such incredible peer performers. I am honestly a bit intimidated, but more so thrilled and so very grateful.
What does it mean to you that the Bobby G Awards exist? The talent, dedication and hard work that exists within Colorado high school theatre is unbelievable, and we are so lucky to have an evening to celebrate that. I also think the support Colorado theatre programs show for each other is really special. Year after year, I am astounded and inspired by the outpouring of love for all nominees in all categories. For me and all my friends, the Bobby G's have always been an opportunity to cheer on outstanding work and be pushed to strive for greatness within our own programs.
What has this experience taught you about the value of arts education and extracurricular activities at your school? It is because of my arts education and the full, vibrant arts program at my high school that I found my passion and now have the privilege of being nominated for a Bobby G. This experience has made me so much more grateful for every arts educator that has ever poured into me and helped me realize how lucky I am to even have access to a program like the Bobby G Awards. My life has been made richer because the arts have been integrated into it, and my experience with the Bobby G's proves that to be true.
https://www.denvercenter.org/wp-content/uploads/2019/05/Abby-Linderman.jpeg
978
1738
DCPA Press
DCPA Press
2019-05-20 10:03:00
2019-05-21 09:07:03
Meet 2019 Bobby G Awards Outstanding Actress nominee Abby Linderman