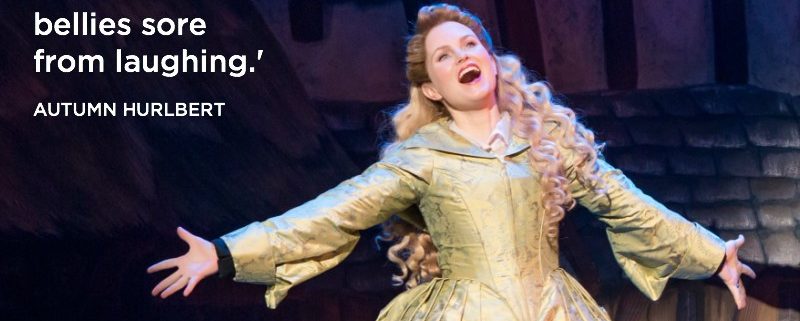 Meet Autumn Hurlbert of 'Something Rotten!'
Autumn Hurlbert of the national touring cast of 'Something Rotten!' attended college in Greeley.



MEET AUTUMN HURLBERT
Portia in 'Something Rotten!,' playing through Oct. 29 in the Buell Theatre.


On Broadway: Legally Blonde. First National Tour: Little Women. Selected Off-Broadway/Regional: Nobody Loves You (Second Stage), A Taste of Things To Come (York Theater Company), The Last Five Years (ACT Lousiville), Private Lives (Shakespeare Theatre Company, Huntington Theatre Company), every tongue confess (Arena Stage), Les Miserables and Evita (Pioneer Theater). Film/TV: "The Sound of Music, Live!," "Legally Blonde: The Search For Elle Woods," Sudden Death!, Research.



Hometown: I was born in Montana, and that's where most of my family lives now.
Home now: I have lived in New York City for almost 15 years now … longer than anywhere else.
Training: I have a Bachelor of Arts in Musical Theater from the University of Northern Colorado in Greeley.
Twitter-sized bio: Performer, mommy, wife, yogi, explorer, rule-breaker, wannabe political-science expert, musician … and a silly, life-loving adventurer.
What do you be doing if you were not an actor? Ooh! I would pursue a profession in some form of social advocacy: Social work, animal rescue, public school after-school programs, something along those lines. I feel that my purpose here on Earth is to empathize and help others in any possible way I can. Or … this is weird, but I would totally be an aesthetician. I would love to give people facials!
One time you saw greatness play out in front of you: One of the most transformative theater experiences I witnessed was Coram Boy (which on Broadway featured former longtime DCPA Theatre Company member Jacqueline Antaramian). It was an epic adventure that addressed child cruelty in the 18th Century. It was unlike anything I had ever seen, and it took my breath away. It was a huge production, but it had these beautiful, nuanced themes that I still think about. It closed much too soon and I am sad more people didn't get to experience it. It was sad and magical and mind-blowing.
Bucket-list role: There are so many great roles I would love to tackle, but my No. 1 dream is to originate a role on Broadway. I love the creative process, and I really hope some day I can put my stamp on a role that future musical theater comediennes will conquer with their own interpretations.
One time you were totally miscast: I played one of the urchins in a production of Little Shop of Horrors at a community theater in Arizona. I sang the crap out of it, but it was definitely three white girls playing the urchins. Miscast!
What's playing on your your Spotify? I am currently obsessed with Alabama Shakes. They have been around for a while, but – man! – their music makes me feel the feels. I also really love Big Boi's album, Big Boi Boomiverse. He calls himself an old-school rapper, but he says, 'I can lay down all of these new sounds and make them my own.' It's an eclectic and fun album.
How should we should foster the next generation of theatregoers? I think arts education is the most important avenue, not only for nurturing future theatregoers, but also for making the world a better place. The arts teach empathy and inclusiveness. The arts challenge and enhance your world view and your ability to participate in an ever-changing and evolving world. Studies have shown that children who play musical instruments are better at math. The arts are everything. (But I am totally not biased, am I?)
One thing we don't know about you: I have my toddler and my husband on tour with me. We are a like a traveling family band. We are living our gypsy spirit dreams!
Why does Something Rotten! matter? Our motto for this tour is: "Make America Laugh Again." Something Rotten! offers an escape from the stress and worry of daily life. One of the main themes is "To thine own self be true." That is a courageous and beautiful mission for anyone to live by. And we exemplify how to do that through comedy. Laughter is a necessity in life, in my opinion.

What do you hope the audience gets out of this play? I hope they walk out with their cheeks and bellies sore from laughing. I hope the love we have for each other on stage is felt in the audience — you are our final cast member.

One thing you want to get off your chest: Please, please, make fanny packs go away for good. They really don't look good on anyone. ANYONE.
More Colorado theatre coverage on the DCPA NewsCenter


Something Rotten!: Ticket information

At a glance: Set in 1595, this hit musical comedy tells the story of two brothers who set out to write the world's very first musical. It was called 'The Producers + Spamalot + The Book of Mormon. Squared,' by New York Magazine. The New York Post called Something Rotten! 'a big, fat hit.'
National touring production
Performances Oct. 17-29
Buell Theatre, Denver Performing Arts Complex
Tickets start at $25
Call 303-893-4100 or BUY ONLINE
Sales to groups of 10 or more click here

Previous NewsCenter coverage of Something Rotten! (to date)
Something old, something new, something borrowed and Something Rotten!
Go to the Something Rotten! show page
https://www.denvercenter.org/wp-content/uploads/2018/04/featured-image-5156.jpg
503
800
John Moore
John Moore
2017-10-18 16:28:00
2018-06-13 16:04:29
Meet Autumn Hurlbert of 'Something Rotten!'