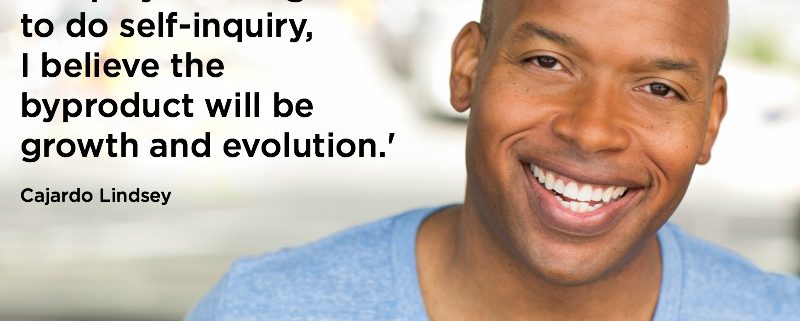 Meet the cast: Cajardo Lindsey of 'The Christians'
Cajardo Lindsey of 'The Christians.' He is pictured below right on the first day of rehearsal for the 2017 Colorado New Play Summit on Tuesday.
MEET CAJARDO LINDSEY
Understudy to Associate Pastor Joshua in The Christians, Reggie in Last Night and the Night Before (2017 Colorado New Play Summit)



At the Theatre Company: All the Way, A Raisin in the Sun, Just Like Us. Other Theatres: A Raisin in the Sun, Wait Until Dark, To Kill a Mockingbird (Arvada Center) The Whipping Man, The Brothers Size, In the Red and Brown Water, Marcus: or The Secret of Sweet, Fences (Curious Theatre). TV/Film: "Medium," "Crash," "In Plain Sight," "Easy Money," Silver City, MacGruber, Force of Execution, Assassins' Code, Independence Day: Resurgence (2016), Shot Caller (2016), Somnio (2016)."



Hometown: Cincinnati.
Training: BA from Miami University and a JD (law degree) from Indiana University. (I was home-schooled in the arts.)
What was the role that changed your life? Playing Walter Lee Younger in A Raisin in the Sun at the Arvada Center. My life was changed in the arts because of the look and embrace I received from my mentor after the show.
Why are you an actor? Acting called … and I answered.
What would you be doing if you weren't an actor: I presently enjoy two careers, one as an actor and the other as an attorney. I am unaware of what I would be doing for a career if I were not an actor and an attorney. Maybe a poet, a writer or a coach … I do all of these things in some capacity.
Ideal scene partner: My mentor, Jeffrey Nickelson. He was the founder of Denver's Shadow Theatre Company. If he were still alive, it would be great to show him that I was listening.
Why does The Christians matter? Because if we, as an audience, can see ourselves in a play and begin to do self-inquiry, I believe the byproduct will be growth and evolution.
What do you hope the audience gets out of this play? Love and compassion.
Finish this sentence: "All I want is …"
"… for the people in this world to love one another."
Cajardo Lindsey in Curious Theatre's 2013 production of 'The Brothers Size.' Photo by Michael Ensminger.


The Christians: Ticket information

A new play about the mystery of faith and what happens when a doctrinal controversy shakes the foundation of a large community church.
Plays through Feb. 26
Stage Theatre
ASL and Audio-Described matinee at 1:30 p.m. Sunday, Feb. 12
303-893-4100 or BUY ONLINE
Selected previous NewsCenter coverage of The Christians:
Playwright: The Christians is 'a pathway to empathy
The Christians: How do you know Kevin Kilner?
Behind the scenes video: Making stained glass for The Christians
Video, photos: Your first look at The Christians
Video: What audiences are saying about The Christians
Composer Gary Grundei on music to move the masses
Five things we learned at first rehearsal
Meet the cast: Krystel Lucas
Meet the cast: Robert Manning Jr.
Meet the cast: Caitlin Wise
2016-17 season: Nine shows, two world premieres, return to classics

More 2016-17 'Meet the Cast' profiles:
Steven J. Burge, An Act of God
Liam Craig, The Book of Will
Aubrey Deeker, The Glass Menagerie
Thaddeus Fitzpatrick, Frankenstein
Meridith C. Grundei, Frankenstein
Steven Cole Hughes, An Act of God
Sullivan Jones, Frankenstein
Mark Junek, Frankenstein
Charlie Korman, Frankenstein
Jennifer Le Blanc, The Book of Will
Rodney Lizcano, The Book of Will
Wesley Mann, The Book of Will
Amelia Pedlow, The Glass Menagerie
Jessica Robblee, Frankenstein
Erik Sandvold, An Act of God
John Skelley, The Glass Menagerie
Kim Staunton, Two Degrees


https://www.denvercenter.org/wp-content/uploads/2018/04/featured-image-4581.jpg
533
800
John Moore
John Moore
2017-02-16 17:44:00
2018-06-14 13:43:25
Meet the cast: Cajardo Lindsey of 'The Christians'