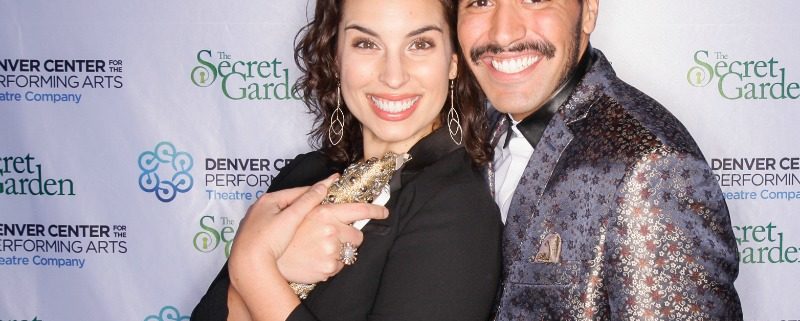 Meet the Cast: Erin Rubico of 'The Secret Garden'
Opening night of the DCPA Theatre Company's 'The Secret Garden.' Photo by Bamboo Booth of Denver.


MEET ERIN RUBICO
Swing in The Secret Garden, the classic story of the 10-year-old orphan girl doomed to a life of isolation with her uncle in England until she uncovers the key to her late aunt's long-lost garden. It plays through May 28 in the Stage Theatre.


At the Theatre Company: Debut. Erin most recently appeared as Marian Paroo in The Music Man at Flat Rock (N.C.) Playhouse. Other regional credits include Fiddler on the Roof (Tzeitel), Les Miserables (Fantine), Nine (Stephanie Necrophorus), How to Succeed in Business Without Really Trying (Smitty), and 9 to 5 (Maria Delgado).



Hometown: Dartmouth, Mass..
Training: BA in Theatre and Speech from Wagner College in New York City
Web site: erinrubico.com
Twitter and Instagram: @erinrubico
What was the role that changed your life? Playing a soldier/munchkin in an unlicensed production of The Wizard of Oz in fourth grade definitely takes the cake. If you can get through that, you can get through anything.
Why are you an actor? I love to tell stories, and the way that theater can convey those stories directly into the hearts of the audience is pure magic. You will definitely feel that when you see The Secret Garden.
What do you be doing if you were not an actor? I think I would be an editor. I am very detail-oriented (which sure comes in handy being a swing), and absolutely love to play around with language. I have been known to play many a game of Scrabble in our Green Room during intermission.
Ideal scene partner? I recently watched the film version of The Secret Garden, and I forgot how marvelous Maggie Smith was as Mrs. Medlock. She is such a powerhouse, I would absolutely love to work a scene with her.
Why does The Secret Garden matter? One of the quotes associated with our show has really stuck with me through our entire process: "Hope is powerful magic." Hope is easy to lose sight of, as we see with Mary at the beginning of the play. But even the smallest spark can unlock our deepest potential for connection and love. This musical reminds audiences how vital it is that we keep hope alive.
What do you hope the audience gets out of this play? I want them to leave the garden believing in their own power. We all have the ability to nurture and care for even the thorniest roses among us, and this musical truly inspires us all to use that power to find the magic within each other and ourselves.
Finish this sentence: "All I want is …"
" … Compassion, compassion, compassion."
More Colorado theatre coverage on the DCPA NewsCenter


The Secret Garden: Ticket information

The beloved classic blossoms anew in this enchanting musical full of beautiful melodies. When young Mary uncovers the key to her late aunt's long-lost garden, she becomes determined to revive the beauty that once flourished.
Book and lyrics by Marsha Norman; music by Lucy Simon;
based on the novel by Frances Hodgson Burnett.
Through May 28
Stage Theatre
Denver Performing Arts Complex
303-893-4100 or BUY ONLINE

Previous coverage of The Secret Garden:
Photos: Marsha Norman visits DCPA's The Secret Garden
Denver Post review: A worthy, family-friendly and satisfying theatrical experience
Video: How does our Secret Garden grow?
Photos, video: Your first look at The Secret Garden
Five things we learned at first rehearsal
Five things we learned at Perspectives
2016-17 season: Nine shows, two world premieres, return to classics


More 2016-17 'Meet the Cast' profiles:
Vandit Bhatt, Disgraced
Steven J. Burge, An Act of God
Liam Craig, The Book of Will
Aubrey Deeker, The Glass Menagerie
Thaddeus Fitzpatrick, Frankenstein
Meridith C. Grundei, Frankenstein
Steven Cole Hughes, An Act of God
Sullivan Jones, Frankenstein
Mark Junek, Frankenstein
Dorien Makhloghi, Disgraced
Charlie Korman, Frankenstein
Jennifer Le Blanc, The Book of Will
Cajardo Lindsey, The Christians
Rodney Lizcano, The Book of Will
Wesley Mann, The Book of Will
Zoe Manarel, The Secret Garden
Robert Montano, Two Degrees
Amelia Pedlow, The Glass Menagerie
Benjamin Pelteson, Disgraced
Daniel Plimpton, The Secret Garden
Sean Reda, The Secret Garden
Jessica Robblee, Frankenstein
Erik Sandvold, An Act of God
John Skelley, The Glass Menagerie
Kim Staunton, Two Degrees


Regina Steffen, The Secret Garden
https://www.denvercenter.org/wp-content/uploads/2018/04/featured-image-4983.jpg
577
800
John Moore
John Moore
2017-05-27 10:33:00
2018-06-15 08:48:14
Meet the Cast: Erin Rubico of 'The Secret Garden'