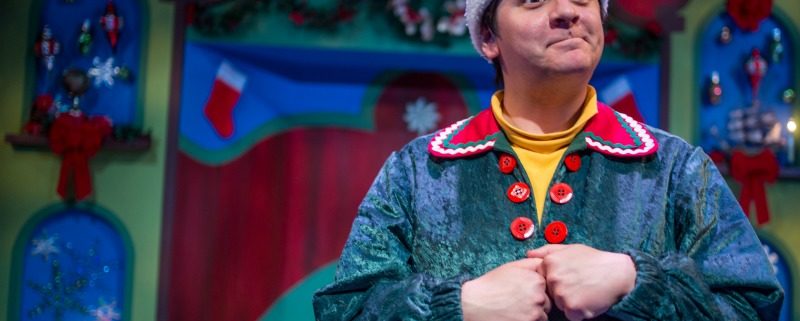 Meet the cast: Michael Bouchard of 'The SantaLand Diaries'
Michael Bouchard of 'The SantaLand Diaries': 'If you're wanting to kick Christmas in the (privates), boy do I have the show for you.' Photo by Adams Viscom.
MEET MICHAEL BOUCHARD
David/Crumpet in The SantaLand Diaries, a collaboration between Off-Center and the Boulder Ensemble Theatre Company, running through Dec. 24 in the Jones Theatre.
At the Theatre Company: Ensemble in A Christmas Carol. Selected other credits: Rosencrantz and Guildenstern are Dead (Colorado Shakespeare Festival), The Cripple of Inishmaan (Creede Rep), Camelot (Arvada Center), Bach at Leipzig (Boulder Ensemble Theater Company), Avenue Q (Vintage Theater). Spamalot (Aurora Fox). TV/Film: Charles Manson in The CREEP behind the Camera. Special/Awards/Training: Pacific Conservatory of the Performing Arts, 2009 Best Season by an Actor, Denver Post; 2011 Denver Post and Westword Best Supporting Actor in a Comedy; 2012 Westword Best on Stage Couple (with wife Rachel Bouchard.)

Twitter-sized bio: I'm an introverted performer who wants to be liked by those around him while constantly starting arguments.
Hometown: The I-80 corridor from San Francisco to Lake Tahoe
Training: Pacific Conservatory of the Performing Arts
What was the role that changed your life? Probably Eugene in Broadway Bound along with Shady Brady in Slabtown that same year at Creede Repertory Theatre. I proved to myself that I really was capable of leading shows in a range of characters. Eugene being Neil Simon, and Brady being an angry western drunk gunslinger. That's also the year I met my wife, so it was a really good year.
Why are you an actor? As a child I would cope with the difficult divorce of my parents and getting bullied at school by retreating into my imagination. Come to find you can actually make a living playing make believe. Or at least you can try, which is what I'm doing.
What would you be doing if you weren't an actor: I'd probably be a writer. An opinion writer at that. I'm just well read enough to have opinions that are substantive and just dumb enough to think people would want to read them if I write them.
Ideal scene partner: Tatiana Maslany. She's the most versatile actress working today and I have immense respect for that. In America we call people who are morphing in and out or personalities that are not their own, "character actors." But the Brits simply call them "actors." That's what I aspire to be, and she is the gold standard.
Why does The SantaLand Diaries matter? The holidays are actually not a very happy time for many people. Not everyone has a Norman Rockwell family to return to, and the stress of presents, decorations and parties can suck all the fun out of the holidays. And there's no escaping it. Holiday music starts playing in every public square the second after you pull the turkey out of the oven, and from then on out you're in Holiday North Korea. So, this play helps us to remember to laugh at all the insanity and commercialization surrounding a guy in a red suit who was invented by Coca-Cola.
What do you hope the audience gets out of seeing it? I know I've done my job when people are leaving saying that they haven't laughed that hard in years. Not everyone does, of course. The humor isn't for everyone and time to time people leave (or flip me off). But if you're wanting to kick Christmas in the (privates), boy do I have the show for you.
Finish this sentence: "All I want is …"
"… A Tony Award, a syndicated column, a cottage in Aspen, a full library and wine cellar, a sold-out show and a new pair of jeans."

Video: Your first look at The SantaLand Diaries


The SantaLand Diaries: Ticket information

• The story: David Sedaris' off-beat tales from his stint as a Macy's elf in New York City is the sure cure for the common Christmas show.
• Through Dec. 24
• Jones Theatre
• Tickets: 303-893-4100 or BUY ONLINE
• Groups: Call 303-446-4829
Selected previous coverage of The SantaLand Diaries:
Video, photos: Your first look at The SantaLand Diaries 2016
Podcast 2015: Listen in with Michael Bouchard and John Moore
Michael Bouchard, left, in a previous staging of Creede Repertory Theatre's 'The 39 Steps' with Mario Cabrera and Steven Cole Hughes.
https://www.denvercenter.org/wp-content/uploads/2018/04/featured-image-3486.jpg
673
800
John Moore
John Moore
2016-12-20 14:01:00
2018-06-15 09:56:25
Meet the cast: Michael Bouchard of 'The SantaLand Diaries'