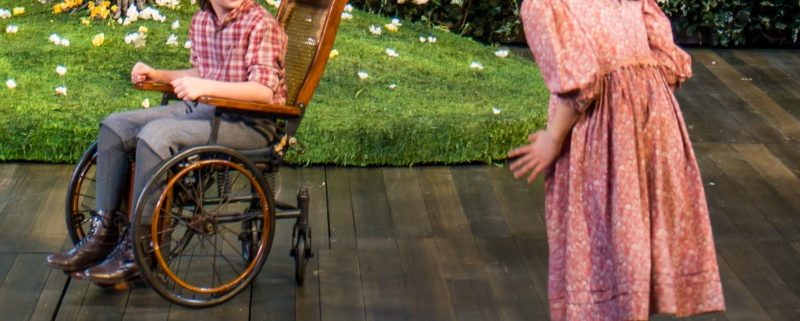 Meet the Cast: Sean Reda of 'The Secret Garden'
Sean Reda, who plays Colin Craven, is an un-craven New York Yankees fan. 'The Secret Garden' plays through May 28. Photo by Adams VisCom.


MEET SEAN REDA
Colin Craven in The Secret Garden, the classic story of the 10-year-old orphan girl doomed to a life of isolation with her uncle in England until she uncovers the key to her late aunt's long-lost garden. It plays through May 28 in the Stage Theatre.


At the Theatre Company: Debut. Broadway credits include Les Miserables and Radio City Christmas Spectacular. Tour credits include Radio City Christmas Spectacular and Beauty and the Beast. Film: I Smile Back.



Hometown: Montebello, N.Y.
School: I am in the seventh grade at Suffern Middle School
What was the role that changed your life? Playing Chip in the national touring production of Beauty and the Beast. It was my first professional role. I got to travel to so many cities and states and meet so many incredible people. Also, being part of the Disney "magic" was amazing, especially since I was only 7 years old. I got this funny feeling inside my stomach that made me feel really great, and I wanted to do it again and again.
Why are you an actor? Because it's fun! I have met and made friends with so many wonderful and talented people. Acting brings me joy.
What do you be doing if you were not an actor? I would be doing sports. My favorite sport is baseball. My favorite team is the New York Yankees.
Ideal scene partners? Hugh Jackman and Emily Walton. (pictured right). But I actually get to work with her Emily this show. So I guess that dream has come true. She's the best actor ever.
Why does The Secret Garden matter? It matters to me because it gives such a deep understanding of hope.
What do you hope the audience gets out of this play? I hope they get a better understanding that even in the darkest times there is light.
Finish this sentence: "All I want is …"
" … peace in the world."
More Colorado theatre coverage on the DCPA NewsCenter


The Secret Garden: Ticket information

The beloved classic blossoms anew in this enchanting musical full of beautiful melodies. When young Mary uncovers the key to her late aunt's long-lost garden, she becomes determined to revive the beauty that once flourished.
Book and lyrics by Marsha Norman; music by Lucy Simon;
based on the novel by Frances Hodgson Burnett.
Through May 28
Stage Theatre
Denver Performing Arts Complex
303-893-4100 or BUY ONLINE

Previous coverage of The Secret Garden:
Photos: Marsha Norman visits DCPA's The Secret Garden
Denver Post review: A worthy, family-friendly and satisfying theatrical experience
Video: How does our Secret Garden grow?
Photos, video: Your first look at The Secret Garden
Five things we learned at first rehearsal
Five things we learned at Perspectives
2016-17 season: Nine shows, two world premieres, return to classics


More 2016-17 'Meet the Cast' profiles:
Vandit Bhatt, Disgraced
Steven J. Burge, An Act of God
Liam Craig, The Book of Will
Aubrey Deeker, The Glass Menagerie
Thaddeus Fitzpatrick, Frankenstein
Meridith C. Grundei, Frankenstein
Steven Cole Hughes, An Act of God
Sullivan Jones, Frankenstein
Mark Junek, Frankenstein
Dorien Makhloghi, Disgraced
Charlie Korman, Frankenstein
Jennifer Le Blanc, The Book of Will
Cajardo Lindsey, The Christians
Rodney Lizcano, The Book of Will
Wesley Mann, The Book of Will
Zoe Manarel, The Secret Garden
Robert Montano, Two Degrees
Amelia Pedlow, The Glass Menagerie
Benjamin Pelteson, Disgraced
Daniel Plimpton, The Secret Garden
Jessica Robblee, Frankenstein
Erik Sandvold, An Act of God
John Skelley, The Glass Menagerie
Kim Staunton, Two Degrees


Regina Steffen, The Secret Garden
https://www.denvercenter.org/wp-content/uploads/2018/04/featured-image-4985.jpg
614
800
John Moore
John Moore
2017-05-26 16:48:00
2018-06-13 16:04:30
Meet the Cast: Sean Reda of 'The Secret Garden'