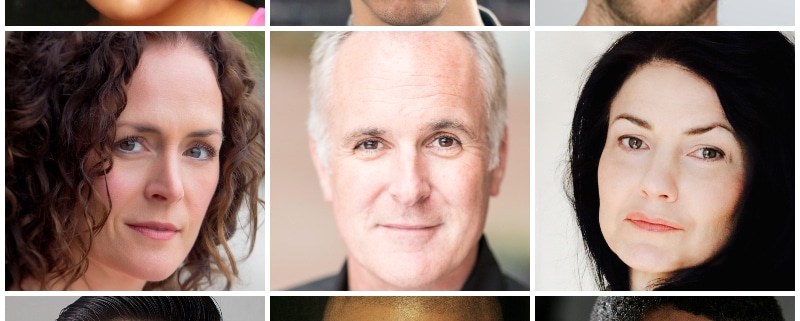 Meet the cast that's about to work up Denver Center's 'Sweat'
Cast of nine familiar and fresh faces will bring Lynn Nottage's Pulitzer-winning look at working-class America to The Space Theatre
The DCPA Theatre Company, the producing regional theatre arm of the Denver Center for the Performing Arts, has announced the full cast and creative team for Sweat, the 2017 Pulitzer Prize-winning drama by Lynn Nottage, running April 26 through May 26 in The Space Theatre.
Among those in the cast who will be familiar to Denver theatre audiences are Sam Gregory, a veteran of 48 DCPA Theatre Company productions; Tara Falk, a Broadway veteran who starred in Curious Theatre's Time Stands Still; William Oliver Watkins, who played Jackie Robinson the Denver Center's Jackie & Me; and Gustavo Márquez, who got his start in the Denver Center's ticket office and has since appeared in Native Gardens and A Christmas Carol. Timothy D. Stickney will be familiar to fans of TV's "One Life to Live." He played RJ Gannon on the daytime serial for 13 years.
For the people of Reading, Pennsylvania, work is so much more than a paycheck – it's the glue that holds the town together. The floor of their central factory is where lifelong friendships are made, where love blossoms and where family members work side-by-side. But as layoffs become the new norm and a cheaper workforce threatens the viability of the local union, the threads that once kept the community together begin to fray.
Nottage began working on the play in 2011 by interviewing residents of Reading, which at the time was, according to the United States Census Bureau, one of the poorest cities in America, with a poverty rate above 40 percent. Using warm humor and deep empathy, Nottage paints a moving portrait of today's working class in decline.
"One of the things I love the most about Lynn Nottage is the way she takes an idea and makes it human," said Artistic Director Chris Coleman. "Lynn is a significant voice in American theatre. Denver audiences responded enthusiastically to Ruined when we produced it in 2011 and I'm thrilled we get to experience her work again. I look forward to taking the questions this play asks and diving deeper into conversations with the Denver community." (Note: Sweat will include a post-show talkback following every performance beginning May 4.)

The New York Times called the play "an extraordinarily moving drama that powerfully contrasts life's happiest highs with the heart-wrenching struggles of survival."
The director of Sweat is Rose Riordan, with a creative team that includes Tony Cisek, who designed the set for Anna Karenina.
Cast:
Cycerli Ash ("Skinned") as Cynthia
Jordan Bellow (A Raisin in the Sun, IRT/Syracuse Stage) as Chris
Derek Jack Chariton (Eccentricities of a Nightingale, Pacific Resident Theater) as Jason
Tara Falk (Metamorphoses on Broadway) as Tracey
Sam Gregory (48 productions at DCPA including A Christmas Carol as Ebenezer Scrooge) as Stan
Leslie Kalarchian (Celebrity Row, Portland Center Stage) as Jessie
Gustavo Márquez (Native Gardens, DCPA) as Oscar
Timothy D. Stickney (Shakespeare in Love, Chicago Shakespeare Theater) as Brucie
William Oliver Watkins (As You Like It, DCPA) as Evan
Creative team:
Rose Riordan, Director
Tony Cisek, Scenic Designer
Kevin Copenhaver, Costume Designer
Charles MacLeod, Lighting Designer
Elisheba Ittoop, Sound Designer
Geoffrey Kent, Fight Director
Christine Menzies, Voice and Dialect
Mary Blair, Research Dramaturg
Harriet Bass, CSA, and Grady Soapes, CSA (Casting)
Kurt Van Raden (Stage Manager)
Michael G. Morales (Assistant Stage Manager)
Molly Bibeau (Apprentice Stage Manager)
Sweat: Ticket information
Written by: Lynn Nottage
Director: Rose Riordan
Dates: April 26-May 26, 2019 (Opens May 3)
Where: Space Theatre
Genre: Working-class drama

Tickets: Start at $30 and can be purchased at denvercenter.org, 303-893-4100 or in person in the Helen Bonfils Theatre Complex at 14th and Curtis streets.
https://www.denvercenter.org/wp-content/uploads/2019/03/SWEAT-full-cast1.jpg
800
800
DCPA Press
DCPA Press
2019-03-18 16:32:01
2019-03-21 16:07:41
Meet the cast that's about to work up Denver Center's 'Sweat'