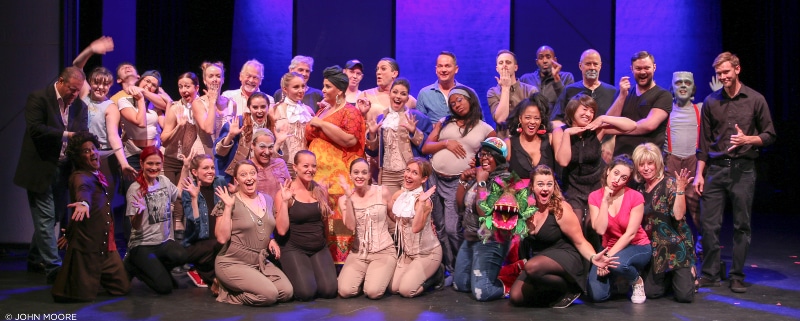 'Miscast 2019' raises record $8,680 for Denver Actors Fund
Grassroots nonprofit has raised almost $400,000 for Colorado theatre artists in medical need

Miscast, an annual community-wide performance held this year on September 30 at the Aurora Fox Arts Center, raised a record $8,600 for the Denver Actors Fund, which provides financial and practical relief for members of the Colorado theatre community in medical need.
In just five years, this grassroots nonprofit founded by DCPA Senior Arts Journalist John Moore has distributed nearly $400,000 in direct aid to local theatre artists.
A powerhouse lineup of three dozen local actors sang songs from roles they might normally be considered unsuited to play in a legit theatre production. The evening got off to a rousing start with a group of seven powerhouse women staging "The Battle of Yorktown" from Hamilton. The group included frequent DCPA Cabaret and Theatre Company actor Shannan Steele as well as DCPA Teaching Artist (and Broadway performer) Piper Arpan.
Real-life married couple Adriane Leigh Robinson and Marco A. Robinson helped prolific area puppet artist Katy Williams put a fun spin on the popular song "Feed Me Seymour" from Little Shop of Horrors. Williams created an original puppet that was flamboyantly colorful and therefore decidedly miscast to play the killer plant (Audrey II). Adriane Robinson (DCPA Cabaret's First Date) played the nerdy botanist Seymour while Marco A. Robinson (DCPA Education's Goodnight Moon) played the damaged and abused ingenue Audrey, who in the story is mixed up with a sadistic dentist.
This year's emcee (and the dentist in that number) was busy local choreographer and actor Jessica Hindsley. Miscast is produced by Robert Michael Sanders, who has presented Miscast for the past six six years as his personal in-kind contribution to The Denver Actors Fund. This year, he was joined as co-director by area promoter and actor Kenny Moten, the owner of Narrative Creative Consulting in Fort Collins and a Denver Actors Fund board member who performed "Where You Are" from Kiss of the Spider Woman.
Since 2014, Miscast has raised $34,797 for The Denver Actors Fund. Throughout this year's sold-out event, several recipients of Denver Actors Fund assistance joined Hindsley on stage to share their personal stories. Among them were local actor Faith Ford, who was diagnosed with thyroid cancer at age 24; and Luke Rahmsdorff-Terry, an actor and sound designer with progressively diminishing hearing loss. Thanks to new hearing aids purchased by The Denver Actors Fund, Rahmsdorff-Terry told the crowd he was able to hear his unborn daughter's heartbeat for the first time during his wife's sonogram last week. Actor Faith Goins-Simmons shared the wrenching story of the mysterious death of her 13-month-old son, and how funds from The Denver Actors Fund helped pay for burial expenses. Goins-Simmons has since had another child and is weeks away from delivering a third.
Video: Performance highlights
Photo gallery: Miscast 2019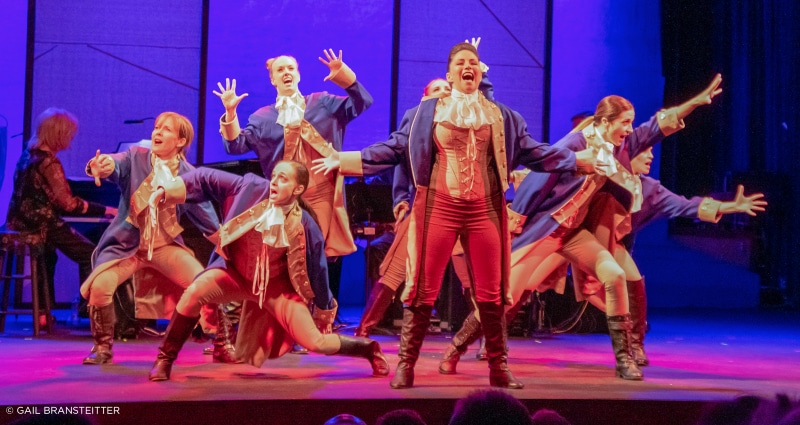 Photos by John Moore, Gail Bransteitter and Marc Storch for the DCPA NewsCenter.
Go to our complete gallery of more than 100 Miscast 2019 photos
Miscast 2019: The performances

Directors: Robert Michael Sanders and Kenny Moten
Emcee: Jessica Hindsley
Performances:
Piper Lindsay Arpan, Tracey Dennig, Jessica Hindsley, Mahri Relin, Danielle Harrell Scheib, Shannan Steele and Tracy Warren: "The Battle of Yorktown," from Hamilton
Katy Williams, with Rajdulari Landell, Cheyenne Michaels, Adriane Leigh Robinson, Marco A. Robinson and Austin Walker: "Feed Me, Seymour," from Little Shop of Horrors
Mark Snyder Jr. (as LeFou from Beauty and the Beast): "When He Sees Me," by Sara Bareilles
Valerie Igoe, with Eric Heine: A one-woman (and a half) performance of Legally Blonde
Jeremy Rill: "Meadowlark," from The Baker's Wife
Randy Chalmers, Faith Angelise Goins-Simmons, Anna Maria High, Joseph Lamar, Gabriel Morales, Sonsharae Tull: "The Blackest Kids in Town," a variation on "The Nicest Kids in Town," from Hairspray
John Ashton: "Somewhere Over the Rainbow," from The Wizard of Oz
Cole Emarine, Bob Hoppe and Matthew D. Peters: "You Gotta Get a Gimmick," from Gypsy
Todd Debreceni (as Jacob Marley) and Mark Shonsey (as Frankenstein): "Agony," from Into the Woods
Kenny Moten, with Sky Cash, Teri English, Stephanie Hesse, Abigail Kochevar and Rachael Lessard: "Where You Are," from Kiss of the Spider Woman
More Colorado theatre coverage on the DCPA NewsCenter
In addition to financial assistance, Denver Actors Fund volunteers provide practical ranging from meals to transportation to housecleaning to pet care and more. Any theatre artist living in Colorado who participates in the making of a live theatre production on or off any legitimate stage in the state is eligible for DAF relief for the ensuing five years. For more information on the Denver Actors Fund and its services, or to donate, go to DenverActorsFund.Org.
Upcoming opportunities to support The Denver Actors Fund:
Thursday, October 10: 5280 Artists Co-Op has designated its preview performance of S.M. Shephard-Massat's Waiting to Be Invited as a fundraiser for The Denver Actors Fund. In the summer of 1964, four middle-aged black women (co-workers from an Atlanta doll factory) travel by city bus to a "whites only" eating establishment inside a downtown Atlanta department store. Their purpose is to test their newly acquired civil rights handed down by the Supreme Court outlawing segregation in eating establishments. All proceeds from this performance will be donate.  All tickets are  $10. 7:30 p.m. at the Aurora Cultural Arts District Building, 1400 Dallas St., Aurora. Call 720-500-3352 or go to 5280ArtistCoop.com.
Monday, October 28: Jack Barton, who starred in BDT Stage's "Joseph and the Amazing Technicolor Dreamcoat" and Peter and the Starcatcher, is also half of a high-energy piano duet called The Barton Brothers, who mix piano-bar sing-along classics with updated contemporary covers and original songs. Jack and Dan Barton are classically trained pianists and childhood choir nerds who grew up sharing stereos, bunk beds and piano teachers. They'll be taking over the BDT Stage stage for one night only, and BDT will donate $5 from every $25 ticket sold to The Denver Actors Fund.  7 p.m. at 5501 Arapahoe Ave., Boulder, For tickets, go to bdtstage.com
https://www.denvercenter.org/wp-content/uploads/2019/10/Miscast-2019.-Photo-by-John-Moore.jpg
339
800
DCPA Press
DCPA Press
2019-10-07 08:06:18
2019-10-08 13:41:06
'Miscast 2019' raises record $8,680 for Denver Actors Fund