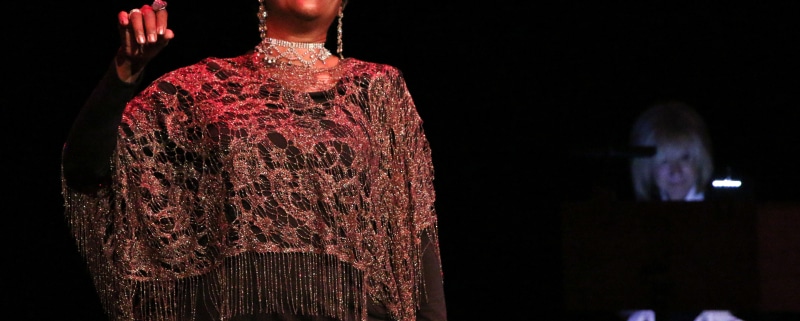 Irreverent fundraiser raises more than $6,000 for nonprofit that provides medical relief to Colorado theatre artists

Miscast, a popular annual community-wide performance held September 17 at the Mizel Arts and Cultural Center, raised $6,106 for the Denver Actors Fund, which provides financial and practical relief when members of the Colorado theatre community find themselves in situational medical need.
In just four years, this grassroots nonprofit has distributed more than $270,000 in direct aid to local artists — $160,000 in the past year alone.
Twenty local actors performed in roles they would never normally be cast to portray. This year's co-hosts were popular local actors Shannan Steele and Steven J. Burge. Miscast is produced by Robert Michael Sanders, who has presented the show in its entirety for straight five years as his personal contribution to The Denver Actors Fund.
Since 2014, Sanders' Miscast efforts have generated $26,117 for the grassroots nonprofit.
Miscast came just eight days after a new nonprofit called Project Careaoke hosted a karaoke-themed fundraiser for The Denver Actors Fund that raised more than $34,689 on September 9 at The Venue in northwest Denver.

The evening included a variety of comic and poignant performances, including Denver actor and teacher Candy Brown, whose six Broadway credits include the original productions of Chicago and Pippin. Brown, who is African-American, chose to sing "With One Look" as Nora Desmond from Sunset Boulevard. In another highlight, gender-neutral performer K. Woodzick, founder of the Non-Binary Monologues Project, fulfilled a longtime dream by performing "I Want to Be a Producer" as Leo Bloom from The Producers.
The hosts also engaged audiences in participatory games including Match Game and Two Truths and a Lie. As guests entered the Mizel Center, they were asked if they wanted to be entered into a drawing to participate in the on-stage games. Those who did paid $5 for the chance to play.
In the crowd of nearly 200 were several recent beneficiaries of Denver Actors Fund grants, including Performance Now actor Sue Thompson, whose baby passed away when she was 8 months pregnant; Arvada Center actor Abner Genece, who was nearly killed with his son when their stopped car was hit from behind by a moving semi on a Wyoming highway; and Faith Ford, who will be undergoing surgery next month after a recent diagnosis of thyroid cancer. She is currently featured in Town Hall Arts Center's production of American Idiot.
Many individuals and area theatre companies contributed more than $2,000 in prizes for the event. Participating companies included Denver Center Broadway, Arvada Center, Aurora Fox,  Boulder Ensemble Theatre Company, Cherry Creek Theatre, Creede Repertory Theatre, Miners Alley Playhouse, Midtown Arts Center, Town Hall Arts Center and Vintage Theatre.
The Denver Center donated four tickets to the upcoming national touring production of The Phantom of the Opera sequel Love Never Dies. DAF supporters Brian and Becky Trampler donated their own two orchestra tickets to the upcoming touring production of Dear Evan Hansen. Local playwright playwright Jeff Neuman donated four tickets to The Denver Post Pen & Podium series he hosts. Headshot photographers Jeremy Rill and Rachel D. Graham donated portrait sessions.
Earlier in the day, the Denver Actors Fund voted to add Northern Colorado performer and presenter Kenny Moten to its Board of Directors. Moten is the owner of Narrative Creative Consulting in Fort Collins.
The Denver Actors Fund primarily works to reimburse Colorado theatre artists for medical expenses not covered by insurance. In addition, a team of volunteers provides practical services to those recovering from medical procedures ranging from meals to transportation to cleaning, pet care and more. Any theatre artist living in Colorado who participates in the making of a live theatre production on or off any legitimate stage in the state is eligible for DAF relief for the ensuing five years. For more information on the Denver Actors Fund and its services, or to donate, go to DenverActorsFund.Org.

Miscast 2018:

Hosts:
Steven J. Burge
Shannan Steele
Performances:
Christopher K.Boeckx, 'Never Enough' from the film The Greatest Showman
Candy Brown, 'With One Look' from Sunset Boulevard
Anna Maria High, updated medley from Always, Patsy Cline, with Avery Anderson
K. Woodzick, 'I Wanna Be a Producer' from The Producers
Cast of Boulder Ensemble Theatre Company's upcoming production of  The Wolves performing a scene from Glengarry Glen Ross: Hannah Haller, Lois Shih, Tara Kelso, Erika Mori and Maire Higgins. Directed by Adrian Egolf and adapted by Luke Sorge.
LuAnn Buckstein, Suzanne Nepi, Arlene Rapal and Lisa Young, 'Not Dead Yet' from Spamalot
David Nehls, 'Bill Bailey' from Showboat
Jale Mendes, 'Push da Button' from The Color Purple
Mark Pergola, 'Poor Unfortunate Souls' from The Little Mermaid'
Upcoming opportunities to support Denver Actors Fund:
Miners Alley Playhouse, Monday, September 24: Miners Alley Playhouse has designated the Monday, Sept. 24 performance of Lungs as a fundraiser for The Denver Actors Fund. Lungs follows a couple through the surprising lifespan of their relationship as they grapple with questions of family, change, hope, betrayal, happenstance and the kind of pain you can only cause someone you love. Featuring the husband-and-wife acting team of Adrian Egolf and Luke Sorge. Written by Duncan Macmillan. 7:30 p.m. at 1224 Washington St., Golden, 303-935-3044 or minersalley.com
Theatre Or, Thursday, September 27:
Theatre Or's
Industry Night for the play Oh My God! by Anat Gov (a play about God coming to Earth for therapy) will be held at 7:30 p.m. on Thursday, Sept. 27, in the Pluss Theatre at the
Mizel Arts And Cultural Center, 350 S. Dahlia St
. Tickets are $18, with half going to the DAF. Call 303-316-6360.
Athena Project, September 28-30:
Sarah Bierstock's drama
Honor Killing
, selected from among 250 scripts to be developed by the Athena Project (which exists to tell stories written by women), tells the tale of a
New York Times
reporter investigating the "honor killing" of a young Pakistani woman by her own family. The play addresses cultural bias, technology and the limits of ethical reporting. As part of the Denver Actors Fund's ongoing, community-wide "Tap Shoe Initiative,
Athena has created two signature company shoes to collect change at all remaining performances. Vote for your favorite show with your donated dollars. At the end of the run, the audience favorite will become Athena's "Shoe for Good" moving forward.
Elaine Wolf Theatre at the Mizel Arts and Cultural Center, 350 S. Dahlia St.,
athenaprojectarts.org
BDT Stage, Monday, October 8: BDT Stage has designated The Denver Actors Fund as one of three beneficiaries from an important, 20th anniversary reading of The Laramie Project, featuring top actors such as Sam Gregory, Nick Sugar and Tim Howard, and cameos including TV personalities Greg Moody, Chris Parente and Eden Lane. 6:15 p.m. $5 suggested donation. 5501 Arapahoe Ave., in Boulder, 303-449-6000 or bdtstage.com
Aurora Fox, Monday, October 29: The Aurora Fox and an all-star cast will present the hair-raising rock opera "Killer Wigs from Outer Space" with proceeds benefiting the Denver Actor's Fund. "Killer Wigs From Outer Space," set in 1985, tells the story of a down-on-his-luck carnival worker named Orville who falls prey to a brain-eating parasite from outer space — with fabulous hair. This powerful alien transforms Orville into O, a rock star who becomes a prophet for peace and beauty. O must tackle true evil when confronted by a terrifying media tyrant who is poised to take over the world. Attendees are encouraged to B.Y.O.W. (Bring Your Own Wig) for the "Wig Out" dance party after the show! Music and Lyrics by David Nehls, with additional Lyrics by Zac Miller. Tickets $25. 7:30 p.m. 9900 E. Colfax Ave., Aurora, 303-739-1970 or aurorafoxartscenter.org
Editor's note: The Denver Actors Fund was founded by DCPA Senior Arts Journalist John Moore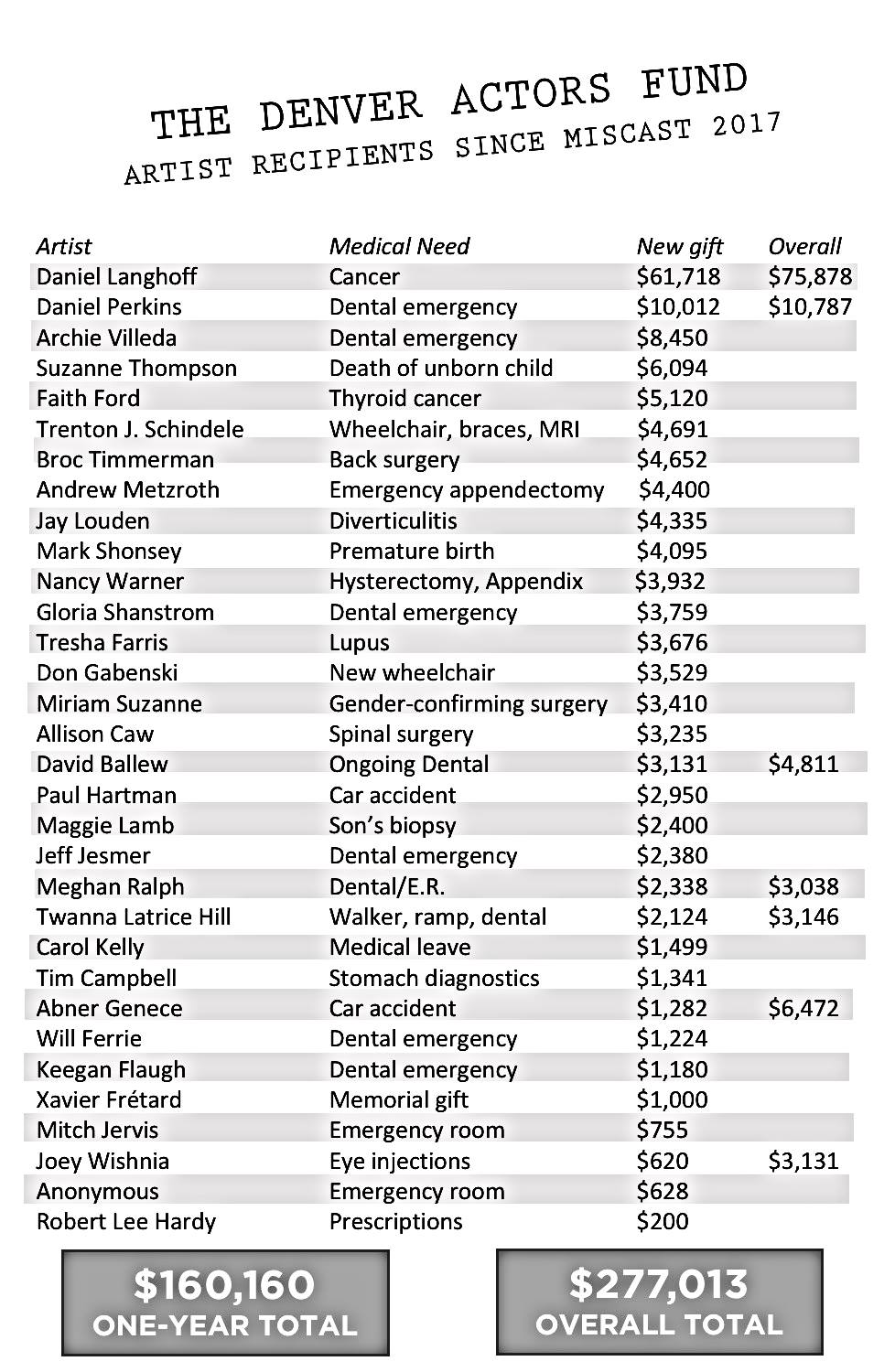 https://www.denvercenter.org/wp-content/uploads/2018/09/Candy-Brown-Miscast-2018.-Photo-by-John-Moore.jpg
595
800
John Moore, Senior Arts Journalist
John Moore, Senior Arts Journalist
2018-09-24 01:31:33
2018-09-24 11:41:10
'Miscast' caps remarkable month for Denver Actors Fund