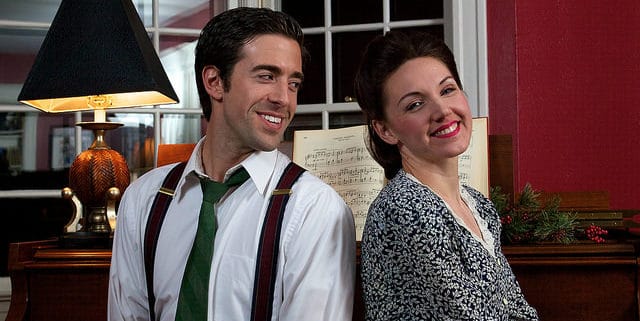 Murray Ross: 'He put true beauty and goodness out into this world'

Photo gallery: A retrospective of plays performed at Colorado Springs TheatreWorks under founder Murray Ross. To see more, click the forward arrow on the image above.
'Now all is done, save what shall have no end.'
By John Moore
For the DCPA NewsCenter
Talking about theatre was Murray Ross' absolute favorite thing to do.
I once asked him to describe his directing philosophy in one sentence. His response: "Don't just do something: Stand there!"  (He was quoting George S. Kaufman, which he could cite as deftly as he could Shakespeare.)
I asked his advice for an aspiring director. His answer: "Break down the door. You start in the basement shoveling coal if you have to."
I asked him to name the single most important personal attribute any good director should have. His answer: Love.
Murray Ross had an abundance love for theatre. He lived and died believing that there is simply never enough good theater in the world.
Ross, who started TheatreWorks from nothing on the campus of the University of Colorado Colorado Springs in 1975 and built it into a fertile incubator of young hearts and minds over 42 years, died today of complications from chronic lung disease. He was 74. And yet … he was ageless.
"I was never sure how old he was, frankly," actor Steven Cole Hughes said. "To look at him, one might say he was Doc Brown from Back to the Future. I always thought he was the perfect blend of smart and serious and crazy."
Ross was the Pied Piper of Colorado theatre. He drew hundreds of serious theatre students to his program and he took in kids off the street who needed an artistic home. No one was immune from his passionate web. "He was just so childlike in the enthusiastic way he talked about theatre," Hughes said.
Ross is believed be one of the three longest-tenured artistic directors in Colorado theatre, behind only Ed Baierlein of Germinal Stage Denver and Anthony J. Garcia of Su Teatro.
But no one expected Ross to ever retire, much less die. Actor Sammie Joe Kinnett sat by Ross in his hospital bed just a few days before he died preparing for their upcoming production of Eugene O'Neill's The Hairy Ape.
Once a bohemian, always a bohemian
Ross was born Feb. 12, 1942, and grew up in Pasadena, Calif. He was a quintessential, wild-haired hippie from Cal-Berkeley when he came to Colorado Springs in 1975 to teach English. The university was just getting started then, so anyone could pretty much do anything they wanted to in those days. Ross wanted to start a theatre company where university students would work in tandem with the Colorado Springs artistic community at large. TheatreWorks was born.
Ross and wife Betty produced more than 100 shows together while building TheatreWorks into an essential, $1.7 million annual program that in 2018 is scheduled to move into the state-of-the-art new Ent Center for the Arts. That only happens, says UCCS Associate Professor Kevin Landis, because of Ross. "He had a clarity of vision of what he wanted and how he wanted to do it," Landis said. "There are few industries that are as indebted to a single person as theatre in Colorado Springs is indebted to Murray Ross."
Ross "made a successful little theatre in the most improbable of places while creating the most improbable of work," added Drew Martorella, Executive Director of UCCS Presents. "There was never a more potent and dedicated and exacting artist who was always trying to achieve great work in the community where he lived."
Ross' first love was Shakespeare, followed closely by Chekhov, Ibsen and a host of other literary suitors. But Ross also adored "devised theatre" – original and often challenging work created by an ensemble through collaboration.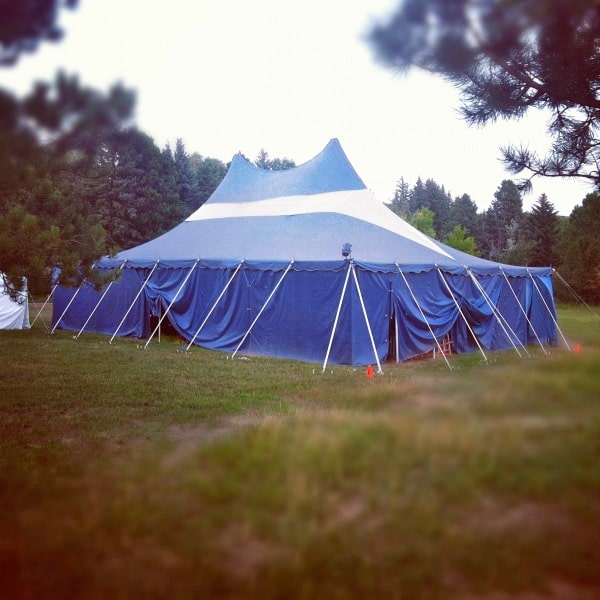 Ross caused tremors that were felt all the way to Greeley when he wrote and staged Dar al-Harb, a play that imagines the six months Egyptian revolutionary Sayyid Qutb spent studying at the University of Northern Colorado as a young man in 1949. Qutb is considered the founder of modern Islamic radicalism. Ross won a 2014 True West Award for Ludlow 1914, developed by his students in partnership with Denver's LIDA Project. It explored the massacre that took place about 100 miles south of Colorado Springs when the National Guard opened fire on striking miners.
But Ross never strayed far from his first love. One of Colorado Springs' great summer traditions is TheatreWorks' annual Shakespeare offering in a tent on Rock Ledge Ranch near the base of Garden of the Gods.

Quotable, loquacious, talkative and eloquent
Murray Ross was a teaser. He was opinionated. And he didn't pull any punches. His idea of a compliment was to say to you, "You can do better." But at least he'd call you sweetheart.
"He could be blunt," Kinnett said. "But he was blunt to the point of hystericalness."
Murray Ross was funny. Case in point: Ross was invited to be part of an expert panel to evaluate the 2011 movie Anonymous, which makes the case that not only did Shakespeare not write one word that has been attributed to him, he's also a fraud, a drunk, an extortionist, a blackmailer — and quite probably the murderer of his contemporary, Christopher Marlowe.
"It's kind of entertaining rubbish," Ross said after screening the film. "If I worked hard enough at it, I could probably make the case that Shakespeare was actually written by a cross-dressing Peruvian dwarf."
Ross was a voracious blogger who loved to spar with critics, audiences and students alike about all things Shakespeare. But little got his dander up like the modern trend of updating Shakespeare's words into a more contemporary idiom. Or as he put it, "dumbing it down to a bubble-gum wrapper." It's all wrong, he said. "That actually erases the Shakespeare experience, cutting to the chase and removing the organism. Shakespeare should explode in your brain."
And for generations, Ross exploded Shakespeare into thousands of brains.
He is also is responsible for launching dozens of Colorado Springs actors including Kinnett, Jane Fromme and Benjamin Bonenfant. And Ross created a huge pipeline that brought Denver-based actors and directors to Colorado Springs including Billie McBride, Jessica Austgen, Geoffrey Kent, Leslie O'Carroll, Josh Robinson, Laurence Curry, Steven Cole Hughes, Jamie Ann Romero, Mare Trevathan, Shannan Steele, Kyle Steffen and Regina Fernandez.
When Ross met Kinnett, he didn't see a teenage community-college dropout. He saw his next Bottom in A Midsummer Night's Dream. He saw his future co-writer on an original play called I Am Nikola Tesla. "He was able to see when there was something special in someone," said Kinnett, "and he was able to bring it out in them just by sheer belief."
To Kinnett, Ross was his teacher. His mentor. His friend. And much more than that.
"Until recently, I had not really understood the powerful relationship that can happen between a student and a teacher," Kinnett said. "I didn't grow up knowing my father, and in many ways Murray was a father to me."
Ross was hospitalized with pancreatitis shortly before Christmas. Just yesterday, he told his son, Orion, "I lived 20 years longer than Shakespeare and directed more plays."
On the day he died, Ross was scheduled to leave on his favorite annual excursion: TheatreWorks' London Theatre Tour. For years, Ross has led a group of theatrelovers to the banks of the Thames. On the docket this year is seeing the great Mark Rylance in a new play he co-authored called Nice Fish, George Bernard Shaw's Saint Joan with Gemma Arterton, and Matthew Bourne's new version of The Red Shoes, for starters. The real fun for Ross is always leading the morning-after conversations at breakfast. Over the years, Ross has somehow cajoled the likes of Tom Stoppard, Michael Frayn, Janet McTeer and even Rylance himself into joining them for oatcakes and sausages.
Martorella honored Ross' memory this afternoon by boarding a plane for London with this year's tour group, just a few hours after Ross died. "Murray was in every sense of the word my best friend," he said. "He was an artist of the highest regard, an extraordinary academic and a bold leader in the arts. In his 42 years at UCCS, he made wonderful and seemingly impossible things happen — he built a professional theatre company, he produced classic and contemporary plays in classrooms, buses, warehouses, basements and, of course, the Dusty Loo Bon Vivant Theater, and he put true beauty and goodness out into this world."
Survivors include his wife, Betty, his sisters Susanna, Christina and Kit, and his sons Felix, James, Orion and Matthew.
A memorial service is scheduled for 5:30 p.m. on Thursday, Jan. 19, at the Dusty Loo Bon Vivant Theater on the campus of the University of Colorado Colorado Springs.
John Moore was named one of the 12 most influential theater critics in the U.S by American Theatre Magazine in 2011. He has since taken a groundbreaking position as the Denver Center's Senior Arts Journalist.
Murray Ross/At a glance
Born Feb. 12, 1942
Graduated from Williams College (Williamstown, Mass.) and earned his masters degree from the University of California-Berkeley
Served in the National Guard from 1963-69
TheatreWorks Artistic Director since 1986
Teaches theatre history and directing at Universty of Colorado-Colorado Springs
Original stage plays include Monkey Business, The Last Night of Don Juan, The Lady of the Camellias, Dar-al-Harb and I Am Nikola Tesla
Stage adaptations include Huckleberry Finn, The Odyssey, Plato's Symposium, Treasure Island, Venus and Adonis and several versions of A Christmas Carol
Directed original theatre projects (Peer Gynt, The Tempest, The Bourgeois Gentleman) with orchestras in Colorado Springs, New York, San Antonio, Phoenix and Cincinnati.
https://www.denvercenter.org/wp-content/uploads/2018/04/featured-image-4703.jpg
427
640
John Moore
John Moore
2017-01-03 22:15:00
2018-09-14 16:25:22
Murray Ross: 'He put true beauty and goodness out into this world'