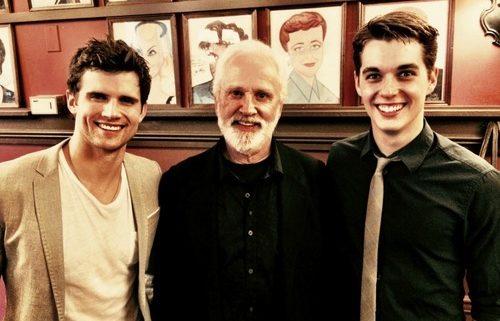 My three Pippins gather at Sardi's to honor John Rubinstein
From left: Kyle Dean Massey (Broadway's current Pippin), John Rubinstein (original Pippin and Charlemagne for the national tour) and Kyle Selig (national tour Pippin).
Cast members from the Broadway and national touring productions of Pippin The Musical gathered on July 31 to celebrate the unveiling of John Rubinstein's caricature at the famed Sardi's restaurant in New York's theatre district.
Rubinstein originated the role of Pippin in 1972. He will be playing Pippin's father, Charlemagne, when the national touring production launches at Denver's Buell Theatre from Sept. 6-20.
Sardi's, located on 44th Street between Broadway and Eighth Avenue, has been famous for hanging more than 1,300 caricatures of show-business celebrities since it opened at its current location in 1927.
The artist who caricatured Rubinstein was Richard Baratz. The gathering drew cast members from both the current Broadway and upcoming national touring casts, including three Pippins: Kyle Dean Massey (Broadway) and Kyle Selig (national tour).
Tickets for the Denver stop are on sale now at 303-893-4100 or go to www.denvercenter.org.
Photos provided by Pippin national touring production.
A photo of John Rubinstein's caricature at Sardi's.
Rubinstein poses with cast members of the "Pippin" Broadway and tour casts.
Previous "Pippin" coverage on MyDenverCenter.Org:
Photos: Exclusive look at first 'Pippin' rehearsal
Lucie Arnaz joins Denver-bound 'Pippin' as Berthe
From Pippin to Pappa: Denver tour launch will feature John Rubinstein
https://www.denvercenter.org/wp-content/uploads/2018/04/featured-image-826.jpg
358
500
John Moore
John Moore
2014-08-02 20:09:00
2018-04-11 16:33:13
My three Pippins gather at Sardi's to honor John Rubinstein