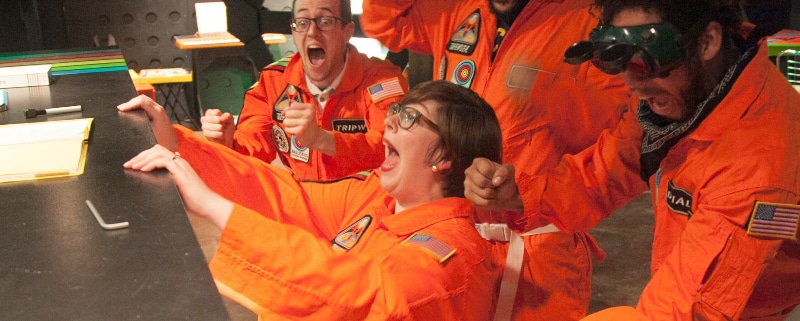 Nathan Allen brings 'The Last Defender' home to Denver
'The Last Defender' will be presented in Denver from May 28 through July 28. 
Colorado native created popular live-action game in Chicago because 'theatre should be fun'
Nathan Allen was an artsy kid who grew up in Arvada going to theatre and drinking coffee at Paris on the Platte long before Mike Myers made coffee-talk famous on "Saturday Night Live."
"I had these awesome parents who cultivated an appreciation for the arts," said Allen. "They taught me from an early age that the arts are cool, and so I went to lots of theatre. I liked theatre."
But when he turned teenager, what turned Allen on was thrashing about at concerts by ska bands like Skankin' Pickle and Mustard Plug at long-gone all-ages rock clubs such as The Cat and The 15th Street Tavern.

"I was more interested in jumping up and down and sweating with a bunch of strangers and pumping my fist to some dumb rock bands than I was in following the rules of the traditional theatre experience where you've got to dress nice and sit still and all that," said Allen.
When he went off to college at Southern Methodist University in Dallas, Allen had a life-altering epiphany: "I figured out that I really like doing theatre – but I just don't like going to it."
So he started his own company.
Allen is the founding Artistic Director of The House Theatre in Chicago, which in 2016 invented a small phenomenon called The Last Defender. That's not even a play. It's a live-action theatrical experience about mutually assured destruction. And Off-Center is bringing it to Denver from May 28 through July 28 beneath the Patagonia clothing store at 15th and Blake streets.
The Last Defender is "crazy awesome experience" where you are not a passive audience member but rather an active player in a common quest with 15 others to save the world from nuclear annihilation. And get this: "It's an even better experience when you lose," Allen said.
Allen attended SMU as a Hunt Leadership Scholar, which allowed him to study in London for a year. There, his theatrical mind was blown, and his adherence to realism and typical storytelling structures were obliterated. "I got to study with some pretty outrageous people there," he said. There were teachers from Simon McBurney's company Complicité. There was Selina Cadell, who's well-regarded at the National Theatre, The Royal Shakespeare Company and The Globe. He got to see Mark Rylance, whom many consider to be the greatest living actor in the world, in a performance that abolished the fourth wall. He experienced European clowning at the highest technical levels.
He calls what he saw in London not as freaky avant garde but rather a return to true classical theatre where there is no pretension of a divide between the audience and the performer – essentially, he said, the way all world theatre was presented before A Doll's House changed all the rules toward realism.
"London was a pretty transformative experience for me, and it set me on the path to starting my own company," said Allen. "I figured out that there is something interesting about the relationship I might be able to create with an audience."
Building a House
He moved to Chicago and reunited with his oldest friend, Phillip C. Klapperich, the Founding Executive Director of The House Theatre. Klapperich wrote many of The House's first shows, including an original adaptation of The Nutcracker that has been running for 10 years.
The House was not the first theatre company these two founded together. That would be the Moore Middle School Drama Club in Westminster back when they were children. The pals also played the twins in the Arvada Center's 1992 production of Peter Pan, which was costumed by Phillip's mother, busy local costumer Laurie LaMere Klapperich. Today, the costume studio at The House Theatre is named after the Klapperich's matriarch. (Phillip's sister, by the way, is Rae Leigh Case, a member of the Denver-bound Miss Saigon national tour ensemble.)
Allen, Klapperich and Chicago actor Shawn Pfautsch named their new company The House after the space in the theatre where the audience sits. "We were declaring that our focus was going to be on the audience," Allen said. Their goal was to present original works of epic story and stagecraft to further the evolution of the American theatre as an inclusive and popular art form.
"Theatre should be fun and for everyone," Allen said. "So what we say before every performance is, 'Welcome to The House. You don't have to be a theatre person. Nobody's going to ask you to do anything that's not you. There's no barrier here – and whatever barrier we might find, we try and help you across it.' "
The House quickly built its reputation in the Chicago theatre scene by finding innovative ways of including the audience in every performance. "But I'm not talking about taking suggestions from the crowd and then improvising it," Allen clarified. "It's more about creating unique theatrical experiences where there is never any fourth wall."
Read more: Chicago Tribune review of The Last Defender in 2016
The House staged its first show, Death and Harry Houdini, in the fall of 2001. And it engendered support from another unlikely Colorado connection: Cherry Creek High School graduate Laura Eason (staff writer for "House of Cards"), who was by then Artistic Director of Chicago's Lookingglass Theatre Company.
"Laura Eason came to our very first show, and then she called me at home the next day on my landline – because we didn't have cell phones then," Allen said. "She was just like, 'Hi. I'm Laura Eason. I'm the Artistic Director of Lookingglass.' And I was like, 'Um, I know who you are.' She said: 'I saw your show last night, and I just wanted to call you and tell you how wonderful it was, and also that I want to take you out for coffee because I feel like our companies are kindred spirits.'
"I was just floored, man. That was just everything we moved to Chicago to do. We came here because we wanted to be part of this theatrical family tree, and there was Lookingglass – the branch in the tree just above us generationally – and on our first show, Laura Eason is calling me at home and saying, 'Welcome. Let me take care of you.' She's the one who called the major Chicago critics and told them to start reviewing our stuff, and that's when we blew up. So Laura Eason really had a huge impact on our company and certainly on me as a human."
Eason told the NewsCenter this week: "The most important thing I feel I can do in this life – way more than making stuff – is use whatever little platform I have to amplify and champion the voices and visions of other artists I admire. Seeing them soar makes my heart do the same."
Here comes The Last Defender
The fastest-growing trend in live storytelling is immersive theatre, which is performed in a site-specific location and immerses audiences within the performance itself. And most of the time, Allen admits: "I hate it," and for one specific reason: It's usually just too weird.
The Last Defender, by contrast, is a game. "And it's definitely fun," he said.
When Allen created The Last Defender, the Chicago Reader called it "the perfect combination of storytelling, stagecraft and giddy theatre-school camaraderie."
Most people, however, most comfortably equate The Last Defender with an Escape Room, which is true in the sense that you are joined by a team of others in a common quest.
"But I don't like those words," said Allen. "It's technically not an escape room. We don't lock you in. You can leave if you want to. But I guarantee, you won't want to."
The Last Defender actually incorporates most everything you might expect from a traditional theatergoing experience, he said: There is a cohesive and engaging narrative, impressive production values and costumes. It's just that you wear the costume. Because here, you are the actor.
"You're not asked to role-play," said Allen. "But you are a player, and in this storytelling world, the player is the protagonist."
When you arrive, Allen said, "you put on a jumpsuit and are thrown into a 1980s Atari-driven nuclear-missile command center." From there, Allen's designers carry you through the puzzle experience. And regardless of your success or failure at preventing nuclear war, Allen said, "I promise every team makes it to a narratively rewarding conclusion."
And if all goes well, the experiences these strangers share together are not that unlike what happened at all those punk shows Allen attended in his youth:
"On the best nights you have total strangers high-fiving and hugging each other at the end," he said. "Kind of like you've all made it through a mosh pit together."
John Moore was named one of the 12 most influential theater critics in the U.S. by American Theatre Magazine in 2011. He has since taken a groundbreaking position as the Denver Center's Senior Arts Journalist.
The Last Defender: Ticket information
At a glance: Head to The Defenders' underground headquarters, where we've deployed artificial intelligence alongside 8-bit arcade-style computer technologies to control our nuclear weapons. Suit up and work as a team to gather information, solve puzzles, and make increasingly difficult decisions in real time. Do you have what it takes to complete The Defenders' final mission and save the world?
Written and Directed by Nathan Allen
Game Design by Sandor Weisz
Production Design by Lee Keenan
When: May 28 through July 28
Where: Beneath the Patagonia retail store at 1510 Blake St.
Tickets: Available by calling 303-893-4100, in person in the Helen Bonfils Theatre Complex at 14th and Curtis streets or, online by clicking here:

Photo gallery: The Last Defender
More about the creators
Nathan Allen (Writer, Director and Artistic Director): Nathan founded The House Theatre of Chicago with friends in 2001 and continues to lead the company as Artistic Director. Writing and directing credits include Death & Harry Houdini, The Sparrow, Rose and the Rime and The Hammer Trinity. He directed The Magnificents by Dennis Watkins, with whom he also created the weekly magic show, The Magic Parlour. Nathan's work has received several acknowledgments from the Joseph Jefferson Awards. He is an Eagle Scout, a Hunt Leadership Scholar and a Board Member of The League of Chicago Theatres. He has been named an Associate Artist at The Adrienne Arsht Center in Miami and received the Emerging Leader Award from his alma mater, Southern Methodist University, where he serves on the Executive Board of the Meadows School of the Arts. Nathan is an Arvada native and a proud Pomona Panther.
Sandor Weisz (Game Designer): Weisz is the commissioner of The Mystery League. He's built puzzles for Google, Accenture, The Field Museum, Chicago Architecture Foundation, The University of Chicago, The House Theatre of Chicago, The Art Institute of Chicago, Cards Against Humanity and others. He has been making puzzles and puzzle hunts since he was a teenager. He is also a frequent contributor to the NPR Sunday puzzle, and he publishes a new puzzle every weekday on Twitter @pzlr. He lives in Chicago with his wife and two kids.
Lee Keenan (Production Designer): Lee is a Company Member at The House Theatre of Chicago where he has designed more than 40 productions of 26 new plays. The joy of communicating directly from designer to audience makes The Last Defender is one of his favorite projects. Lee is based in Chicago and has designed for Lookingglass Theatre, Victory Gardens, Court Theatre, Albany Park Theatre Project and many more. He teaches theatre design at Loyola University Chicago and is Co-Chair of the Michael Merritt Awards.
https://www.denvercenter.org/wp-content/uploads/2019/04/800-TheLastDefender013_DisarmingMissiles3_photobyJohnnyKnight.jpg
565
800
John Moore
John Moore
2019-05-14 13:43:20
2019-05-16 11:58:30
Nathan Allen brings 'The Last Defender' home to Denver