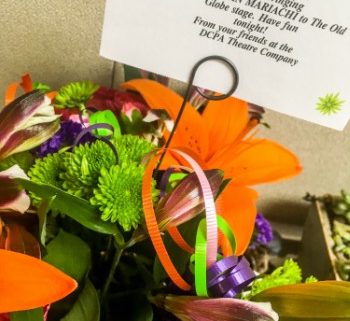 New Denver Center plays take center stage in Seattle, San Diego
Our video report from the openings of the Denver Center-born plays 'The Great Leap' and 'American Mariachi' in Seattle and San Diego. Video by John Moore and David Lenk for the DCPA NewsCenter.

Theatre Company's first co-productions in a decade open for West Coast audiences on back-to-back nights
By John Moore
Senior Arts Journalist
It was an hour before the opening performance of the Denver-born play American Mariachi at the Old Globe Theatre in San Diego, and something wasn't quite right. A large backstage table was filled with floating balloons, sweets and several bouquets of fresh congratulatory flowers, including one from the Denver Center for the Performing Arts.
But then there was the incongruous vase on Bobby Plasencia's dressing-room table. Its water was discolored, its flowers tired and wilting. But to the actor, they were surely the most vibrant flowers in the room.
"They've been here ever since our final dress rehearsal," said Plasencia, who plays an old-school mariachi player whose wife dies in the story. After that performance almost a week before, the actor got word that a 12-year-old boy in the audience wanted to meet him. Plasencia walked to the stage door and was greeted by "this super-cool little dude," he said, wearing a tie and perfectly gelled hair. The boy took one look at Plasencia, fell into his arms and burst into tears. "And he just couldn't stop," Plasencia said.
One of the grown-ups in the entourage pulled Plasencia aside and whispered that the boy had recently lost someone very close to him, and that the play had moved him immensely. The boy collected himself and presented Plasencia with flowers as a gift for the entire cast. "And they are going to stay right here until our very last day here on April 29," Plasencia promised.
Those kinds of powerful audience responses to José Cruz González's family drama have been steady since the play premiered back in Denver on Feb. 2. And because of several unique partnerships the DCPA Theatre Company has forged this season, they are continuing to happen in multiple cities.
American Mariachi is one of two world-premiere plays the Denver Center has recently launched as co-productions with other leading national theatre organizations. The other was Lauren Yee's The Great Leap in partnership with the Seattle Repertory Theatre. Both plays tell culturally specific stories that bring underrepresented voices to the stage while also telling uncommonly universal family stories.
A co-production, or "co-pro," as they say in the biz, is a collaboration between two companies that have a shared investment in launching a new play, both artistically and financially. They work together on the development of the piece, share certain expenses and then present the play in both cities back-to-back, with the original casts intact.
When both plays closed in Denver last month, all key creative personnel packed up along with the sets, props and costumes and set forth to either Seattle or San Diego for their immediate transfers. By great calendrical coincidence, both plays opened in their second cities on back-to-back nights: March 28 and 29.
Despite the modest financial benefit that comes with partnering with other companies, large-scale co-productions are rare in the American theatre. In its nearly 40-year history, the DCPA Theatre Company has only participated in three previous co-pros — Pure Confidence with Cincinnati Playhouse in 2007; and the world premieres of The Laramie Project with the Tectonic Theatre Project in 1999-2000 and Tantalus with the Royal Shakespeare Company the following year.
The partnerships with Seattle Rep and the Old Globe involved dozens of people but were primarily negotiated by first-year DCPA Associate Artistic Director Nataki Garrett. The goal, she said, was simple: To make better, more finished plays — thereby giving them better chances for a continued life in the American theatre.
"The main reason I wanted to push for these co-productions is because I wanted to look for opportunities for the writers to continue to work on developing their plays," Garrett said.
Both productions shared key creative personnel from both companies, including American Mariachi director James Vásquez, who considers the Old Globe to be his artistic home; and Seattle Rep Director of New Works Kristen Leahey, who has served as Dramaturg for The Great Leap since its first draft. That almost all of the Latinx artists Vazquez has brought home with him to the Old Globe are now working there for the first time, Artistic Director Barry Edelstein said, "is a special happiness for all of us." His Seattle counterpart, Braden Abraham, called The Great Leap "an irresistible opportunity to showcase a rising Chinese-American playwright in the Pacific Northwest," and said working with Garrett and the whole team in Denver was "a pure joy."

(Story continues below the photo gallery.)
Our complete photo gallery from Seattle and San Diego:
Photos from the openings of 'The Great Leap' and 'American Mariachi' in Seattle and San Diego. To see more, click on the image above to be taken to our full Flickr gallery. Photos by John Moore for the DCPA NewsCenter.
Both plays were begun as commissions by former DCPA Theatre Company Artistic Director Kent Thompson. A commission is when a company pays a playwright a stipend to write a new work for its right of first refusal to produce. González began writing American Mariachi in 2014, and it was first presented as a featured reading at the Denver Center's 2016 Colorado New Play Summit. Back then it was a sprawling, 150-page script. By the time of its world premiere in Denver in February, it was down to 95 pages. "So it's now very lean, and it moves like gangbusters," said González, who continued to hone the script all the way up to opening night in San Diego on March 29.
"Having the opportunity to have a play done in two places is a tremendous gift to a playwright," González said. "First, to be able to premiere it in Denver and work out all the things that still needed to happen in terms of casting, storytelling and design. We left Denver feeling very satisfied, and yet that whole time we were still watching our audiences take in the play. We were learning from them and thinking about how we could improve it. And then there is the gift of that second production."
American Mariachi, set in the early 1970s, follows the journey of a young woman named Lucha who has become the caretaker for a mother with dementia. When she finds an old mariachi record that briefly brings her mother back to life, Lucha becomes determined to learn how to play the song for her with live musicians before it is too late. Although being a female mariachi player was unheard of at that time, Lucha defies her grumpy father, assembles a group of women and makes her dream come true.
(Pictured above, from left: Amanda Robles, Jennifer Paredes, Natalie Camunas, Crissy Guerrero and Heather Velazquez. Photo by Adams VisCom.)
American Mariachi played in the Denver Center's largest theatre (750 seats) and exceeded box-office projections. The play is enjoying the same kind of crossover appeal in San Diego, where it is playing in a slightly more intimate, 600-seat space. None of which surprises the women in the cast.
"This play is doing much more than filling a Latino slot on the season," said actor Crissy Guerrero. "It has touched anyone from any background." It is also the right time to be telling this story in the current cultural zeitgeist, said castmate Natalie Camunas. "It is important to show strong women on the stage doing what they do best right now, which is encouraging and supporting each other and shining," she said.
All theatre companies, to an extent, program according to their censuses. In Denver, the Latino population is 31.8 percent, compared to 31.6 percent in San Diego. While the Denver Center has demonstrated a longstanding commitment to presenting plays with Latinx voices (most recently Native Gardens, Just Like Us, Fade and Lydia), The Great Leap, meanwhile, is only the second play by an Asian-American playwright the Denver Center has ever presented. But in Denver, the Asian-American population is just 3.4 percent, compared to 13.7 in Seattle.
Yee's The Great Leap, set in the late 1980s, follows a scrappy Asian-American kid who talks his way onto a college basketball team that embarks on a series of "friendship" games in a China in the throes of the post-Cultural Revolution. Yee grew up in basketball-mad San Francisco, and her story was inspired by events from her father's real experiences. Much of the play revolves around the intersecting lives of the two coaches — the compliant Chinese and the (really) ugly American.
"This is a play that I never would have written in quite the way I did without Denver." Yee said. "Wherever it goes, there is something embedded in its DNA what Denver is all about." Added Director Eric Ting: "What a gift to have two pre-eminent theatre companies working together to make this play happen."
Actors Keiko Green and Linden Tailor say Seattle audiences, which are made up of many more Asian-Americans than in Denver, are reacting to the story very differently, specifically as it pertains to the American coach who spews comic racial epithets throughout.
"In Seattle, the audiences are way tougher on the coach, absolutely," Green said. "The race comments that he makes are definitely felt more. You can see people be slightly offended and then remember, 'Oh yeah, this is written by a Chinese-American woman.' "
That, said Tailor, "is the great thing about Lauren's writing. She wants to push the envelope and ride that fine line of making you uncomfortable and making you think. I feel like here in Seattle, we are more making them think."
Vásquez says the same is true of American Mariachi in San Diego. "It was a raucous comedy in Denver," he said. "I think people are leaning in and really listening to the story a little closer here."
That, to Seattle Rep's Kristin Leahey, was the whole fun of The Great Leap. "It was a really exciting thing to be sharing this work with the Denver audience as well as the Seattle audience, and to see how it engages with each of them differently," said Leahey.

Making the money work
DCPA Managing Director Charles Varin said the unusual creative arrangement of a co-pro calls for an unusual financial arrangement as well. As the instigating company, he said the Denver Center assumed the cost of producing each initial staging as it would for any other show on its season. But in the case of The Great Leap, Seattle Rep contributed about $40,000 toward the $350,000 budget and the Old Globe contributed about $75,000 of a $650,000 budget.
Varin estimated that having a producing partner ultimately represented about a 10 percent improvement to the Denver Center's bottom line. While that is significant, he said, it is not enough to be a motivating reason to enter into a co-pro. "This was all very much artistically motivated," said Varin, who attended both out-of-town openings. "Having a second staging helps the playwright immensely, and I think both productions were measurably improved in their second cities."
A similar model of play development has been employed by the National New Play Network since 1998. That's a group of 30 core companies that select a number of new plays each year to be fully staged by a minimum of three member companies successively. It's called a "rolling world premiere," and the script isn't sealed and published until after the third staging. The major difference from a co-pro is that the chosen playwright works with completely different casts and creative teams in all three cities.
So what happens now?
The extended initial birth journeys for both plays end soon — The Great Leap closes April 22 and American Mariachi on April 29. But both already have their immediate futures laid out for them: The Great Leap will be staged off-Broadway this June at The Atlantic Theatre starring Tony Award-winner BD Wong. It also will be staged by the prestigious Guthrie Theatre next January in Minneapolis. American Mariachi will be presented by the Arizona Theatre Company next March.
"American Mariachi resonates in myriad ways with the kaleidoscope of our community," said Arizona Theatre Company Artistic Director David Ivers, a former longtime DCPA Theatre Company actor. "The writing, the gift of mariachi music, the celebration and empowerment of women, and the struggle of loss in the face of hope are powerful and meaningful messages to explore in the communities we have the honor of serving."
This all comes in a year when Denver Center-born works are proliferating on national stages like never before. Last year, Matthew Lopez's The Legend of Georgia McBride became the Denver Center's most-produced new Denver Center work since Quilters in 1982. Not only is it getting its own upcoming staging at The Guthrie, it is also being made into a film starring Jim Parsons. Last week, Lauren Gunderson's The Book of Will won the American Theatre Critics Association's Steinberg Award as the best new play of the year produced outside of New York. It opens this summer on one of the nation's largest stages, the Oregon Shakespeare Festival.
"I think all of that continues to advance the idea that the Denver Center is at the forefront of new-play development," said Garrett. "As we are moving through the 21st century, one thing I lament about how we develop plays is that we all seem to be looking only for opportunities for playwrights to write something that is going to be a hit right now. There is a need for immediate success, as opposed to providing a space for something to unfold and be given life over time."
The benefit for actors
One of the ancillary windfalls that comes with any co-production benefits the actors themselves. The casts of both The Great Leap and American Mariachi were signed to four-month contracts. In a business where actors are most often signed to smaller contracts ranging from just four to eight weeks, an extended co-pro is about the best job they can get outside of a long run in New York.
"I feel very lucky, and I think everyone else who is involved with this play feels very lucky to be a part of it," said Plasencia.
But the biggest benefit, says Rodney Lizcano and others, is the familia that takes shape when a creative team spends that much more time together. The American Mariachi team performs six days a week, he said. And yet, he said, they have almost to a person spent nearly every day off together as well.
"There has been a consistently positive camaraderie since Day 1," he said. "We share or lives both onstage and offstage — and I think the performances have deepened because of that."
Which makes ultimate benefit of a co-pro to the play itself and, by extension, to its expanded audiences.
"I always had a feeling that this was going to be a very special play for everyone who saw it, and it has come to pass because it tells a story that audiences are hungry for at this very moment in our history," Plasencia said of American Mariachi. "This is a story about inclusion and seeing yourself represented onstage, and I feel like a lot of people have been longing for a play like this. I think there is an audience this play in every big city in the country."
And in every audience is the potential for another life-changing moment, like that 12-year-old boy at the final dress rehearsal of American Mariachi in San Diego.
"It is such an honor to walk out into that theatre lobby each night and see crowds of Latino families. That doesn't happen a lot," Vásquez said. "Just tonight, a young Latino friend came up to me and said the moment the lights came up and the music started and he saw Mexican people onstage, he just started crying — because he had never seen anything like it.
"I think that's the biggest takeaway."
John Moore was named one of the 12 most influential theater critics in the U.S. by American Theatre Magazine in 2011. He has since taken a groundbreaking position as the Denver Center's Senior Arts Journalist.

'American Mariachi' in San Diego. Photo by Douglas Gates.

Previous NewsCenter Coverage of American Mariachi:
Behind the scenes video: Making the Great Wall of American Mariachi
Tony Garcia: American Mariachi is an American beauty
When Leonor Perez found mariachi, she found her true voice
American Mariachi Perspectives: Music as a powerful memory trigger
Photos, video: Your first look at American Mariachi
American Mariachi's second community conversation: Food, music and tough issues
Cast announced, and 5 things we learned at first rehearsal
American Mariachi: Community conversation begins
Summit Spotlight video: José Cruz González, American Mariachi
2016 Summit: An infusion of invisible color and hidden voices
Vast and visceral: 2017-18 Theatre Company season
Denver Center taking new plays to new level in 2017-18
'The Great Leap' in Seattle. Photo by John Moore.
Selected previous coverage of The Great Leap:
The Great Leap prepares for itLauren Yee: "This play would not exist without the Denver Center'
Video: First look at The Great Leap, and five things we learned at Perspectives
For The Great Leap playwright Lauren Yee, family is a generation map
Five pieces of fun hoops history to know, like: What's a pick and roll?
Five things we learned at first rehearsal, with photos
Summit Spotlight: Lauren Yee lays it all on the free-throw line
Vast and visceral: Theatre Company season will include The Great Leap
https://www.denvercenter.org/wp-content/uploads/2018/04/featured-image-5722.jpg
467
350
John Moore
John Moore
2018-04-14 16:16:00
2018-04-14 16:16:00
New Denver Center plays take center stage in Seattle, San Diego