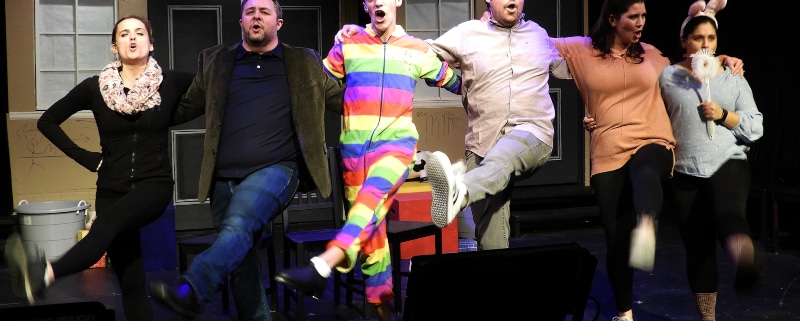 New musical goes 'In the Trenches' with young parents
Local creative team on the delicate balance between being a 'cool' parent and a 'real' parent
While the Colorado theatre community has long been a hotbed for introducing new plays for the American theatre, new musicals are still a rare commodity, primarily because of the often prohibitive costs involved.
That has not deterred the new 19K Productions from developing the new musical comedy In the Trenches, which explores the unique joys, comedy and craziness of parenting young children. It is written by composers, producers, actors and parents Graham and Kristina Fuller, and it will be presented October 19-20 at the Mizel Arts and Culture Center.
Director Robert Michael Sanders describes In the Trenches as a 90-minute series of musical vignettes that follows a family and their friends through their journey to understanding post-baby life. He says it is similar in stye and tone to the musicals Avenue Q; The Book of Mormon; and I Love You, You're Perfect, Now Change.
"At the core of our show are relationships and how they change post-baby: Parent to parent, parent to baby, sibling to sibling, and parents to their friends," said Graham Fuller.
"Another aspect of parenting we wanted to portray was the struggle between wanting to be the cool parent and wanting to actually … parent.  I think before your child is born, your head is full of ideas about bonding over sports, food, movies and unicorns. Most parents quickly realize you have to strike a delicate balance between being a cool parent and being a 'real' parent: Setting boundaries, enforcing rules and rearing your child into a functional non-sociopathic human person."
The six-person cast features three parents: Both Fullers and Scott Rathbun. We asked them to relate the show to their real lives by sharing actual anecdotes from their parenting lives:
Scott Rathbun: As a father, this show really hits home for me – both its humor and emotion. I have two boys ages 6 and 7, and their favorite thing to do is to try and make me "happy cry" by doing the sweetest things imaginable. It is, and will always be, one of my favorite memories of fatherhood. There is a song in the show that the dad sings about fatherhood, and every night when I watch it from the wings, it makes me happy cry.
Kristina Fuller: Parents measure their kids' lives in milestones: First words, first steps, first time using the bathroom. We realized parents needed their own milestones to help them feel competent. For example: The first time you take an eight-minute shower without interruption. Drinking a full cup of coffee before it gets cold. Taking an overnight away from the kids and sleeping in.
Graham Fuller: We learned pretty quickly that our social life as parents of little ones depended on friends. More specifically, friends without kids who could come over and hang out with us after our kids went to bed. Man, we love those friends. They let us still feel cool.
In the Trenches: A Parenting Musical
Book, music and lyrics by: Graham and Kristina Fuller
Orchestrations and Musical Direction by: Daniel Graeber
Featuring: Kristina Fuller, Graham Fuller, Vidushi Goyal, Emma Martin, Marcos Ospina and Scott Rathbun
When: October 19-20
Where: Elaine Wolf Theatre at the Mizel Arts and Culture Center, 350 S. Dahlia St.
Time: 7:30 p.m. Saturday; 2 p.m. Sunday
Tickets: jccdenver.org
Age recommendation: 16 and older for adult humor and language
Video sneak peek:
https://www.denvercenter.org/wp-content/uploads/2019/10/In-The-Trenches.-Photo-by-Kit-Fuller.jpg
459
800
John Moore
John Moore
2019-10-13 12:30:07
2019-10-14 13:26:21
New musical goes 'In the Trenches' with young parents