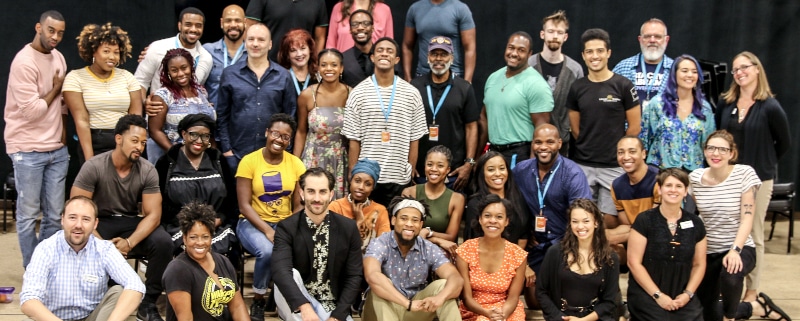 'Oklahoma!' first rehearsal: What does it mean to be American?
Denver Center begins work on reimagined classic setting Rodgers and Hammerstein's first musical in an African-American town
When new DCPA Theatre Company Artistic Director Chris Coleman opens his 75th anniversary staging of Rodgers and Hammerstein's Oklahoma!, he'll be charting uncharted territory — just like his iconic characters on the Stage Theatre.
Oklahoma!, set in 1906, captures the spirit of America's lusty Western land grab and all its possibilities, but was specifically created in 1943 for an audience with America at war.
Coleman is setting his reimagined take in an all-black Oklahoma town, and there is historical precedent for that: In 1906, the year the story is set, there were 50 such towns in Oklahoma and 137,000 African-Americans living there. Oklahoma became a state the following year.
"What's really central to this story is the idea that this Wild-West community is about to become part of the fabric of the whole nation," Coleman said. "It about claiming your piece of the American Dream. And with America at war, Oklahoma! really became statement on what it means to be American."
Here are five more things we learned about the DCPA Theatre Company's production at Tuesday's first rehearsal:
1. Boomer or bust. You already know Oklahomans are called "The Sooners" — it's the state nickname. But why? Back in 1889, the so-called "Indian Territory" was opened up to settlers. Thousands of people lined up on the border and, when the signal was given, they raced into the territory to claim their land. But some people went in early, often hiding in ditches at night, hours ahead of the legal settlers. These hustlers became known as "Sooners." So if you are a fan of a rival university (let's just say … the University of Colorado), you would not be wrong in calling Sooners cheaters. Because they are — and they even own that in their official name.
2. Bubbling brown sugar. Choreographer Dominique Kelley admits the way he first approached his challenge here "was with a little bit of terror." But what helped him was an episode of the Netflix series "Ugly Delicious" called "The Fried Chicken Episode." "I had been reading all these books that talked about the struggle, but then this episode made me realize there is a lot of beauty and celebration in food and in culture," Kelley said. "I asked myself, 'What would it be like in a surrounding where you are free to ultimately be yourself?' " When it comes to movement, Kelley's favorite period was the Harlem Renaissance of the 1920s, and Oklahoma! is set only about 15 years prior. "There are a lot of facets of the black experience that I want to put in there," he said. "I would love to show that brown people have legs and feet and can twirl."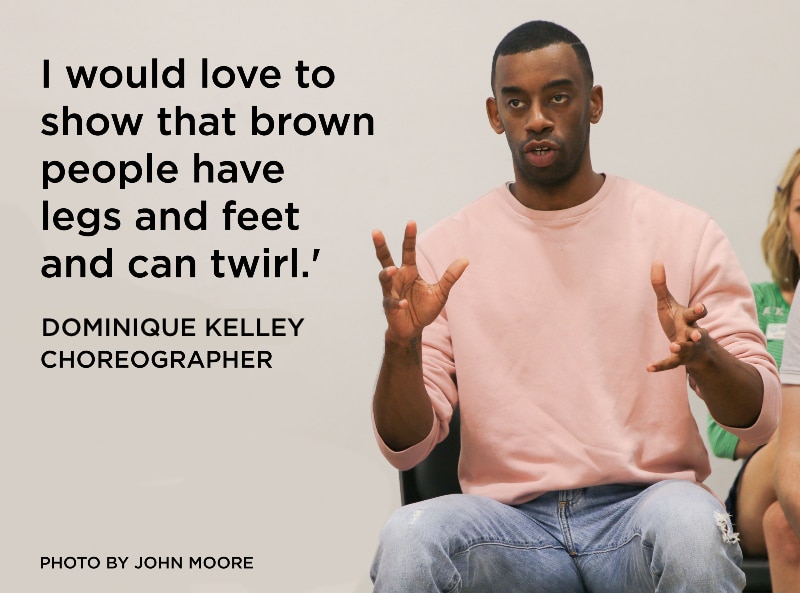 3. Settling the score. Likewise, Music Director Darius Frowner said the sound of the score will be tailored toward these actors' particular talents and should not come across as "overly classical" sounding. "I have always known that our African-American theatre performers can do things besides traditionally black shows," Frowner said. "It will be the same classic Rodgers and Hammerstein score, but we are going to sing it in our kind of way. It is going to feel individualized and personalized to our story."
4. Lobby heroes. The creative team is planning a robust display in the Stage Theatre lobby so that audiences get an immediate sense of the real history of all-black towns. The Denver Center team will be taking a field trip to the Blair-Caldwell African American Research Library, one of the five libraries in the country dedicated to African-American research. Senior Researcher Charleszine "Terry" Nelson has volunteered to write three articles for the official study guide covering all-black towns in Oklahoma, black cowboys of the West, and an introduction to Deerfield — a ghost town 30 miles east of Greeley that was once a historically black majority settlement right here in Colorado.
5. Sing out, Louise. Coleman asked the 100 or so members of the Denver Center staff, creative team and visitors attending Tuesday's first rehearsal to offer up a favorite R&H lyric. Among the most popular — or poignant:
"You've got to be taught to be afraid of people whose eyes are oddly made and people whose skin is a different shade. You've got to be carefully taught."
"Impossible things are happening every day."
"If you don't have a dream, how you gonna have a dream come true?
"Do I love you because I love you, or are you beautiful because I love you?"
"Walk on with hope in your heart, and you'll never walk alone."
"Love isn't love till you give it away."
"At the end of a storm there's a golden sky, and the sweet silver song of a lark."
"There is music in you."
John Moore was named one of the 12 most influential theater critics in the U.S by American Theatre Magazine in 2011. He has since taken a groundbreaking position as the Denver Center's Senior Arts Journalist.
Oklahoma! Ticket information
Written by: Richard Rodgers (music) and Oscar Hammerstein II (book and lyrics). Based on the play Green Grow the Lilacs by Lynn Riggs. Original Dances by Agnes de Mille
Dates: Sept. 7-Oct. 14 (Opens Sept. 14)
Where: Stage Theatre, Denver Performing Arts Complex
Information: Call 303-893-4100 or BUY ONLINE
Groups: Call 800-641-1222
More Colorado theatre coverage on the DCPA NewsCenter
https://www.denvercenter.org/wp-content/uploads/2018/08/Oklahoma-First-rehearsal-John-Moore.jpg
519
800
John Moore
John Moore
2018-08-02 18:16:03
2018-08-20 11:15:54
'Oklahoma!' first rehearsal: What does it mean to be American?