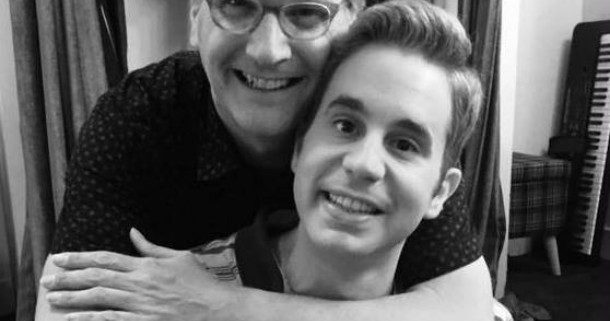 Paul Ludick: The man who dressed Ben Platt for the part
Former longtime DCPA Theatre Company dresser Paul Ludick has spent the past year working with Tony-winning actor Ben Platt, who completed his run in the title role of Broadway's 'Dear Evan Hansen' on Sunday. Photo courtesy Paul Ludick.
Former Denver Center dresser explains the expansive, intimate role of the backstage dresser at Dear Evan Hansen

By John Moore
Senior Arts Journalist
Actor Ben Platt completed his Tony Award-winning run in the title role of Dear Evan Hansen on Sunday, which means one thing: He's going to have to dress himself for a while.
Since the celebrated Broadway musical opened a year ago, that job (at least at the Music Box Theatre) has gone to Paul Ludick, who also worked for 16 seasons as a dresser for the Denver Center for the Performing Arts Theatre Company.
Platt earned raves for his performance as Evan Hansen, the lonely high-school student who perpetuates a lie that earns him Internet fame. Platt not only won the Tony Award, he became the youngest recipient of The Drama League's Distinguished Performance Award. That's an accolade an actor can win only once in a lifetime — and Platt won it at age 23.
And from the first Broadway preview in October 2016 through Platt's final performance on Sunday, it was Ludick who made sure Platt always was dressed for the part. That and so much more.
By definition, a dresser helps cast members backstage with their costume changes — but the job is far more involved than that.
"Yes, we take care of the costumes and we help the actors change in and out of them," Ludick said. "But sometimes you're also a therapist, a doctor, a personal assistant or a mediator. You're there to deal with everything that comes up that needs dealing with. My job was to make sure Ben had everything he needed so that he could fully focus on his performance."
That included shepherding the actor's guests backstage and filtering email. Ludick would stay long after each performance to make sure Platt got to his car safely.
(Pictured above and right: Mike Faist, left, and Ben Platt from the original Broadway company of 'Dear Evan Hansen.' Photo by Matthew Murphy.)

Ludick was a dresser for many DCPA Theatre Company productions between 1988 and 2006, as well as homegrown cabaret musicals in the Garner-Galleria Theatre. In his first season alone, Ludick dressed both Burke Moses and future Tony Award nominee Craig Bierko in Carousel, as well as future Hedwig and the Angry Inch creator John Cameron Mitchell in the Theatre Company's Peter Pan. (Coincidentally, both Bierko and Moses later played Leadville Johnny Brown in various incarnations of the Denver Center's recent premiere of The Unsinkable Molly Brown.)
Ludick, a Chicago native, first came to Colorado in 1987 to work for Central City Opera. His most meta experience at the Denver Center had to be when he was the dresser for The Dresser, an acclaimed play by Ronald Harwood starring two Denver legends – Jamie Horton and Tony Church.
(Photo above and right: John Cameron Mitchell in the DCPA Theatre Company's 'Peter Pan.' Story continues after the photo below.)
Jamie Horton, left, played the dresser in 'The Dresser,' with Tony Church, for the DCPA Theatre Company in 1988. Photo by Terry Shapiro.
Horton played a backstage assistant who struggles to keep an aging actor's life together. To research his role, Horton asked Ludick if he could shadow him as he worked on Always … Patsy Cline at the Galleria Theatre.
"I shadowed Paul for a very good reason: He was damned good at what he did, and I knew I would learn from him," Horton said. "And learn I did." One example: How to properly place a wig on a wig block (that's essentially a Styrofoam mannequin head). At a subsequent rehearsal, Horton interjected: "That's not how Paul set the wig, so I'm going to do it the way Paul did it."
Before Dear Evan Hansen, Platt was known for his appearances in the Pitch Perfect movies. But in the past year, during which Platt was named People Magazine's "Sexiest Man on Broadway" and secured a recording contract, Ludick witnessed a rising young star enter into a new stratosphere in the pop-culture landscape.

"Ben is a phenomenon I've never experienced before," he said. "I'm so happy for him, especially him being so young. For someone to be that in-tune with his life at 23 was amazing to see."
As is the case in Harwood's play, Ludick says, dressers can develop lifelong friendships with the actors they serve. It happened with Bobby Cannavale when the Mr. Robot star performed alongside Chris Rock in the edgy Broadway comedy The Motherf**ker with the Hat. That's a play that got done mostly because Rock, a Broadway newbie, signed on to do it. "I thought Chris Rock did a great thing for theater," Ludick said. "When a guy of that stature lends his name to a Broadway show that a lot of people who normally don't go to theater came to see, that is just great."
Ludick has seen some careers seriously move. "So always be nice … because you never know," he said with a laugh.
Ludick reunited with Cannavale in 2013 for The Big Knife, and at closing, the star presented Ludick with a framed poster from the original play as thanks. Other New York milestones include working on the original Broadway production of Spring Awakening, and dressing for Mark Ruffalo on Awake and Sing!
Dear Evan Hansen will launch first national tour in Denver

Ludick lists Dear Evan Hansen right up there among them, partly because of Platt, but more so because the show is saving lives. Ludick likens its impact to that of Spring Awakening.
"Dear Evan Hansen has touched a nerve that young people can relate to," Ludick said. "And now, because we have social media, they don't even have to be in New York to experience the essential message of the show. They are hearing about it in Omaha and Charlotte and everywhere in-between."
The story is about young people who feel there's no one out there for them. "But there are people out there ready to help," Ludick said. "You just have to reach out and make it known that you're going through a hardship. Ben's character, for example, has anxiety disorders, which we found from his fan mail and from the kids coming to the stage door is a very common thing. Some of them have contemplated suicide. Our show helps them to realize there are ways to get help and people to talk to. And we're opening up a lot of parents' eyes, too."
Read our coverage of Colorado theatre on the NewsCenter
When Dear Evan Hansen hits the road with its first national touring production next year, Ludick said it will have the opportunity to positively impact tens of thousands more lives. And that road starts in Denver in October 2018 — which is meaningful to Ludick.
"That's just perfect, because it's a show that I love, in a place that I love," Ludick said. "That's just a perfect way to start a tour."
As Ludick now adjusts, as he has so many times before, to serve a new actor (Noah Galvin), he likes to believe he will occupy a small but special place in Platt's memory.
"We've been with each other almost every day for more than a year, so that friendship is strong," Ludick said. "Once he goes on to start being a mover and a shaker, hopefully we'll stay in touch. Each person I have ever dressed I have a special relationship with, and every one is different. But whenever I see them again, it's like we haven't missed a beat."
Ludick was a bit bemused by the request to be interviewed for this story, given the covert nature of his daily work. But he was glad for the opportunity to sing the praises of dressers and the thousands of other invisible practitioners of the unseen arts.
"If we're doing our job right, we go completely unnoticed," Ludick said. "That's actually our goal — to go unnoticed. It's the same for everyone backstage. But what we do that you don't see is what makes a show whole. It takes every little part to make the show work."
Jamie Horton, who is now a theatre professor at Dartmouth College, is a believer.
"I have great respect and admiration for the dressers who have been such an important part of my professional life as an actor," he said, "and I wish Paul the very, very best."
John Moore was named one of the 12 most influential theater critics in the U.S. by American Theatre Magazine in 2011. He has since taken a groundbreaking position as the Denver Center's Senior Arts Journalist.

Dear Evan Hansen: Denver information
•
October 2018
• The Buell Theatre
• Tickets: An on-sale date will be announced at a later time. For more information, 303-893-4100 or sign up for EMAIL ALERTS
• Groups: Call 303-446-482
https://www.denvercenter.org/wp-content/uploads/2018/04/featured-image-5591.jpg
610
610
John Moore
John Moore
2017-11-21 13:08:00
2018-06-14 10:20:50
Paul Ludick: The man who dressed Ben Platt for the part