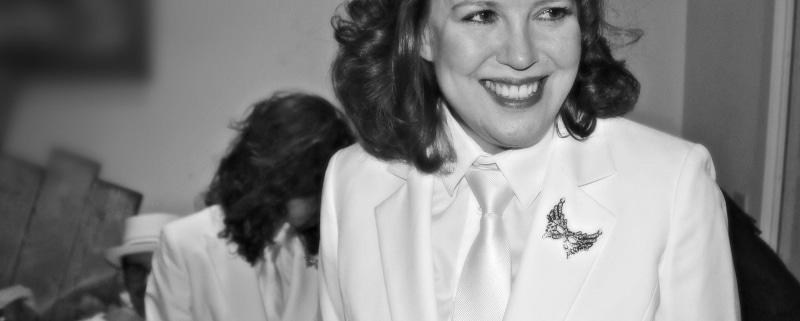 Phamaly celebrates 30 years of opening doors for disabled actors
Lucy Roucis goes straight from surgery to the stage: Just another triumphant story in Phamaly's three decades of lore
On Monday, actor Lucy Roucis was undergoing surgery. She was having what she jokingly calls her "chesticles" replaced – the batteries that help power what is essentially a pacemaker for her brain. And for the fourth time in 10 years. The stimulating device they power has been responsible for reducing by 80 percent the violent tremors her body has endured since 1987 from progressive Parkinson's Disease.
And on Tuesday, Roucis was back at rehearsal for Phamaly Theatre Company's upcoming free 30th anniversary concerts to be held between May 24 through June 6 at three venues across the metro area. No time for rest – or pity – on a show week.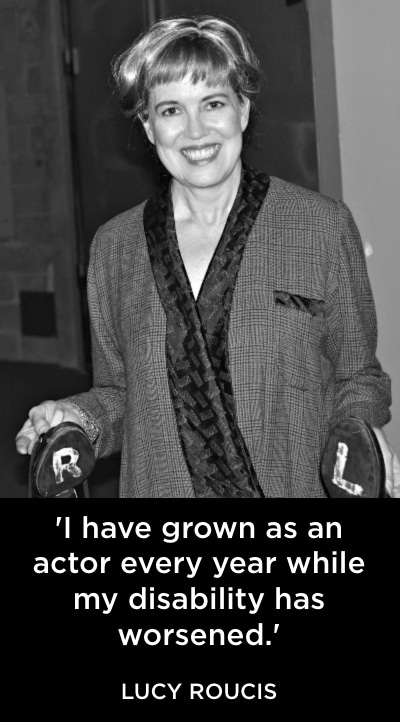 Call her a bad-ass and you won't be alone. Offer her sympathy and she'll return it to sender.
"It still bothers me when people say things like, 'Poor Lucy is struggling as her disability worsens,' " Roucis said. "I personally have grown as an actor every year while my disability has worsened. When I'm on the stage, I'm up there celebrating that I can still do this – and giving a darned good performance while I'm at it."
Roucis and fellow Phamaly company member Mark Dissette have collaborated on writing this new retrospective celebration of Denver's groundbreaking, landmark theatre company that has now been making performance opportunities for actors with disabilities for three decades.
The two promise an evening of unforgettable, family-friendly stage moments that will make plain the impact Phamaly has had in Denver and around the world.
"Without Phamaly, this group of hysterical, charismatic, eclectic, fascinating individuals with disabilities who would be relegated to the shadows, or worse, wouldn't be with us," said Artistic Director Regan Linton. "This organization gives life. It has actively built a new narrative for an entire community of people that is uplifting rather than crushing. We need more of this – now and into the future."
The concerts will feature a cast of 42 past and present Phamaly company members. It will open with a stunning reminder from one of its most popular shows, Joseph and the Amazing Technicolor Dreamcoat.
"We will open with two of the founding Phamaly members, Kathleen Traylor and Gregg Vigil, talking about how there were so many doors closed to us in 1989. And then we sing "Close Every Door" from Joseph.
The traveling party culminates June 6 at the 7,500-seat Levitt Pavilion, a date that will constitute the largest public performance in Phamaly's history.
A quick Q&A with Lucy Roucis:
What was your first production with Phamaly? I played Bianca in Kiss Me, Kate in 1993. I remember one of the girls had an electric wheelchair, and at the end of the first act, Eddie Blackshere was walking close to her and his robe got sucked up in her wheel, and they were stuck on stage together. That was so funny.
Your favorite roles: Vera Charles in Mame (1997) and Fraulein Schneider in Cabaret (2015).
One song to look forward to in the upcoming concert: What's really fun is "Brotherhood of Man," from How to Succeed in Business Without Really Trying. We're really rocking out on that one.
What has Phamaly meant to you? Phamaly has given me a place to work and do quality theatre. It started out as community theatre but it has grown into its own niche.
What has Phamaly meant to the larger community? By realizing our dream of participating in the performing arts, the stigma that goes along with being disabled has been diminished.
Tell us a new joke from your stand-up comedy routine: I tell one about going into a store called Sally's Beauty Supply and the cashier says to me, "Do you have a Beauty License?" and I say, "No, I just walk around like this. Am I is supposed to have a license?"
What's one good reason people who don't know Phamaly should want to come to one of your anniversary concerts? It's free!
John Moore was named one of the 12 most influential theater critics in the U.S. by American Theatre Magazine in 2011. He has since taken a groundbreaking position as the Denver Center's Senior Arts Journalist.
Phamaly Theatre Company's 30th Anniversary Concerts
Written by Lucy Roucis and Mark Dissette
Directed by former Phamaly Artistic Director Steve Wilson
All tickets to every show are free (donations accepted)
May 24 at the Aurora Fox Arts Center, 9900 E. Colfax Ave.
June 2 in the Mizel Arts and Culture Center's Elaine Wolf Theatre, 350 S. Dahlia St.
June 6 at the Levitt Pavilion, 1380 W. Florida Ave.
For reservations, call 303-365-0005 or go to phamaly.org
Phamaly Theatre Company's upcoming summer musical, Chicago
Book by Fred Ebb and Bob Fosse; music by John Kander; lyrics by Fred Ebb
Directed by Regan Linton
Musical Direction by Donna Debreceni
Choreography by Debbie Stark, Ronni Stark and Gabrielle Barnette
Performances: August 1-25
Where:  The Studio Loft at the Denver Performing Arts Complex
For reservations: Call 303-575-0005 or go to phamaly.org
https://www.denvercenter.org/wp-content/uploads/2019/05/Lucy-Roucis-Its-a-Wonderful-Life-2013.-Photo-by-John-Moore.jpg
604
800
John Moore
John Moore
2019-05-21 16:22:14
2020-09-01 08:40:34
Phamaly celebrates 30 years of opening doors for disabled actors