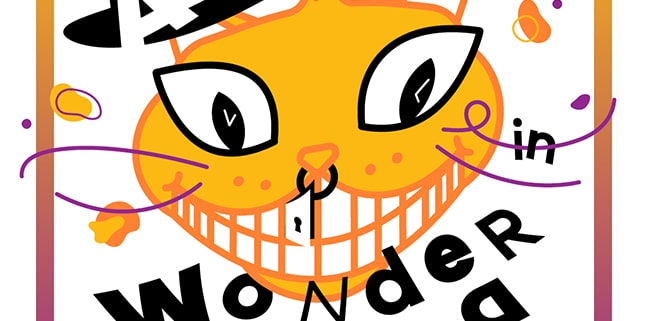 By Madison Stout, cast member and former DCPA Communications Coordinator
After over a year of virtual programming, Phamaly Theatre Company returns to the stage with a world premiere adaptation of the beloved classic, Alice in Wonderland adapted by David Jacobi from the Lewis Carroll classic novel, featuring an original music soundtrack by Denver's own experimental music group, Wheelchair Sports Camp.
After experiencing a test-induced panic attack, Alice falls down a rabbit hole, stumbling upon Wonderland. She embarks on a journey, trying to make sense of a chaotic world and herself. Amidst philosophical caterpillars, chaotic croquet games and disorienting cats, Alice discovers the freedom that comes with letting go and embracing the madness. The show runs from August 14 – to September 5 at Su Teatro Cultural and Performing Arts Center.
Building upon Phamaly's commitment to original work that was started through its Vox Phamalia program, Jacobi's Alice in Wonderland will be Phamaly's first full-length maintsage commissioned show and hopefully not its last.
"I've been wanting to do Alice in Wonderland with Phamaly for a while," said director Regan Linton who recently stepped down as Phamaly's Artistic Director, "but I couldn't find a version that felt like it had the right balance between esoteric absurdity and contemporary resonance." So, Linton reached out to friend and fellow artist Jacobi to write his own adaptation.
David Jacobi is an award-winning playwright whose plays have been performed and developed throughout the US and in China. He received a BFA in Dramatic Writing from Purchase College and an MFA from UC San Diego where he met Linton.
Though she had found a playwright, Linton knew the play would not be complete without music. "I wanted our new version of Alice to have music, but not be a full-on musical. I felt that Wheelchair Sports Camp's music had the perfect blend of eclectic sounds, whimsy and gravitas that I wanted for the Alice soundtrack."
Wheelchair Sports Camp is an award-winning band whose radical rhymes and jazzy chorus of live and electronic instruments push the bounds of hip-hop. Kalyn Heffernan, the band's front person, is a wheelchair user who creates music that shares her experiences as an artist living with disabilities and is not afraid to tackle controversial issues.
Heffernan eagerly accepted the challenge and contacted fellow musicians Michelle Rocqet and Greg Ziemba to help create the record. The trio used Jacobi's script as a launching point and Heffernan shaped the music to talk about current events and tie them to Wonderland.
"The benefit, creatively, of this project," Rocqet said, "was that we had a bigger purpose and through line than we typically do when releasing our records. We had a story to serve, which made it easier to figure out what the music needed to accomplish."
Phamaly's production of Alice was originally scheduled for last summer. Due to the pandemic, the entire project was postponed, lending additional time and creative energy to all artists involved. Heffernan and her team were able to collaborate with nearly 20 other musicians to hone and iron out the record.
"We all fell down this isolated rabbit hole," Heffernan explained. "It was a real gift to have this thing to work towards, not just for us but for the homies we reached out to who went above and beyond in helping us with this project."
Earlier this year, Linton announced she would be stepping down as Phamaly's Artistic Director, devoting more time to performing and pursuing personal artistic projects including finishing a documentary film about Phamaly called Imperfect. Though she's not entirely sure what her future holds, she's excited about the possibilities.
Though the Phamaly community will miss Linton at its helm, they are ecstatic to welcome Ben Raanan from Chicago as their new Artistic Director. Raanan seeks to create artistically rigorous theatre with, for and about the disabled community. He received his BFA from Drake University with a concentration in directing and musical theatre and his MFA in directing from DePaul University.
As he begins his tenure at Phamaly, he's excited to bring a fresh perspective and a deep rebellious spirit. "The thing about me," said Raanan, "is that I like to stand up and be in your face with my advocacy, in terms of fighting for our [the disabled] population."
While honoring the legacy pf Phamaly's founders, Raanan wants to approach every decision with a consistent inquisitive mind. "I think it's really easy to walk into a room and say, 'why are we doing this?' A more exciting way, and the way I think artistic directors are best, is instead asking 'why not?'"
This is an exciting change for Phamaly and the beginning of much more to come. Stay up to date with Raanan and the entire company as they continue to change the way society views people with disabilities and take pride in the talent of their community.
DETAILS
Alice In Wonderland
Su Teatro Cultural and Performing Arts Center
In-Person: Aug 14 – Sept 5, 2021
Streaming: Sept 6 – 30, 2021
Tickets start at $30
BUY NOW
https://www.denvercenter.org/wp-content/uploads/2021/08/PHAM-Alice-Webs-648.jpeg
648
648
Madison Stout
Madison Stout
2021-08-09 07:29:41
2021-08-09 12:58:03
Phamaly Theatre Company's New Take on Wonderland