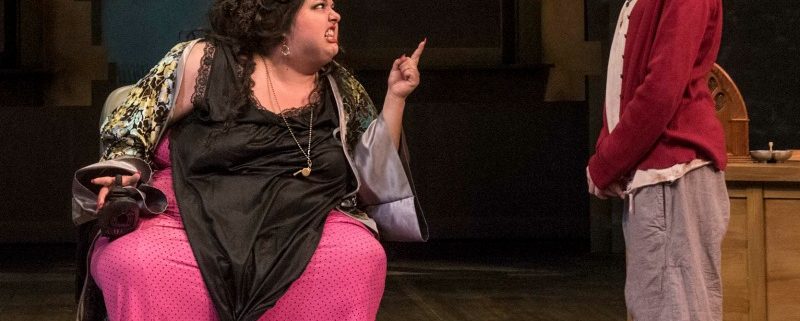 Phamaly's new era includes new Managing Director Sasha Hutchings

Phamaly's 2017 production of 'Annie' at the DCPA's Stage Theatre broke the company's all-time attendance record by 20 percent. Photo by Michael Ensminger.

'It is a privilege to join an organization that uses the magic of live theatre to create meaningful, lasting social change.'
By John Moore
Senior Arts Journalist
Denver's Phamaly Theatre Company took another major step on its road back to solvency today when it named Sasha Hutchings to the newly created title of Managing Director. No, not the Broadway performer of that name. The self-described nerd and bookworm from Wyoming who owns a rescue dog.
Hutchings, Director of the Victim Services and Advocacy Network in the Denver District Attorney's office, has served in the Denver nonprofit community since 2008 for organizations including the Seeds of Hope Charitable Trust and the Rocky Mountain Victim Law Center.
Hutchings, 38, is also co-founder of "The Word, A Storytelling Sanctuary," a non-profit that promotes voices from underserved communities and diverse backgrounds — specifically those who have faced adversity and injustice — through literature.
"One cannot overstate the power of story and art – of seeing yourself in characters, connecting to the experience of others, and bringing stories (alive) that speak to your life," Hutchings said. "It is a privilege to be joining an organization that uses the magic and power of live theatre to create meaningful and lasting social change."
The appointment was announced today by Artistic and Executive Director Regan Linton, who was named the True West Awards' 2017 Colorado's Theatre Person of the Year in December after returning to Phamaly in October 2016 and leading the company back from a potentially catastrophic deficit of more than $200,000.
Hutchings' hire signals "one more step," Linton said, in the continuing comeback of the internationally acclaimed theatre company that for 29 years has produced professional plays and musicals exclusively for actors with disabilities.
"I don't think nonprofit arts organizations are ever good-to-go indefinitely," Linton said, "but I think we're on a better path of making thoughtful choices that are going to sustain us into the future."
Hutchings' hire completes a reorganization of the company's leadership structure. The main focus of the Managing Director be will fundraising, development, marketing and leadership — responsibilities that had previously been shared by Linton, former Executive Director Maureen Johnson Ediger, and former Director of Development and Marketing Tamara Arredondo.
"We've changed the title because we will be sharing leadership responsibilities between the Artistic Director and the Managing Director," Linton said. "Moving forward, the artistic leadership will be equal in importance to the administrative leadership, which was not the case in the past." Phamaly's Director of Production and Operations remains Paul Behrhorst, the other key figure in Phamaly's leadership team.
Originally from Rock Springs, Wyo., Hutchings' early life was spent between Denver and Arizona before heading east for college in Connecticut, where she said she developed a passion for social justice and serving disenfranchised communities.
In her new job, she sees great opportunity for continuing Phamaly's artistic excellence while enhancing its impact on both individuals living with disabilities, she said, as well as those audiences who experience Phamaly programming.
Hutchings' appointment follows a five-month national search conducted by Phamaly's board and staff. Linton said Hutchings' salary will be commensurate with Managing Directors at comparably sized professional theatres across the nation.
"Our search committee devoted a great deal of time and energy to finding the optimal candidate to complement the current board and staff and help carry Phamaly into the future," Linton said. "Sasha brings a wealth of nonprofit development experience to Phamaly, as well as vibrant energy and a passion for effecting meaningful impact. Phamaly is poised for great new chapter, and we are ecstatic to have her."
Hutchings earned her Master of Arts from the School of Social Service Administration at the University of Chicago, and her Bachelor of Arts in Psychology and Religious Studies with a Minor in Sociology from Fairfield University in Connecticut.
Each summer, Phamaly presents a Broadway-scale musical at the Denver Performing Arts Complex. In July, the company will stage Stephen Sondheim's Into the Woods at the Space Theatre under the direction of Christy Montour-Larson (DCPA Theatre Company's Two Degrees) and Mac Merchant.
John Moore was named one of the 12 most influential theater critics in the U.S. by American Theatre Magazine in 2011. He has since taken a groundbreaking position as the Denver Center's Senior Arts Journalist.

More about Phamaly Theatre Company
Now in its 29th season, Phamaly Theatre Company is an award-winning Colorado-based nonprofit that produces professional plays and musicals that exclusively feature actors with all nature of disabilities: physical, cognitive, intellectual, and emotional. Phamaly has become a leader in the field with its approach to disability inclusion, access, and transforming social perceptions of disability. Phamaly is known for its innovative reinvention of conventional stories, creating what has become some of the most entertaining and moving experiences available to Denver audiences. Phamaly's mission is to inspire people to re-envision disability through professional theatre.
Coming up from Phamaly Theatre Company in 2018:
Romeo and Juliet (workshop production)
By William Shakespeare
Directed by Regan Linton
April 14-22
Dairy Arts Center, Boulder
Tickets onsale at phamaly.org
Into the Woods
By James Lapine and Stephen Sondheim
Directed by Christy Montour-Larson
Musical Direction by Mac Merchant
Choreography by Debbie Stark and Ronni Stark
July 12-Aug. 5
Space Theater at the Denver Performing Arts Complex
Harvey
By Mary Chase
Directed by Rand Harmon
In partnership with Senior Housing Options
Oct. 18-Nov. 11
The historic Olin Hotel
https://www.denvercenter.org/wp-content/uploads/2018/04/featured-image-5846.jpg
707
800
John Moore
John Moore
2018-02-15 09:54:00
2020-09-01 08:40:11
Phamaly's new era includes new Managing Director Sasha Hutchings