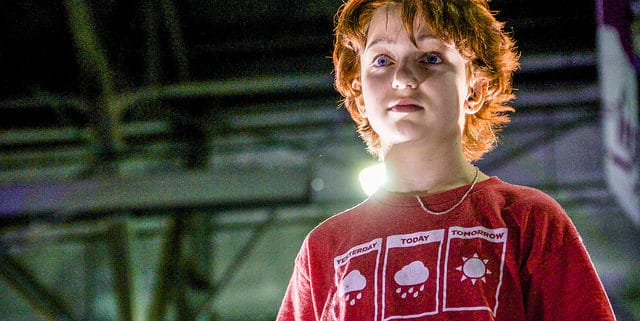 Photos: Phamaly gala, campaign raise $200K, 'save the company'


Photos from Phamaly Theatre Company's annual gala on June 3 hosted by Kyle Dyer of Channel 9 and former Denver Bronco Reggie Rivers (pictured below and right with Phamaly's Regan Linton). To see more photos, hover your cursor over the image above and click the forward arrow. Photos by John Moore for the DCPA NewCenter.
Phamaly's mission to transform the public perception of disability will continue with Annie at the Denver Center
By John Moore
Senior Arts Journalist
Phamaly Theatre Company's emergency "Sunny Tomorrow" fundraising campaign has reached its $100,000 goal, and the company's subsequent annual company gala at the Wings Over the Rockies Museum on June 3 raised a record $101,000 in addition, company officials announced.
"We are still blown away by the overwhelming energy that we felt in the room," said Phamaly Development and Marketing Manager Tamara Arrenado. "Phamaly has so much momentum and enthusiasm moving forward."
Phamaly, a rare and internationally acclaimed theatre company that exclusively provides performance opportunities for actors with disabilities, faced the real prospect of bankruptcy before the fundraising initiatives were launched by Acting Executive Director Regan Linton. The company had undergone unprecedented recent expansion, "and this level of operation has unpredictably strained our organization," Linton wrote in an open letter to Phamaly supporters.
At the gala, a moment was taken to thank Linton for her efforts. "You saved the company," Production Manager Paul Behrhorst said bluntly.
For 27 years, Phamaly's mission has been to produce professional plays and musicals that empower its performers and transforms the public's perception of disability.
Phamaly's annual summer Broadway musical presentation will be Annie, opening July 15 at the Denver Center's Stage Theatre. Members of the cast performed at the gala. See the photos above.
Annie: Ticket information

At a glance: You may know the story of Annie, but Phamaly's approach to this familiar story will be more raw and humanistic. "These are hardened orphans who have faced a lot of adversity in their lives, just like the actual young actors in our cast who are going to be playing these roles," said co-director co-Director Regan Linton.
Presented by Phamaly Theatre Company
July 15-Aug. 6
Stage Theatre, Denver Performing Arts Complex
Directed by Regan Linton and Steve Wilson
Call 303-575-0005 or go to the Denver Center's web page
Phamaly, Denver Actors Fund benefit screening of Annie film
Glance: The Denver Actors Fund hosts a monthly film series at Alamo Drafthouse Denver showing a movie both inspired by a Broadway musical and is also currently being presented by a local theatre company somewhere in the area. This month: Get a sneak peek at Phamaly's upcoming production of Annie with a live performance by members of the cast before the classic 1982 Carol Burnett film is shown in TWO Alamo theatres simultaneously. All tickets $10.
Presented at Alamo Drafthouse Sloans Lake
4255 W. Colfax Ave.
6:30 p.m. live entertainment, 7 p.m. film
Choose your preferred seating here.
Note: Choose 6:30 start time to be in a fully accessible Theatre 4: The Phamaly performance will be interpreted, and the movie will be captioned on screen. This performance is also designated as public singalong. Choose the 6:35 p.m. screening if you want listen to the movie in quiet adulation in Theater 5. You won't miss the live performance by Phamaly. We will livestream the performance next door right onto the screen in Theater 5. This will be the screen with NO captions.
Selected recent NewsCenter coverage of Phamaly:
Phamaly launches emergency $100,000 fundraising campaign
Regan Linton accepts Spirit of Craig Award
Regan Linton returns to lead Phamaly in landmark appointment
https://www.denvercenter.org/wp-content/uploads/2018/04/featured-image-4963.jpg
427
640
John Moore
John Moore
2017-06-12 10:02:00
2020-09-01 08:40:13
Photos: Phamaly gala, campaign raise $200K, 'save the company'