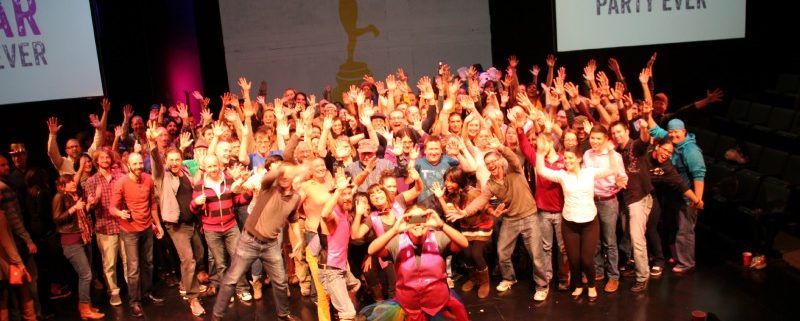 Photos, video: Off-Center's Season Announcement Party
Off-Center @ The Jones announced its return in a big, loud and very funny way on Sept. 12 with a Season Release Party, at which fans were treated to live previews of each of the upcoming shows. The season begins Oct. 10 with the return of Cult Following.

The Off-Center team attempted to pull off the World's Biggest Selfie. Unfortunately, this is how the picture turned out:
Click here to go to our complete gallery of photos from the party. All photos (except the selfie above !) by John Moore
The 2014-15 Off-Center @ The Jones season:
Here is the upcoming season, as announced by co-curators Charlie Miller and Emily Tarquin, and performed by a cast of dozens. (Descriptions provided by Off-Center)
CULT FOLLOWING: Karaoke Musical
Friday, Oct. 10
7:30 p.m. doors, 8 p.m. show
Grab the mic and take the stage in Karaoke Musical, the newest installment of Cult Following, Off Center's signature night of unrehearsed, unscripted theatre. Real karaoke performances by willing audience members will punctuate the cast's performance, ensuring unexpected plot twists and zany fun. Featuring the Cult Following cast: Jessica Austgen, Sarah Kirwin, Nanna Thompson, and Chris Woolf.


LORD OF THE BUTTERFLIES: Shirley Delta Blow's retelling of Lord of the Flies
Oct. 24, 30, 31, and Nov. 7
7:30 p.m. doors, 8 p.m. show
On a trip gone terribly wrong, drag stars Shirley Delta Blow, Zoe O, Olive de Bottom and Dan D Lite find themselves stranded on an island far, far away. All they have to survive with is their wits, fabulous wardrobes, and fellow passengers, Jackie (Sarah Kirwin), Simone (Jessica Robblee), and Rachel (Mara Wiles). In this outrageous re-telling of Lord of the Flies, the struggle for island dominance comes complete with delightful dancing!! Magnificent musical performances!! Irreverent improvisation!! And lots and lots of glitter.


THE SANTALAND DIARIES: A holiday show for the rest of us
By David Sedaris
Adapted by Joe Mantello
Nov. 28 through Dec. 24
Crumpet the Elf returns in this acclaimed holiday production that is being staged this year in partnership between the Boulder Ensemble Theatre Company and Off-Center @ The Jones. Looking for a little more snark in your stocking this year? Again starring Matt Zamrano "The SantaLand Diaries is the sure cure for the common Christmas show.

CULT FOLLOWING: Secrets and Confessions
Feb. 13 and 19, 2015
7:30 p.m. doors, 8 p.m. show
Shhhhhhhhh! Share your deep, dark, embarrassing, and awkward secrets in the anonymous Off Center confession booth, and your tales will inspire the Cult Following cast's newest performance. Low budget special effects, amateur stunts, and free beer collide in Off Center's signature night of unrehearsed, unscripted theatre featuring Jessica Austgen, Sarah Kirwin, Nanna Thompson, and Chris Woolf.


The GAYEST OSCAR PARTY EVER: A Benefit to Benefit Off-Center
Sunday, Feb. 22
Ring in the most important day of the year with Off-Center and Hamburger Mary's. Tickets include a rainbow carpet entrance, two drinks, appetizers, pre-show gown judging and live performances by the cast of Cult Following and some of Denver's favorite Queens. Of course, the awards presentation will be streaming live, and we will rudely shush anyone who speaks over the host or speeches. Last year's party sold out so grab your tickets now.


KICK-OFF CABARET: Discover Denver's hottest new big ideas, live on stage
Friday, March 13
7:30 p.m. doors, 8 p.m. show
Meet the next wave of kick-ass entrepreneurs, inventors, artists, coders, and more at Kickstarter Cabaret, a one-night-only event where Ted Talk meets Shark Tank. Eight different local Kickstarter project creators – from cooks to programmers to musicians – will strut their stuff and go head-to-head for your vote.


PERCEPTION: Professor Phelyx
April 10, 17, 18, 24, and 25
7:30 p.m. doors, 8 p.m. show
Join Colorado's No. 1 mentalist magician, Professor Phelyx, for an astonishing night of impossible predictions, mind-reading, metal-bending and seemingly inexplicable revelations. With a unique variety act at each performance, amazing feats of intuition, and original live music by Tom Hagerman (of the internationally acclaimed Boulder band DeVotchKa), you won't believe your eyes, ears, or even your own thoughts after The Professor demonstrates his mastery of Perception.


CULT FOLLOWING: Pirate Ship
Friday, May 8
7:30 p.m. doors, 8 p.m. show
Prepare thyself for piracy, pillaging, and unscripted theatARRRRRRRR. The swashbuckling cast will navigate the high seas of The Jones with a real pool on stage and the help of a hearty band of rapscallions (that's you!) Nary a carouser could resist this merry adventure, captained by Jessica Austgen, Sarah Kirwin, Nanna Thompson, and Chris Woolf.
Ticket information
All performances @ The Jones, Speer Boulevard and Arapahoe Street
(The Gayest Oscar Party is at Hamburger Mary's, 700 E. 17th St. )
Most tickets range from $15-$18
The Gayest Oscar Party Ever tickets start at $45
The SantaLand Diaries tickets $25
Cult Following ticket includes free beer (21 and older) and popcorn
To order tickets online, click here.
Or call 303-893-4100
Or buy in person in the Helen Bonfils Theatre Complex Lobby.
Or buy at the door @ The Jones

Improv Parodies: Cult Following Meets 'The Unsinkable Molly Brown'
https://www.denvercenter.org/wp-content/uploads/2018/04/featured-image-1338.jpg
533
800
John Moore
John Moore
2014-09-30 13:59:00
2014-09-30 13:59:00
Photos, video: Off-Center's Season Announcement Party