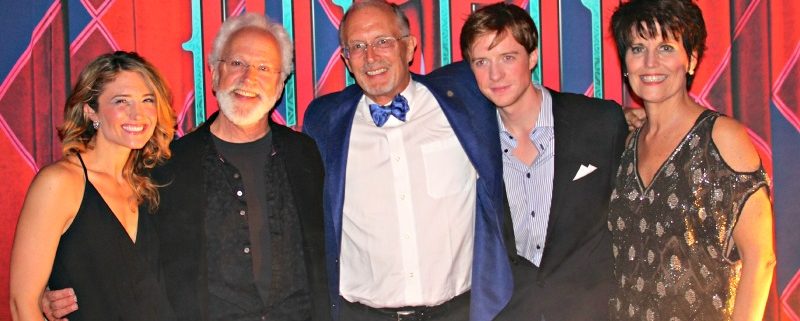 'Pippin' dedicates entire national touring production to Randy Weeks
Randy Weeks, center, with "Pippin" cast members Kristine Reese, John Rubinstein, Matthew James Thomas and Lucie Arnaz on the Opning Night of the new touring production Sept. 12 in Denver. Photo by Emily Lozow.
The entire national touring production of Pippin The Musical, which launched here in Denver last month, has been dedicated to Denver Center for the Performing Arts President Randy Weeks, who died suddenly on Oct. 9 in London.
Tribute messages began coming in from the Pippin team almost as soon as word of Weeks' death became known.
"I was devastated to hear the tragic news," said Pippin general manager Alecia Parker. "Having just spent time with you all it truly breaks my heart. I'm sure it will take a lot of healing and time. He was a true gentleman and will be missed."

Added Anita Dloniak, Pippin's national press rep: "There are no words to even describe my feelings. I am stunned, shocked and every adjective in-between. I am literally shaking. I am sending big hugs to the entire Denver team."
Here's the message as it will appear in all Pippin programs as the tour moves from city to city:
THE PIPPIN TOUR IS DEDICATED TO THE MEMORY OF RANDY WEEKS (1955–2014).
This touring production of Pippin began its magical journey at the Buell Theatre in Denver, Colorado under the guidance of Randy Weeks. We owe him a huge debt of gratitude. He was such a fan of our show and part of it belongs to him. Sadly on Thursday, October 9, the theatre lost one of its fiercest advocates, one of our finest colleagues, and a dear friend. We are honored to be a part of his extraordinary legacy!
The DCPA will celebrate Randy Weeks' life at 4 p.m. Monday, Nov. 3 in the Buell Theatre.
Our coverage of the death of Randy Weeks:
DCPA president Randy Weeks dies at London conference
Video: Randy Weeks honored with dimmed lights, moments of silence
Video project: Share your unforgettable Randy Weeks stories with us
Randy Weeks photo gallery
DCPA to celebrate Randy Weeks' life on Nov. 3
A look back at Randy Weeks' 'It Gets Better' video

Our Pippin coverage on MyDenverCenter.Org:
Photos, video: Opening-night festivities in Denver
Video: 5 questions for Composer Stephen Schwartz
9News anchor Cheryl Preheim has a walk-on cameo on Sept. 16
Video: Audience testimonials reacting to seeing the show
Video series: The 'Pippin' Personalities: Five questions with creatives
'Pippin' meets Denver: Media Day photos
Broadway's Matthew James Thomas to play Pippin in Denver
Hello, Denver! 'Pippin' cast and crew arrive
Photos: Pippin loading in Denver, rehearsing in New York
My three Pippins gather at Sardi's to honor John Rubinstein
Photos: Exclusive look at first 'Pippin' rehearsal
Lucie Arnaz joins Denver-bound 'Pippin' as Berthe
From Pippin to Pappa: Denver tour launch will feature John Rubinstein
2014-15 season: 'Pippin,' 'Kinky Boots' are Denver-bound!
'The Pippin Profiles' interview series:
Photo by Terry Shapiro.
https://www.denvercenter.org/wp-content/uploads/2018/04/featured-image-1280.jpg
580
800
John Moore
John Moore
2014-10-21 13:50:00
2014-10-21 13:50:00
'Pippin' dedicates entire national touring production to Randy Weeks