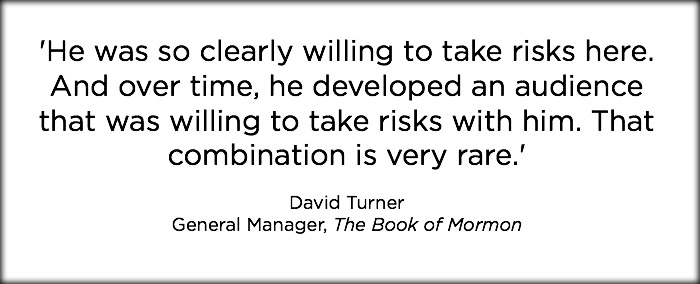 Randy Weeks celebration draws 1,500 to recall a singular friend in story and song
A month before Randy Weeks died in a London hotel room, he mailed his godson a random greeting card that said: "Life is not measured by how many breaths we take, but in the number of moments that take our breath away."
That was but one of many poignant remembrances peppered between showstopping musical numbers at a bittersweet public celebration on Monday afternoon for the President of the Denver Center for the Performing Arts, who died in his sleep Oct. 9 while attending a conference of theatre presenters. He was 59.
It was delivered from the Buell Theatre stage by Jimmy Calano, who was Weeks' pledge son 40 years ago at the Kappa Sigma fraternity at the University of Colorado-Boulder. Later, Calano asked Weeks to be the godfather to his own son.
"Although Randy was cheated out of his fair share of breaths, he took our breath away by the power of his friendship, by the way he made us feel special, and by how he flat-out took care of us," Calano told a crowd that was estimated at 1,500 by the city of Denver.
Video: Cast members from 'Kinky Boots' sing 'Give My Regards to Broadway' to honor the late Randy Weeks. To see our entire downloadable photo gallery from the Randy Weeks celebration, click here.
Attendees included family and friends; DCPA employees past and present; theatre audiences; more than 100 fraternity brothers; and members of the local and national theatre communities including theatre owners, producers, presenters, booking agents, press agents and representatives from both The Broadway League and the Independent Presenters Network.
Dean Singleton, chairman of The Denver Post and a member of the DCPA's Board of Trustees, said, "We have lost one of the greatest minds in theatre. Not only did Randy bring Broadway to Denver, but he made Denver the first stop for some of the greatest productions leaving New York. Randy had the unique ability to convince people that Denver was the right place for a first stop — and he delivered."
In his 23 years as the Executive Director of the DCPA's Broadway division, Weeks presented more than 400 shows that served 11.6 million patrons. In his tenure, Denver hosted the launches of 10 national touring productions, including The Lion King, The Book of Mormon and, most recently, Pippin. Representatives from those shows and more flew to Denver to attend Monday's classy send-off. The program culminated with University of Northern Colorado freshman Abby Noble singing "One (Singular Sensation)" from A Chorus Line alongside nearly 30 members of the Denver School of the Arts' recent production of Hairspray.
Abby Noble of Grandview High School and the University of Northern Colorado, right, performing with students from Denver School of the Arts. Photo by John Moore. To see more photos, click here.
In May, Noble was named Outstanding Actress in a Musical at the Bobby G Awards, which honor achievements in Colorado high school theatre. The program was spearheaded by Weeks in 2012 and quickly became his greatest professional joy. He also served on the Friends Foundation at Denver School of the Arts.
Two of Monday's performers were DSA students Jimmy Bruenger and Madison Kitchen, who fell in love with Broadway musicals by watching productions that Weeks brought to the Buell Theatre stage. Monday's celebration afforded both the opportunity to perform on that same stage for the first time. Even in death, Bruenger said, Weeks was making dreams come true.
"When I found out we were being asked to perform here, I started hyperventilating," Kitchen added. "Both of us saw Kinky Boots here just last night. And so to be on that stage for the first time today? It's incredible."

​
Video: Bobby G Awards Outstanding Actress Abby Noble sings "One" with students from Denver School of the Arts.
The Pippin tour has recently bestowed upon Weeks what is believed to be an unprecedented honor: The entire tour has been dedicated to Weeks, who will now be acknowledged in programs in every city Pippin visits. The idea was suggested by Kathleen O'Brien, Weeks' counterpart with the Tennessee Performing Arts Center.
"This has been the best tour-opening experience in my 27 years out on the road, and Randy is the reason," said Pippin national press rep Anita Dloniak, citing the camaraderie and professionalism he inspired in his staff. "And he throws the best parties," she added. Honoring Weeks, she said, was one way for the Pippin family to grapple and cope with their grief over his sudden death.
"He is just a wonderful force to be reckoned with," Dloniak said. "A giant … but a gentle giant."
Nancy Gibbs attended Thomas Jefferson High School in Denver and has since produced many major theatricals including Wicked; I Love You, You're Perfect, Now Change (the longest-running show in Denver theatre history); Traces; Next to Normal, and Peter and the Starcatcher, which launched its first national tour in Denver in August.
"Randy was a leader," Gibbs said. "Once he stepped up to the plate, he knocked it out of the ballpark."
David Turner, General Manager for The Book of Mormon, said it was Weeks who convinced producers that Denver was the only place for that tour to launch.
"Randy was the one who knew that the writers (Trey Parker and Matt Stone) were from here, and he really wanted us to make that connection," Turner said.
The Book of Mormon launch in Denver sold all 51,000 available tickets in less than five hours. Turner called that an "extremely important" validation of the show.
"For everybody who wasn't sure how The Book of Mormon would be received outside of New York, that was an incredible vote of confidence," Turner said.
Weeks was respected by his colleagues for his uncanny ability not only to maximize blockbuster, popular fare, but to predict the next big thing. One of the most poignant moments in Monday's celebration came when seven members of the 2013 Tony Award-winning Best Musical Kinky Boots took the stage to sing "Give My Regards to Broadway" in Weeks' honor. The show is currently playing in Denver through Sunday (Nov. 9).
"During a very early preview performance of Kinky Boots, Randy ran up to me at the intermission and said, 'Promise me this show will play Denver,' " said Kinky Boots' Hal Luftig. "To a producer with a show still in previews, that meant the world to me. And now, here we are in Denver, playing to packed houses every night."
Weeks also was credited for his willingness to take risks both large and small. Weeks could have responsibly passed on important, challenging musicals with questionable commercial road potential, like Next to Normal (about a mother's suicidal depression) and Spring Awakening (about 1890s German teens experiencing puberty in the complete absence of information). But when Weeks came across shows that had the potential to change audiences' lives, he felt a deep obligation to schedule them.
"He was so clearly willing to take risks here," said The Book of Mormon's Turner, "and over time, he developed an audience that was willing to take risks with him. That combination is very rare."

Actor Shannan Steele and director Ray Roderick banter with an aptly dressed Randy Weeks stand-in at Monday's celebration. Photo by John Moore. To see more photos, click here.
Added Ray Roderick, who directed large world premieres like I Love a Piano in the Auditorium Theatre and small cabaret shows in the Garner Galleria: "Randy saw the Denver community as one that was going to embrace good work no matter what it was. Denver is a very big demographic, and a very smart demographic, and Randy managed to please a lot of different kinds of people."
Weeks was remembered on Monday for far more than just his many professional successes. He was remembered as an uncommonly compassionate friend … and a most decidedly uncommon dresser.
Weeks was known for wearing argyle sweaters and golfing pants adorned with animal prints only Rodney Dangerfield could love. The sweaters were a tribute to his late mentor, Robert Garner. "But the pants were all Randy," said his longtime assistant, Claudia Carson, who directed the musical portion of Monday's celebration. Family members confessed that Weeks left seven pair of Brooks Brothers animal-print pants behind in his closet at home.
"We're going to miss Randy because he was always there with outstretched arms and a sweater that looked like something out of 1962 Paris Vogue," joked Kris Andersson, otherwise known as Dixie Longate, whose Dixie's Tupperware Party has played in the Garner Galleria Theatre four times. "It was so vogue that you probably wouldn't want to dress that way. You'd look at it and go, 'Really?' But Randy owned it."
Andersson's longtime manager Michele Helberg credited Weeks for "reinvigorating the Dixie brand" five years ago when he first brought the Tupperware Party to Denver. And Andersson credited Weeks for green-lighting last summer's mouthful of a sequel, Dixie's Never Wear a Tube Top While Riding a Mechanical Bull and 16 Other Things I Learned While I was Drinking Last Thursday.
"He used his influence with other people in the industry to take a new artist and a new piece of work and move it forward further than if we had to do it on our own," Helberg said. "If it hadn't been for Randy and his Denver Center family, I don't think we would be where we are right now."
"Randy used to say, 'It's all about the fun,' " Andersson added. "We get to have fun every day of our lives, and a really big part of that is because Randy looked at our show and said yes. And then, when the opportunity came along to do the new show, Randy put tickets on sale before I had even written it. He had that much faith in me."
Barbara Gehring and Linda Klein are two other performers whose lives were forever changed when Weeks decided to move their two-woman sleepover Girls Only: The Secret Comedy of Women from the Avenue Theatre to the DCPA.
And here's the thing: "He picked up our show without ever even seeing it," Klein said. In those days, the title was truth in advertising: No men allowed.
"He had heard about it, and he knew that women loved it, and so he just said, 'Why aren't we doing this?' " Klein said.
That came as no surprise to Ekeberg, Weeks' protege and successor.
"Randy led with his heart, and he put his heart into everything," Ekeberg said.
Girls Only played at the Garner Galleria Theatre for two years and has now been seen by 250,0000 women … and a few men. "That's not something Linda and I could have done on our own," Gehring said.
Girls Only is currently playing in Rochester, N.Y., but the Denver-based duo came home for Monday's celebration. "We had to," said Klein. "We needed to grieve with our friends."
DCPA Chairman Daniel Ritchie welcomed Monday's crowd, and the master of Ceremonies was CBS-4 Critic-At-Large Greg Moody. Speakers included all three of Weeks' siblings — Pam Weeks, Joel Weeks and Stephanie Gamble. Others included Al Nocciolino, representing the Broadway League and the Independent Presenters Network. He was with Weeks at the London conference. He told Monday's crowd that Weeks spent his final day shopping, and bought a deck of cards adorned with vintage fighter planes for his history-buff dad. That night, Weeks attended a performance of the controversial new play King Charles III in London's West End. Afterward, Nocciolino said, "Randy was holding court and telling everyone he had just seen the best performance he had ever seen."
Video: "I Love a Piano" performed by Shannan Steele, Lauren Shealy, Randy St. Pierre, Michael Gold, Sarah Rex and Jordan Leigh.
The musical program included performers from some of Weeks' favorite shows, including I Love a Piano and Forever Plaid. The first show Weeks ever presented in the Garner Galleria Theatre was Forever Plaid, and on closing night in 1992, cast members sang "Old Cape Cod" as a gift to him in honor of his New Hampshire roots. Michael Gold, Drew Frady, Randy St. Pierre and Scott Rathbun sang the song at Monday's celebration.
Shannan Steele credited Weeks for hiring local actors, citing the upcoming opening of Forbidden Broadway in the Garner Galleria Theatre, which has an all-local ensemble.
"I think most of my career wouldn't exist without his efforts and his vision for the local community," Steele said. "If you ever got to work under Randy, it was always a huge employment opportunity – and a huge artistic opportunity."
Gold, who performed in Roderick's I Love a Piano, has known Weeks since he joined the DCPA box-office team as a college student in 1978. "I remember seeing him run credit cards over carbon paper; it was that long ago," Gold said.
When Joel Weeks took to the podium at the Buell, he referenced Weeks' eulogy to his mentor, Robert Garner. "In it, he said, 'How can you know someone for such a long time and never fully comprehend how much they have become a part of your life?' " Joel Weeks said.
"My journey will be an amazing one if I can just try to emulate a fraction of what my brother was."
Ekeberg, the final speaker, said his boss' true strength lay in one-on-one relationships. "He made you feel special; he made you feel heard, and he made you feel important," Ekeberg said. To honor that spirit, he urged the crowd to heed the message of Pippin:
"Find the simple joys," Ekeberg said.
Our coverage of the death of Randy Weeks:
DCPA president Randy Weeks dies at London conference
Video: Randy Weeks honored with dimmed lights, moments of silence
Randy Weeks photo gallery
DCPA to celebrate Randy Weeks' life on Nov. 3
A look back at Randy Weeks' 'It Gets Better' video
'Pippin' dedicates entire tour to Randy Weeks
​
Video: Randy St. Pierre, Michael Gold, Drew Frady and Scott Rathbun sing 'Old Cape Cod.'
MORE PHOTOS:
TO SEE OUR COMPLETE GALLERY OF DOWNLOADABLE PHOTOS FROM THE RANDY WEEKS CELEBRATION, CLICK HERE.

Memorial Contributions
Memorial gifts can be made to The Randy Weeks Memorial Fund for the Bobby G Awards, which supports the advancement of musical theatre for Colorado high school students. Please make checks payable to Denver Center for the Performing Arts and mail to: DCPA Development Office, 1101 13th Street, Denver, CO 80204.
https://www.denvercenter.org/wp-content/uploads/2018/04/featured-image-1244.jpg
284
700
John Moore, Senior Arts Journalist
John Moore, Senior Arts Journalist
2014-11-05 23:27:00
2014-11-05 23:27:00
Randy Weeks celebration draws 1,500 to recall a singular friend in story and song