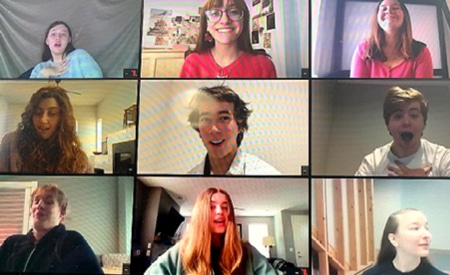 Reimagining Arts Education for Remote Learning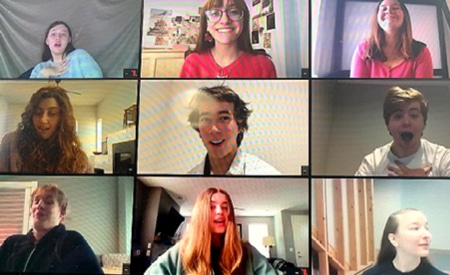 When COVID-19 forced schools to cease in-person learning, one might assume that supplemental arts education programs would evaporate. In a metro area that takes pride in "every school served" through its 300 SCFD-funded cultural organizations, that could have further impacted an already bleak situation for the arts and the community.
But "could have" and "might have" didn't materialize. Instead, organizations including the Denver Center for the Performing Arts reimagined their school programs to adapt to the new reality.
DCPA Education quickly reassessed its traditional offerings to determine which were best suited for online learning. The programs needed to cover a wide spectrum of ages, utilize theatre-based techniques to complement the curriculum, and, most importantly, retain the benefits that are only possible through live, guided instruction.
"It is so important, especially during this time, for students to have creative and arts-based experiences that allow them to have peer to peer connection even in virtual spaces," said Allison Watrous, Executive Director of Education & Community Engagement. "Our goal is to deliver a curriculum that is tactile, kinesthetic, and joyful to provide educational experiences that put students at the center and empowers their voices in the world."
While DCPA Education typically offers nearly a dozen programs for more than 500 schools, four options were best suited for a virtual reimagining.
BOOK STARS
The Book Stars early childhood literacy program has seen rapid growth in recent years. Managed by Rachel Kae Taylor, the program grew by 155% in FY20, serving 11,500 PreK and Kindergarten-aged children. Book Stars encourages preschool and kindergarten students to use their bodies, voices, and imaginations to explore classic and soon-to-be classic children's picture books within a virtual 30-minute visit. Students are introduced to a book and then immersed in its themes and concepts. Students become characters and solve problems through theatrical play as they bring stories to life.
"Book Stars is amazing!. We have had so much fun learning through the arts," effused a teacher from Denver Public Schools. "This has been an incredible and unforgettable experience for all of our students, and for me, too!"
In January, DCPA will be launching a new workshop based on the book Saturday by Caldecott Recipient Oge Mora. This is a stunningly beautiful book about time, urban adventure, anticipation, and how we choose to deal with disappointment when things don't go as planned. The lesson plan will also incorporate a rhythmic, movement-based sequence that teaches the days of the week.
Books Stars is offered at no charge to all participating schools. This seasoned the DCPA will engage over 10,000 young readers in their classrooms.
DRAMATIC LEARNING: ARTS INTEGRATION
One of DCPA Education's longest and most utilized programs is Dramatic Learning. Designed to apply theatre-based techniques to boost learning and ignite curiosity, this arts integration program complements the curriculum in nearly any subject. Whether it's bringing a history lesson to life, studying body systems, or developing critical-thinking skills to successfully take a test, Dramatic Learning instructors delve into wide-ranging subjects for students of all ages.
"Students engaged within Dramatic Learning are provided the opportunities to 'be', 'do', and 'show' their comprehension of an idea, task, or skill," explained Patrick Elkins Zeglarski, DCPA Director of Education and Curriculum Management. "For example, in STEM classes, students kinesthetically move through solution processes or create characters and dialogue based on the vocabulary and theories of the branch of science being studied. It so powerful to see student activate knowledge."
Now offered online, Dramatic Learning will be available for free or low cost to more than 8,000 students.
DPS VIRTUAL SHAKESPEARE FESTIVAL
If the works of William Shakespeare can stand the test of time, so too can the annual Denver Public Schools Shakespeare Festival. Now celebrating its 37th year, students and schools will participate in an online celebration of the Bard complete with sonnets, scenes, and soliloquies. Continuing its support of students as they prepare for the event, DCPA Education will offer virtual workshops and online resources to all participating schools.
"While we will miss the energy of our in-person festivities downtown," said DCPA Teaching Artist and District Liaison Sam Wood, "we have some creative plans up our Shakespearean sleeves to keep the fun and fanfare going. After all, we have a tradition to uphold!"
AT&T MIDDLE SCHOOL AND HIGH SCHOOL PLAYWRITING
In 2013, the Denver Center expanded its commitment to new play development by launching the AT&T High School Playwriting Competition. This year the program has expanded to include Middle School students. Following preparatory workshops, students can submit a one-act play for review. Subsequently, ten finalists are selected and three plays are chosen for a public reading.
"It is exciting to expand the playwriting program to middle school students," said Claudia Carson, DCPA Playwriting Program Manager. "They are the emerging voices of the future and it is thrilling to support, encourage, and celebrate their unique voices and self-expression."
Now, over 2,000 youth ages 11 and up will benefit from virtual playwriting workshops, feedback from industry professionals, and the chance to have their play read (in-person or on Zoom) for their peers or published in our annual anthology of young writers.
By reimagining its approach to encompass remote learning, DCPA Education has broadened its potential reach throughout the state and beyond, meeting the varying needs of students, schools, educators, and administrators. "While everyone is eager to return to 'normal,'" said Watrous, "some component of remote learning is likely to remain a part of our curriculum. We look forward to exploring a hybrid model that offers options to our participating schools that best fit their needs. The possibilities are exciting and inspiring to explore."
For more information on educational opportunities at the Denver Center for the Performing Arts, please visit denvercenter.org/education.
https://www.denvercenter.org/wp-content/uploads/2021/01/DCPA-21-newsletter-images-Jan-4-1.jpg
275
450
Suzanne Yoe
Suzanne Yoe
2021-01-08 14:23:36
2021-01-08 14:24:45
Reimagining Arts Education for Remote Learning