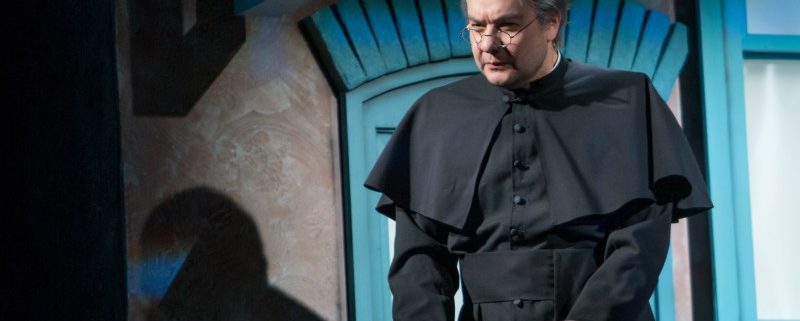 Rodney Lizcano leads 2018 Colorado Shakes lineup as Richard III
A flood of familiar faces this summer will join what the festival is calling the most diverse lineup in its history
Rodney Lizcano, an award-winning comic and dramatic actor now performing in the DCPA's American Mariachi, is a character actor no more.
The Colorado Shakespeare Festival announced today that Lizcano, a graduate of the Denver Center's National Theatre Conservatory long known for his supporting roles, will play Shakespeare's most murderous and malicious king in Richard III  this summer.
"Rodney can slip chameleon-like in and out of different roles with such skill and charisma," said Colorado Shakes Producing Artistic Director Timothy Orr. "He is thrilling to watch on stage, and we can't wait for him to sink his teeth into Richard III."
Lizcano was nominated for a 2016 Colorado Theatre Guild Henry Award for his comic portrayal of Dogberry in Much Ado About Nothing, and again last year for playing a more somber Ralph Crane in the Denver Center's world-premiere The Book of Will.
As part of the Denver Center's world-premiere cast of American Mariachi now performing in the Stage Theatre, Lizcano will travel with the production to San Diego for a run at the Old Globe Theatre opening March 28 before Colorado Shakespeare Festival rehearsals begin.
Lizcano's extensive Denver Center credits include Frankenstein, Hamlet, American Night, The Merchant of Venice, Gross Indecency, The Rivals, A Christmas Carol and more. His Colorado Shakes titles have included Hamlet, Equivocation, Much Ado About Nothing, Othello, Henry V, Tempest, The Merry Wives of Windsor and both parts of Henry IV. He has also performed with Theatre Aspen and the Arvada Center, among others.
Orr said the Colorado Shakespeare's 61st season will again consist of two separate repertory companies: One to perform Love's Labour's Lost and Cyrano de Bergerac on the Mary Rippon outdoor stage, and another to perform Richard III and You Can't Take it With You on the indoor stage.
Orr also said 2018 promises to be its most diverse season in company history, with one third of all roles going to actors of color.
Among those making their Colorado Shakes debuts is Betty Hart (pictured right), a new Colorado Theatre Guild board member who is directing DCPA Cabaret's upcoming presentation of Lady Day at Emerson's Bar & Grill, starring Denver First Lady Mary Louise Lee and playing Mondays at the Galleria Theatre from March 5-April 23. She will play Queen Elizabeth in Richard III and Mrs. Kirby in You Can't Take it With You.
Anthony Adu, from Off-Center's Drag On, will play Moth in Love's Labour's Lost. And Brynn Tucker (DCPA's Frankenstein and Last Night and the Night Before, will play Roxanne in Cyrano de Bergerac.
"Historically, there haven't been many opportunities for minority actors in classical theatre, and we're committed to changing that," Orr said. "Our aim is for the CSF stage to reflect the strengths and talents of the diverse communities in which we live."
Other returning Colorado Shakespeare Festival favorites include Sam Gregory and Leslie O'Carroll as Grandpa Vanderhof and Penelope Sycamore in You Can't Take it With You, the classic 1930s screwball comedy about a young couple whose two very different families meet at a disastrous dinner.
Gregory, who plays Scrooge in the Theatre Company's seasonal stagings of A Christmas Carol, appeared last summer in Colorado Shakes' Hamlet and Rosencrantz & Guildenstern Are Dead. He is about to star in All My Sons at the Arvada Center, opening March 2. O'Carroll's history with the Theatre Company goes back nearly 30 years, most recently as Mrs. Fezziwig in A Christmas Carol.
Seth Dhonau, currently starring in DCPA Cabaret's First Date, and University of Northern Colorado alumna Desiree Mee Jung will play the quick-witted couple Rosaline and Berowne in Love's Labour's Lost. Marco Robinson, who just performed in Off-Center's The Wild Party and is currently featured in Miners Alley Playhouse's Fun Home, will star as King Ferdinand. DCPA Teaching Artist Chloe McLeod, who plays Joan in that same Fun Home, will play Essie Carmichael in You Can't Take it With You.
Starring as Cyrano will be Scott Coopwood, who played Petruchio in The Taming of the Shrew and Brutus in Julius Caesar last year. Anastasia Davidson, currently appearing in Curious Theatre's Detroit '67, will play Jaquenetta in Love's Labour's Lost. Young Augie Reichert, who has been appearing in the DCPA Theatre Company's annual stagings of A Christmas Carol since 2014, will play Little Richard in Richard III.
Returning favorites include Michael Bouchard, Off-Center's longtime Crumpet in The SantaLand Diaries, along with Sean Scrutchins, with whom he won a 2017 a True West Award for last season's Rosencrantz & Guildenstern Are Dead. Also: Sam Sandoe, Anne Sandoe, Bob Buckley, Benaiah Anderson, Matthew Schneck, Mare Trevathan, Casey Andree, Brian Kusic, Sam Sandoe, Jihad Milhem, Emelie O'Hara, Austin Terrell and more.
John Moore was named one of the 12 most influential theater critics in the U.S. by American Theatre Magazine in 2011. He has since taken a groundbreaking position as the Denver Center's Senior Arts Journalist.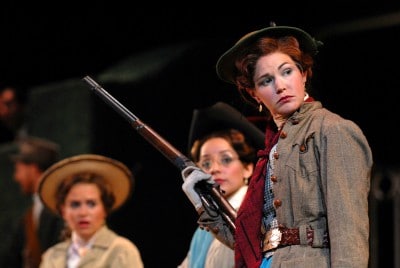 Love's Labour's Lost
By William Shakespeare
Outdoor stage
June 8-Aug. 12
Directed by Brendon Fox
In the bucolic Kingdom of Navarre, four attractive young men make a pact to swear off romance and focus on academia — just minutes before the four loves of their lives wander by. Shakespeare's comedy about the struggle to balance heart and head is the perfect ode to the festival's academic surroundings.
Marco Robinson: King Ferdinand of Navarre
Desirée Mee Jung: Princess of France
Seth Dhonau: Berowne
Scott Coopwood: Boyet
Rafael Untalan: Don Adriano de Armado
Matthew Schneck: Holofernes
Michael Bouchard: Costard
Grant Bowman: Anthony Dull
Anthony Adu: Moth
Brynn Tucker: Rosaline
Benaiah Anderson: Forrester/Mercade
Aziza Gharib: Maria
Amber Scales: Katherine
Casey Andree: Sir Nathaniel
Anastasia Davidson: Jaquenetta
David Derringer: Dumaine
AJ Voliton: Longaville
---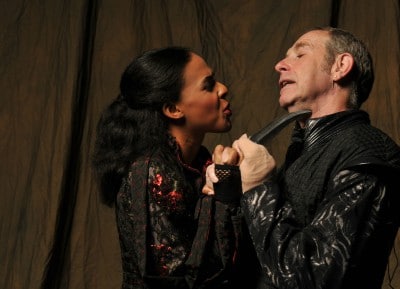 Richard III
By William Shakespeare
Indoor stage
June 22-Aug. 11
Directed by Wendy Franz
Richard, Edward IV's deformed and embittered younger brother, will do anything to take the crown for himself — but once he has the throne, everything falls apart. Four centuries later, the masterful conclusion of Shakespeare's Henriad history cycle still speaks volumes about lies, honor and the dark side of ambition.(Pictured: Richard III in 2012.)
Sam Gregory: Hastings
Leslie O'Carroll: Duchess of York
Betty Hart: Queen Elizabeth
Brian Kusic: Richmond/Grey/Alderman
Coleman Zeigen: Stanley
Sam Sandoe: Catesby/First Murderer
Christian Ray: Dorset/Second Murderer/Messenger/Alderman/Soldier
Jihad Milhem: Clarence/Earl of Oxford/Mayor of London
Lindsay Ryan: Lady Anne
Rodney Lizcano: Richard III
Sean Scrutchins: Buckingham
Austin Terrell: Brackenbury/Ratcliffe
Leraldo Anzaldua: King Edward IV/Bishop of Ely/Alderman/Soldier/Faceless Ghost/Fight Choreographer
Anne Penner: Margaret
Mike Largent: Rivers/Soldier/Alderman/Faceless Ghost
Kyle Chesney: Ensemble/Alderman/Soldier
Elena Sayeedi: Ensemble/Lady in Waiting/Alderman/Soldier
Alex RosenthalEnsemble/Alderman/Soldier
Luka Teodoru: Prince Edward
Augie Reichert: Little Richard, Duke of York
Kaiyane Arabian: Little Lady
---

Cyrano de Bergerac
By Edmond Rostand
Outdoor stage
July 6-Aug. 11
Directed by Christopher DuVal
In Rostand's timeless romantic comedy, Cyrano is witty and proud but crippled by insecurity. He secretly pines for Roxanne — but she has her eyes on handsome, empty-headed Christian.
Marco Robinson: Christian de Neuvillette
Desirée Mee Jung: Sister Claire/Lady/Lise/Precieuse/Ensemble
Seth Dhonau: Brissaille/Cavalryman/Capuchin/Another Actor/Cadet 2/Cook 2 and Apprentice/Nun/Ensemble
Scott Coopwood: Cyrano de Bergerac
Rafael Untalan: Comte de Guiche
Matthew Schneck: Le Bret
Michael Bouchard: Ragueneau
Janae Burris: Bellerose/Doorkeeper/Actress/Poet 2/Nun/Ensemble
Anthony Adu: Jodelet/Cadet 3/Poet 1/Guard/Actor/Nun/Ensemble
Brynn Tucker: Roxanne+Read Bio for Brynn Tucker
AJ Voliton: Musketeer/Spanish Officer/Cadet 5
Benaiah Anderson: Vicomte de Valvert/Cadet 1/Cadet 6/Ensemble
Aziza Gharib: Flower girl/Nun/Poet 3/Pickpocket/Foodseller/Ensemble
Amber Scales: Sister Marthe/Duenna/A Lady/Ensemble
Casey Andree: Cuigy/Citizen/Cooks 1 and 4/Cadet 8/Ensemble
David Derringer: Ligniere/Nun/Cadet 4/Ensemble
Anne Sandoe: Mother Marguerite de Jesus/1st Marquis/Poet 4/Ensemble
Bob Buckley: Montfleury/Carbon de Castel-Jaloux/Cadet 7/Ensemble
Robert Wester: Cook 3/Bertrandous/Cadet
---

You Can't Take It With You
By Moss Hart and George S. Kaufman
Indoor stage
July 20-Aug. 12
Directed by Carolyn Howarth
When Alice brings her boyfriend's traditional, straight-laced family to dine with her household of freethinking eccentrics, fights break out and fireworks erupt. Kaufman and Hart's 1930s classic pays homage to those who march to the beat of their own drum and reminds us all to choose dreams over drudgery.
Sam Gregory: Martin (Grandpa) Vanderhof
Leslie O'Carroll: Penelope Vanderhof Sycamore
Betty Hart: Mrs. Kirby
Mare Trevathan: Olga/Gay
Coleman Zeigen: Mr. Kirby
Sam Sandoe: Mr. De Pinna
Lauren Dennis: Rheba
Christian Ray: Tony Kirby
Jihad Milhem: Ed Carmichael
Lindsay Ryan: Alice
Rodney Lizcano: Boris Kolenhkov
Sean Scrutchins: Henderson
Chloe McLeod: Essie Carmichael
Leraldo Anzaldua: Paul Sycamore/Fight Choreographer
Mike Largent: Donald
Kyle Chesney: The Man
Elena Sayeedi: G-man photographer
---

Edward III
By William Shakespeare and Thomas Kyd
Outdoor stage
Aug. 5
Directed by Kevin Rich
Colorado Shakes' "Original Practices" tradition continues with a history play that's been mired in mystery for hundreds of years. England's king is out to capture the crown of France and the heart of a married countess. The cost of his lust? Personal humiliation and 150 years of English battle and bloodshed. This is a one-night-only performance, inspired by the stage practices of Shakespeare's own time.
Michael Bouchard: Earl Douglas/Charles
Marco Robinson: Lorraine/Villers/Esquire 1/Calais Citizen 1
Desirée Mee Jung: Countess of Salisbury/Frenchman 2/Calais Citizen 2
Seth Dhonau: John of France
Scott Coopwood: Edward III
Benaiah Anderson: Prince Edward/Fight Choreographer
Aziza Gharib: Frenchman 4/French Herald 3/French Captain/Esquire 2/Herald
Emelie O'Hara: Lodwick/French Woman/Queen Phillipa
Leslie O'Carroll: Audley
Betty Hart: Artois
Sam Sandoe: Warwick/Frenchman 3/French Herald 1/Copland
Christian Ray: Messenger/Percy/Philip
Jihad Milhem: Mountague/French Mariner/Salisbury
Leraldo Anzaldua: David of Scotland/Gobin de Grey/Frenchman 1/Montford/French Herald 2
Kevin Rich: Derby
*Play descriptions provided by Colorado Shakespeare Festival
Casting by Sylvia Gregory Casting
Ticket information
The Colorado Shakespeare Festival's 2018 season runs through June 8-1Aug. 12 in Boulder on the campus of the University of Colorado. Tickets are available by calling 303-492-8008 or going to www.coloradoshakes.org
Video bonus: Rodney Lizcano's Old Joe transformation:
https://www.denvercenter.org/wp-content/uploads/2018/04/featured-image-5870.jpg
527
800
John Moore
John Moore
2018-02-08 14:02:00
2018-12-26 17:59:06
Rodney Lizcano leads 2018 Colorado Shakes lineup as Richard III